Forcing issue a game-changer for Duffy
Updated: Aug 20, 2016 03:07 PM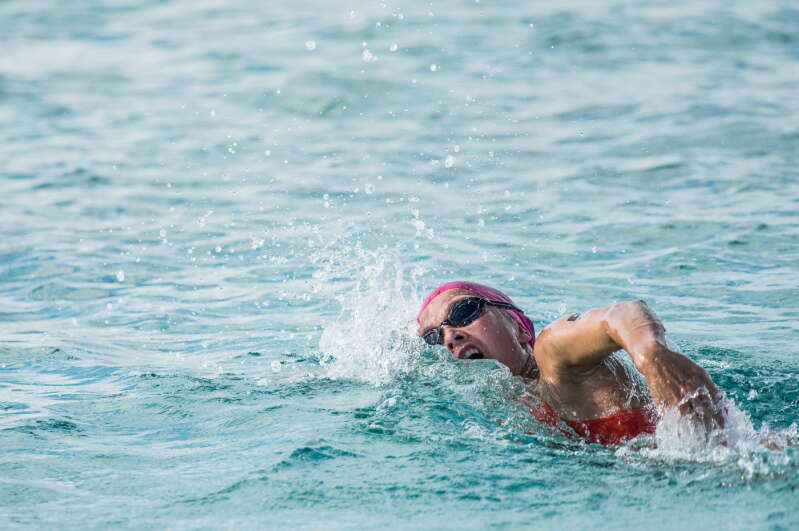 Flora Duffy has changed the "dynamics of racing" in women's triathlon, according to rival Non Stanford, and it may be enough to earn her an Olympic medal.
The Bermuda triathlete's dominating performances on the bike this season have catapulted her to the top of the ITU World Triathlon Series and have made her a serious contender today in Rio de Janeiro.
Duffy's hard-charging approach underlined her first series win in Stockholm last month, and Stanford is expecting a tough race.
"Flora Duffy isn't going to be waiting around for anybody on the bike," Stanford said. "She's massively upped her game and it's definitely changed the dynamics of racing.
"That's quite exciting and it's nice to see something different."
Instrumental in Duffy's impressive season, the dominance on the bike could be the difference between a podium or top-five finish, not only for the Bermudian, but the athletes she takes along for the ride.
That change in dynamics has been forced to a certain extent by the dominance of Gwen Jorgensen, the race favourite from the United States, when it comes to the run — and Duffy's own perceived weakness in that discipline.
Jorgensen chased down Duffy on the Gold Coast at the start of the year, despite the Bermuda triathlete having a minute's head start after another blistering performance on the bike.
"It was a similar story in Leeds, where Jorgensen again overhauled Duffy, this time making up a 1min 40sec deficit.
In Leeds, though, Duffy did enough to take silver, and the expectation is that the rest are battling it out to finish behind Jorgensen.
Stanford and her British team-mates, Helen Jenkins and Vicky Holland, will fancy their chances of a podium finish, and Jenkins won the race in Australia after taking advantage of Duffy's hard work.
It all gives the British women's team, who have never won a medal at the Olympics, a formidable look.
Allowing Duffy to set the tempo is something that Stanford is more than willing to do.
"It's a really strong field and I'm sure it will be a hard race from start to finish, but that should play to our strengths," she said.
Duffy is also in something of a unique position in that she will be racing alone, and team tactics could make a difference when the racing starts at 11am.
According to Dave Morrison, a former president of the Bermuda Triathlon Association and the founder of the first junior programme in Bermuda, which Duffy joined as a seven-year-old in the mid-1990s, Duffy's race will hinge on the swim and the bike.
"The problem for Flora may be that unlike in the men's field, there are not as many strong swim/bikers than can share the workload and open up a gap on the likes of Gwen Jorgensen and Non Stanford, assuming they can exit the swim with a ten to 20-second lead on these runners," Morrison said.
"Andrea Hewitt and Helen Jenkins, and possibly Nicola Spirig or Erin Densham, are some of the athletes who could help Flora, but if they are unwilling to match Flora's pace on the tough, hilly and technical course, then Flora, as she did in Stockholm, will have to make a tough decision as to whether she is willing to risk it all by just going off the front."
However, in Rio, Morrison doubts if this approach will give Duffy the kind of lead she needs to hold off the likes of Jorgensen, Stanford and Emma Moffatt, from Australia, who won the bronze medal in Beijing.
"If a pack comes in together at the front and it includes Jorgensen and Stanford, then gold and silver may be out of Flora's reach, but, assuming she is in that pack, don't rule out that bronze medal.
"If, however, she comes in with the likes of Jenkins and Hewitt, then silver or gold is possible, depending on how far behind Jorgensen is and how she has handled the heat and hills.
"How much of a gap will the group need on Jorgensen? Some would say at least 1min 30sec.
"At the Olympics that one minute may, just may, be enough."