AC Endeavour pair impress in the US
Created: Mar 25, 2017 11:00 AM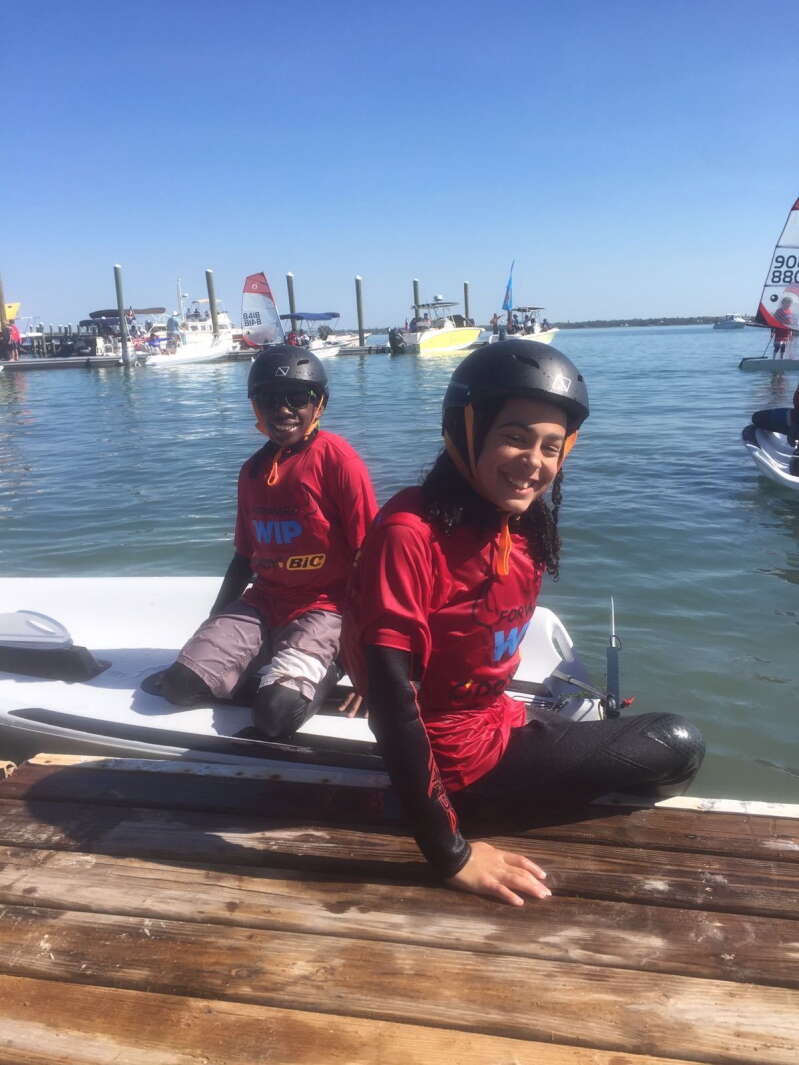 Two America's Cup Endeavour graduates flew to Florida last weekend to participate in the O'Pen Bic North Americans in Sarasota. And one of the sailors finished the regatta as the top female under 13.
Jade Smith, 12, of Sandys Secondary Middle School was selected from the West Fort, and Joanna Santiago, 11, of Saltus Grammar School, was chosen from the East Fort for the regatta held at the Sarasota Youth Sailing Squadron from March 17 to March 19.
These two sailors were nominated based on improvement, attitude and skills in O'Pen Bics over the winter season.
At the end of the regatta, Jade placed 44th while Joanna placed 51st as well as top female in the under-13 category. Jade had a high score of fourteenth place with Joanna having a high finish of 36th.
Katrina Williams, America's Cup Endeavour Coordinator travelled with the students to Sarasota. She is proud of their results.
"Both Jade and Joanna did really well for their first year of sailing and first regatta overseas," Williams said. "A lot of the sailors had been sailing for five years and the fact that they could come in and do well after only sailing for a year was amazing. They learnt a lot and are ready to apply those lessons in our Bermuda O'Pen Bic Nationals in May.
"Jade's progress in the O'Pen Bic over the last few months has been exponential. While some of our sailors are nervous to capsize or sail in big breeze, Jade is always ready to tackle the next challenge so we knew he would be able to compete hard and learn at the event."
Leah Collis, America's Cup Endeavour Coordinator, spoke on Joanna's progress.
"Joanna was chosen on the basis that she has been the most consistent skipper in the Open Bic and the Feva during our winter programme," Collins said. "She had also shown enthusiasm during practice. We thought a trip like this would be an eye-opening experience to see how other events overseas happen."
The event took place over the course of three days for a total of 14 races in varying conditions, which is one of the aspects that makes a sailing competition tough mentally and physically.
The sailors had a light wind day on Friday with the breeze increasing each day. Joanna and Jade improved drastically over the course of the event, particularly on starting in a big fleet, boat speed and body positioning and manoeuvres.
An O'Pen Bic is a single-handed open hulled boat that thrives on fun. The regatta was unlike an ordinary regatta and the sailors had challenges during the races, including completing a 360 degree turn during a leg, capsizing and recovering their boat, standing up during an offwind leg and the premier of the 'Bridge of Doom', which was an inflatable bridge that the sailors had to heel their boat to get underneath.
O'Pen Bic regattas also have a 'freestyle competition', like BMX bike or extreme sport freestyle, where the sailors, individually or in a pair, have three minutes to show a panel of judges what they can do on an O'Pen Bic.
The judges saw everything from headstands and push-ups, backflips off the boats, capsizing and sailors making their boats turn end on end. Jade and Joanna teamed up and made it to the semi- finals.
Sailing uses a low point scoring system to calculate results. First place equals one point so on and so forth. The sailors received a 'drop race' after every four races, which means to discard your highest score.
Eighty-five sailors from all over North America competed in the event for a spot to come to Bermuda to participate in the O'Pen Bic America's Cup half-time show.