When it comes to cooking, everybody gets lazy in summer
Created: Jul 02, 2021 08:00 AM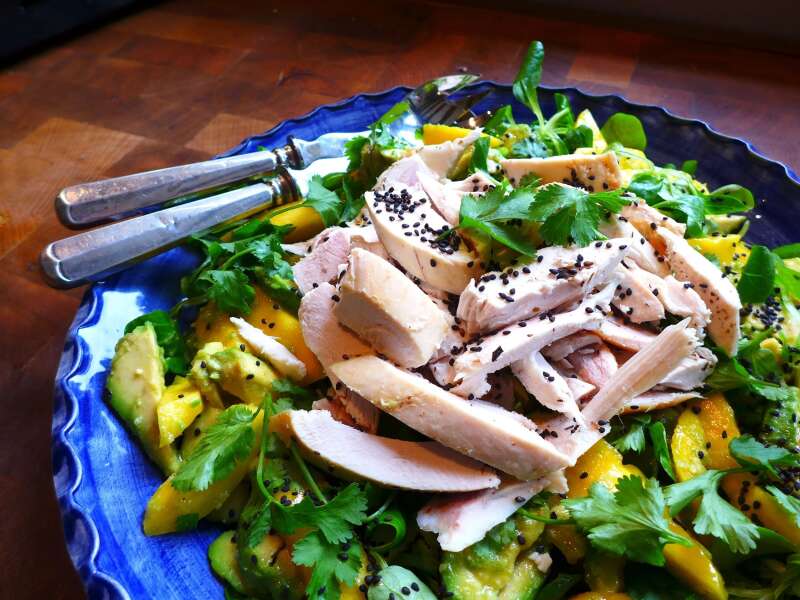 I love the Bermuda summer, despite the humidity hair and burning my backside on the car seats.
Having grown up in the UK, there is something about the warm sun hitting your skin that just feels amazing – especially if there is a little breeze to cool off too.
I have to admit though, I find it harder to cook in the summer. I love cooking but I don't love being around a boiling hot oven when it's already hot. And lazy summer days just make me a little … lazy!
Fortunately it's also fairly easy to feel like you've cooked, without doing any actual cooking. When it comes to this salad I would really just call it "assembling"; it takes all of five minutes. I often make this dish with leftover roast chicken, but I also often buy the grilled chicken breasts from Miles deli. They have a Cajun option which works brilliantly here!
Now I know the world is divided when it comes to fruit in savoury dishes. Some people are pro fruit in their salad, and others are wildly against. It's like the pineapple on pizza debate (I am pro that, for sure!). So if you are a fan, like me, then adding mango will be a really delicious bonus. It's hard to find better than a chicken, avocado and mango combo! If you are against, then replace the mango with some roasted butternut squash (which you could also have leftover if you had a roast the night before). Either option gives you a lighter evening carb, that also includes a dose of colourful, immune-boosting antioxidants. Win-win. Enjoy!
Chicken, Mango & Avocado Salad
Ingredients: (for 4 people)
3-4 grilled or roasted chicken breasts, sliced
1 ripe avocado, chopped
1 cup chopped mango (peach, pineapple or strawberries work well too)
1 box organic or Miles to Grow greens
2 cups baby tomatoes
4 spring onions (keep ¾ of the green part), chopped
½ cup torn fresh herbs (basil, cilantro or mint)
3 tbsp extra virgin olive oil
3 tbsp apple juice
2 tbsps apple cider vinegar
salt and pepper to taste
Method:
Shake the olive oil, apple, juice and apple cider vinegar together in a jar, season to taste and put aside.
Bed each plate of greens with avocado, mango, tomatoes, spring onions, chicken, fresh herbs and drizzle on dressing.
Alternatively, you can toss everything together in a big bowl and serve family style.