Craving carbs? Try this easy, heart-healthy winter mash
Created: Oct 29, 2021 08:00 AM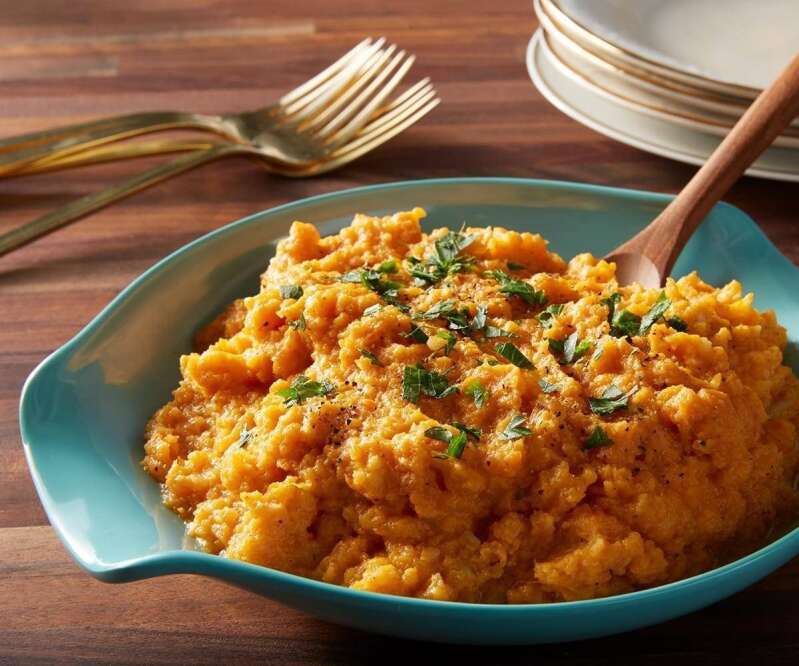 So earlier this week there was a surprise hurricane, or at least it felt that way!
It's the first time I have lived in a house in Bermuda with a fireplace. Holy smokes, it felt like the whole storm was coming down the chimney.
After a while I got used to the rumbling and started to drift off back to sleep, just in time for the cats to decide they were not used to it and yowl the house down.
Fortunately, after two weeks of being kept inside to get used to their new home, they have been liberated. They'd started to go a little stir-crazy. Watching what two weeks in quarantine does to a cat makes you realise how hard it is on humans too. Hopefully one day this crazy Covid will be behind us.
Still, with winter rolling in (or as winter-ish as it gets here), it's easier to stay inside and cosy up. I have nothing planned on Sunday and I'm kinda hoping it's grey and miserable so I can curl up on the sofa with blankets and a movie. It's been a hectic couple of weeks and a day of doing nothing feels like it would be amazing!
Winter makes us crave more carb-heavy food too, dishes that warm you from the inside out. It's time for stews, baked potatoes, big hot dishes of pasta – but how do you enjoy them without letting the scales creep up?
It's a good idea to keep carb portions small – especially in the evenings when we are usually more sedentary. If you're craving pasta, remember to add a quality protein and throw in lots and lots of non-starchy veg.
I often slice up Applegate or Niman Ranch sausages and sauté them with onions and tons of peppers. I usually steam broccoli above the pasta while it cooks, then throw it all together with a good quality pasta sauce. By the time you have the protein and veggies in there, you can keep the pasta portion really reasonable without feeling like you are starving yourself!
We're also fans of mashed potato in our house but, ever since the kids were little I have always done half potato, half cauliflower. By using sweet potato (or pumpkin/butternut squash) you get an extra dose of antioxidants too – the naturally bright orange pigment is so good for you! Cauliflower helps to cut the volume of the carbs whilst also being heart-healthy and then we add some crushed garlic for some extra nourishment.
Note: Crushing garlic is much better for releasing the valuable compounds so make sure you crush it, don't just chop it. It's easy to mash by ear, but if you need an exact recipe, here's one that works for me!
Easy, heart-healthy winter mash
Ingredients: (per person)
1 cup pumpkin, butternut squash or sweet potato (peeled and chopped)
2 cups cauliflower florets
½ clove garlic, peeled and crushed
Dash extra virgin olive oil
Salt and pepper to taste
1. In a small saucepan, sauté the crushed garlic in a little extra virgin olive oil over a very low heat. You just want to release the flavour, you don't want the oil to smoke or the garlic to become brown.
2. Boil the potato/pumpkin/butternut and steam the cauliflower above.
3. When the potatoes are cooked and drained and the cauliflower is very tender, mash everything together including the oil and garlic. For a chunky mash, use a masher. For a smoothie mash or purée, use an immersion stick blender. Enjoy!
Catherine Burns is a qualified nutritional therapist. For more details: www.natural.bm, 505-4725, Natural Nutrition Bermuda on Facebook and @naturalbda on Instagram