Have your cake, and eat it!
Created: Dec 10, 2021 08:00 AM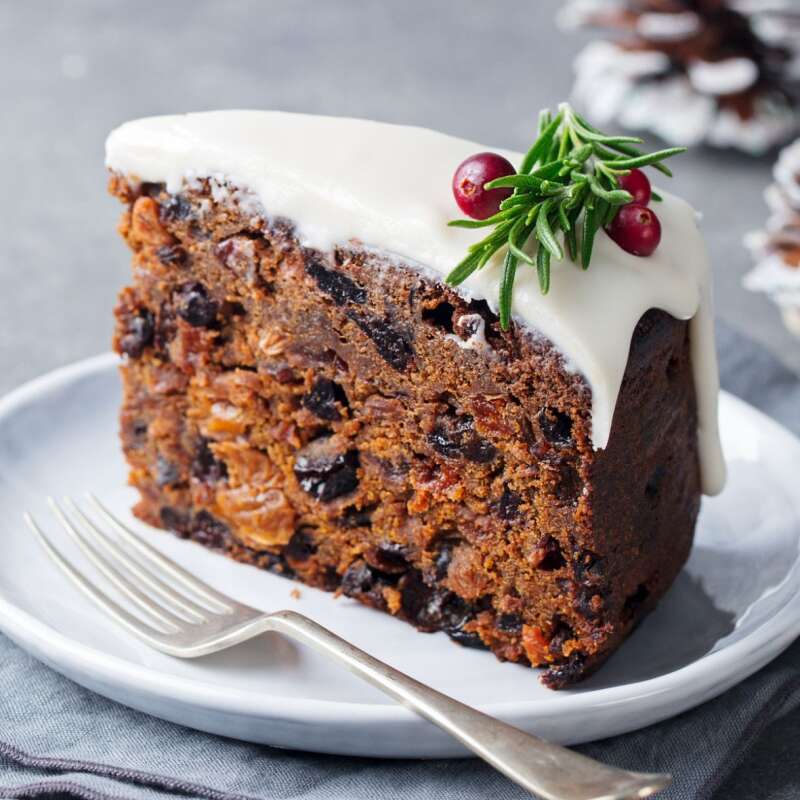 Well I tried to stay away from Christmas recipes but many of you asked for this again, so here it is!
I know that fruit cake divides the masses – it's a real love or hate. I have one child that loves it and another that hates it but pretends to love it just so that she can eat the icing.
My mum has always decorated Christmas cakes with homemade marzipan and a rock-hard royal icing that is hard not to love. It's like crunchy, sweet, delicious snow! I now make mine the same way and it's part of the festivities that we all love.
My mum – probably the most organised woman on the planet – also makes her Christmas cakes WAY in advance. We're talking weeks, months even! She then feeds them a steady supply of alcohol in the run up to the big day so that it is suitably boozy.
I don't actually put any booze in mine, mainly because it took me ages to make this recipe perfect and now I'm scared to mess with it. It's hard to come up with naturally gluten-free baking recipes that have a great texture – and this one does. I also don't make my cake in advance, it's usually done in the few days the kids have off school before Christmas – just to add to the chaos!
Fortunately there is so much taste here that you don't need weeks or months to allow the flavour to develop. You definitely need to allow the fruit two hours to "swell" – leave it overnight if you have time. It's the dried plums that make this a real winner for me. The flavour is deep and earthy like a real fruit cake should be. And no weird glace cherries here – only the good stuff! This is dairy-free (as well as gluten-free) so that even those with allergies can have their cake and eat it too. Enjoy and have a wonderful weekend one and all.
Gluten-free, dairy-free Christmas cake
Ingredients:
175g Earth Balance vegan margarine (Down to Earth, Lindo's)
110g molasses
75g Sucanat or soft, dark brown sugar
150ml soy, hemp or almond milk
110g dates, pitted and chopped
300g raisins
200g dried plums, chopped
110g dried cherries, chopped
225g brown rice flour (Down to Earth, Harrington Hundreds, Lindo's in Devonshire, ABC store)
2 tsp gluten-free baking powder (widely available)
1 tsp cinnamon
1 tsp nutmeg
110g ground almonds
2 lemons, the grated rind of
3 eggs
Method:
1. Place the margarine, molasses, sugar and "milk" in a large pan along with all the dried fruit. Heat gently and stir until all the margarine has melted.
2. Simmer for 1 minute and then take off the heat and cover. Leave the fruit to "swell" for at least 2 hours – even overnight if you have time.
3. Line the base and sides of a round (8") or square cake tin (7") with baking paper. Make sure that the paper rises at least 5cm above the rim of the tin.
4. Put all the other ingredients into a large mixing bowl and mix roughly.
5. Add the fruit mixture and mix by hand or using an electric mixer (not a blender!) on low speed. Mix well.
6. Pour the cake mix into the tin and smooth the surface with a wet knife.
7. Bake for 2 hours and 40 minutes at 250F.
8. Leave to cool in the tin until cold.
9. Ice as you would an ordinary Christmas cake, or make a "butter" icing using Earth Balance margarine, icing sugar and a little Goslings rum.
Catherine Burns is a qualified nutritional therapist. For more details: www.natural.bm, 505-4725, Natural Nutrition Bermuda on Facebook and @naturalbda on Instagram