From an early age, Flora Duffy 'didn't have any fear'
Updated: Jul 30, 2021 01:43 PM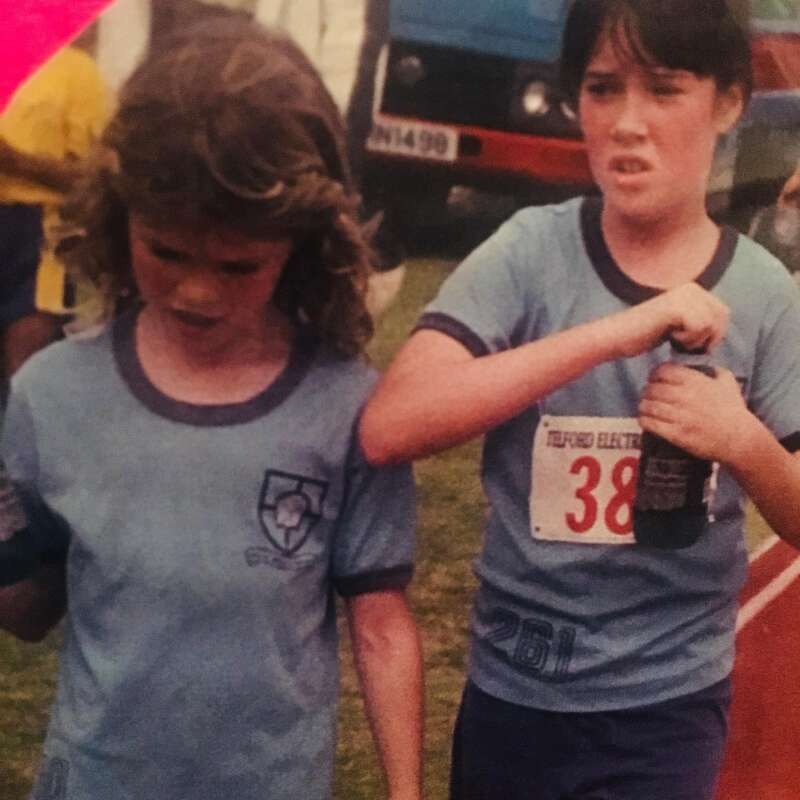 When Flora Duffy embarked on her sporting odyssey, she was just like Bermuda: small in stature but punching well above her weight.
Troy Custodio, who began training her at Port Royal Primary School when she was just five, recalled: "She just turned up, she was this dinky little thing but was like a pitbull. She had passion way back when she was very young."
According to her many trainers, coaches and friends, the 33-year-old, who clinched Bermuda's first Olympic gold medal on Monday, has always been blessed with the gift of grit.
It is a quality that has seen her through a less than smooth journey from the birth of her Olympic dream at the tender age of 9, through significant health and injury setbacks, right up to global sporting success. As one of her early triathlon coaches Neil de Ste Croix puts it, "she bounces".
Mr de Ste Croix is a co-founder of the Tri Hedz junior triathlon club and received a British Empire Medal for services to sport in 2018. He coached the young Flora from the age of 8 until she left to study her O-levels at the then Mt Kelly College in England, UK.
"Whenever she raced there was something about her – that face – that is the same face that she has now – absolute focus.
"In the 2008 Beijing Olympics she got lapped and pulled off her bike by the officials. She was broken mentally and physically. She overcame fitness problems and an eating disorder – she got through those issues and that shows her mental strength. Her journey has been so tough but she took time off, got over it and came back stronger.
"It is pretty damn spectacular."
Kyla Smith is one of Flora's oldest friends. They met at the age of 5 at Port Royal Primary. She said: "We were very young when Flora found her calling and she never once lost sight of her goal.
"Flora always put her training first and play second. She has dug deep on so many occasions and it's that relentless determination and passion that have led her to be the Queen of the triathlon."
Katy Lennox met Flora at about the age of 13 when they attended Warwick Academy. She described Flora as: "Very humble, easy to get along, with no airs."
"It was always about the triathlon for her," she added. "She was part of the Sharks swimming team, she was always on her bike and running – it was her thing. She competed in the Front Street Mile and did well.
"There were boys that were competing against her but we knew that she was the one that would do something with it. It was never a joke to her and she made it look easy."
Ms Lennox recalled a time that Flora "fell off a bit" but said her friends knew she would pull through.
"It was a shock to us because she didn't say anything and when we saw her it was clear – she had lost a lot of weight. We didn't doubt that she would return to it, get training, do smaller competitions and work her way back up and that is what happened. A lot of people would have given up but she didn't – that is admirable."
Katura Horton-Perinchief, the first Black woman to dive at the Olympics at the 2004 Athens Games, competed in the 2006 Commonwealth Games in Melbourne, Australia. It was her last Commonwealth Games and Flora's first. Ms Horton-Perinchief said: "We had an incredibly talented group of athletes who were all very driven. There wasn't one of us who didn't think we would achieve Olympic greatness but that one did it … She is a cut above."
Mark Thorne was Head of PE at Warwick Academy when Flora attended the school and said she was particularly strong at long distance running.
He said: "She had it – she was an absolute trouper. She wasn't the fastest in a sprint – she would do well in the 1,500 metres and 3,000m.
"I knew that she was tough as nails, she didn't have any fear. She loved it and thrived.
"There was no way in hell I would have thought, coming from tiny Bermuda, that she would get here. We kept an eye on her and we are ever so excited for her, she finally did it."
Mr Thorne also recalled difficult times in Flora's journey, adding: "It wasn't all smooth sailing. There was a time when she considered giving it up. We were just so excited that she met quality people in her life including her husband Dan who is also a triathlete and opened her up to some quality training."
Ben Smith coached Flora in Sharks swimming club from the ages of about eight to 14 and described her as "a strong and fast swimmer who could do multiple strokes".
Mr de Ste Croix has attended many international sporting events with Flora including two Olympics. He said he knew that she was going to win gold this time.
"I knew she would do it and I think she knew," he said. "I had been corresponding with her husband, they had a plan and it went to plan.
"The weather helped her – she would go to the front a lot, go around the corners away from the others – she is the best rider and knows how to ride in wet conditions.
"On the run you knew what was on her mind and she blew the legs off everyone there."