Live coverage: Olympic gold medal-winner Flora returns to Bermuda
Updated: Oct 12, 2021 08:02 AM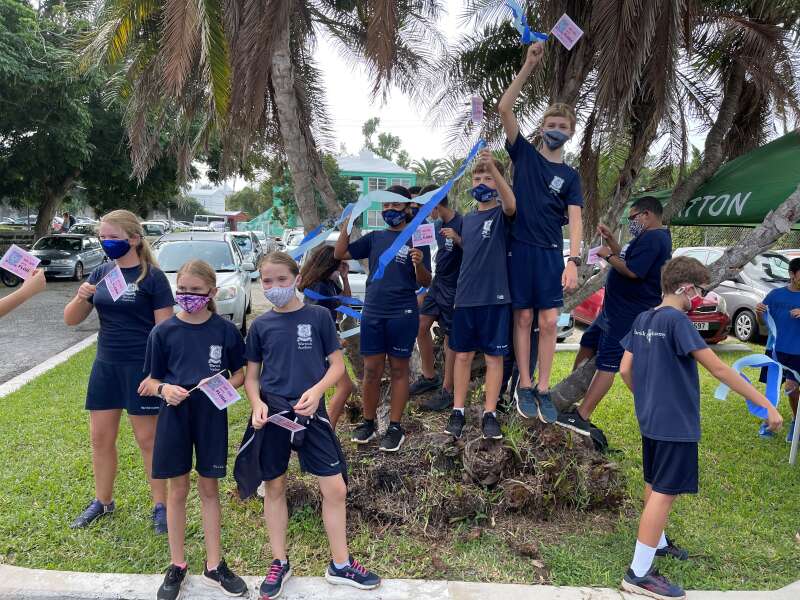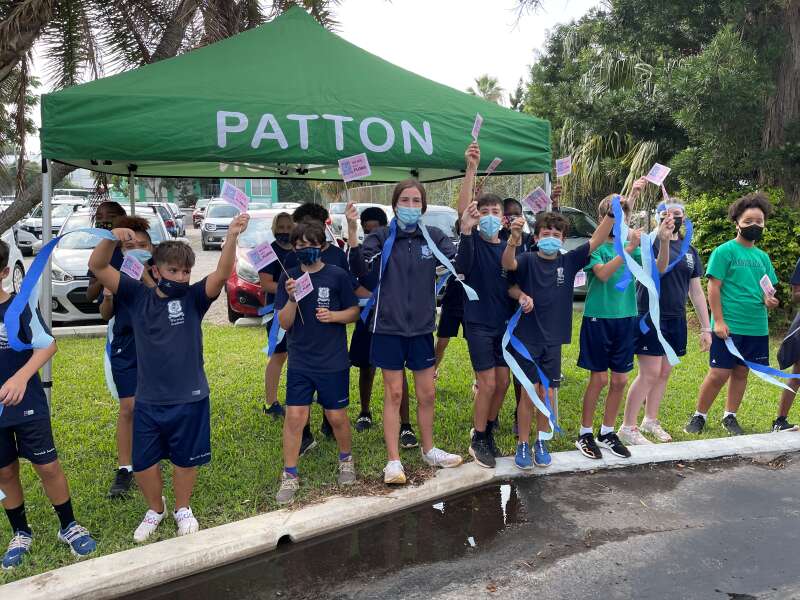 People lined the roads to show their support for Olympic gold medal hero Flora Duffy when she returned home to Bermuda.
A motorcade made its way from the airport through eastern parishes, across to Warwick Academy via Darrell's Wharf and back into Hamilton for presentations.
The Royal Gazette ran live coverage.
It was in July that Ms Duffy stormed to victory in the women's triathlon at the Tokyo games.
4.45: The live video coverage came to an end as photographs were being taken on the steps of City Hall.
Ms Duffy suggested that after the events ended, should would try to fit in a 30-minute run.
4.40: Charles Gosling, the Mayor of Hamilton, presents Ms Duffy with a Key to the City.
4.32: Ms Duffy tells the crowd at City Hall that she felt emotional watching footage from her Olympic games.
Twitter
4.29: Ms Duffy says that it was "a really special moment" to see how much her Olympic victory meant to Bermuda.
She says: "It's really, really great to finally be home and celebrate it today.
"I couldn't be any more proud to win this medal on the day but being back here, seeing the excitement, seeing how much it means to everyone in Bermuda, this is really a special moment."
She joked that she had been promised "a small event" and said it was incredible to celebrate after being unable in Tokyo because of Covid-19 restrictions.
"I'm so extremely grateful I get to celebrate this gold medal here at home in Bermuda."
4.27: Dwayne Caines, the City of Hamilton CEO, thanks Ms Duffy's husband, parents, coaches and others who have helped in her journey to success.
4.20: Charles Gosling, the Mayor of Hamilton, lists Ms Duffy's accomplishments, telling her: "Flora, like many Bermudians, my family is spread out over several continents.
"In each part of the globe, we watched with pride."
He adds: "We watched you cross the finish, you and the Bermuda flag. It was an absolutely euphoric moment."
Mr Gosling says it was "an outstanding moment and a first for Bermuda" and "inspired a generation of young athletes".
He tells her: "You are Bermuda at its best."
Click here for a photo gallery of the day's events
4.15: Ed Christopher, the Town Crier, declares that Ms Duffy will be handed a Key to the City.
4.07: Ms Duffy arrives at City Hall, where she is greeted by Charles Gosling, the Mayor of Hamilton, Rena Lalgie, the Governor, Dwayne Caines, the chief executive officer of the City of Hamilton and Ed Christopher, the Town Crier.
4.05: Ms Duffy is now heading to City Hall where crowds are gathering to watch as she is given the Key to the City.
Twitter
3.48: At the Cabinet grounds, Ms Duffy thanked Clarence Hill – Bermuda's first Olympic medal-winner – for showing what was possible in 1976.
She told the crowd: "It's great to be back."
Ms Duffy said that when she was competing at the Olympics in Tokyo, there was very little in-person support.
She explained: "There was no one in the stands, no one in the streets, my family weren't there."
Ms Duffy said her homecoming made her feel very special.
She said: "I've never left the airport in a motorcade and it made me feel so welcome and so proud
"I'm just so proud and excited to be here."
The triathlete added: "One thing that is really important to acknowledge is that I am not the first person to do this.
"Thank you to Clarence. Thank you for being the first Bermudian to win a medal at the Olympic Games and showing us what is possible.
"Showing me, an eight-year-old Flora that a Bermudian could win at the Olympics, on the world stage, even being from a small island.
"Thank you for everything, you paved the way and I am honoured that I could follow you and I hope there are many Bermudians watching on that are inspired to fulfil their goals."
3.46: Ernest Peets, the Minister of Youth, Culture and Sport, told Ms Duffy: "You have inspired an entire country and proven what is possible.
"You are indeed a shining example of what can be accomplished with determination, commitment and dedication."
He added: "Flora, today we honour you and I hope that you enjoy everything that this welcome home has to offer."
3.42: David Burt, the Premier, says: "We in Bermuda have been anxiously waiting to welcome you back home and to celebrate your monumental achievement of winning a gold medal at the Tokyo Olympics.
"You gave us lasting memories and filled us with an unforgettable sense of pride as you took on some of the world's greatest athletes from countries much larger than our own and prevailed against all odds."
He added that Ms Duffy's career was awe-inspiring" and had put Bermuda on the sporting world stage.
The Premier said: "You are a true champion, and you are our champion."
3.40: David Burt, the Premier, begins his address.
3.37: Clarence Hill – Bermuda's first Olympic medal-winner – greets Ms Duffy as her car stops in front of the Cabinet building. Mr Hill won a bronze medal in heavyweight boxing in 1976.
3.35: The motorcade makes its way into the Cabinet grounds as flag-waving members of the public greet their Olympic hero.
3.34: Hundreds of people turn out on Front Street to welcome Ms Duffy, who is greeted with petals and a bottle of Champagne.
3.31: Coming onto Crow Lane, children are jumping up and down on the grass beside the road.
Twitter
3.24: Vehicles are nose-to-tail on Middle Road as Ms Duffy and the motorcade make their way east back towards town.
3.21: Warwick Academy pupils are screaming and catching "fives" from Ms Duffy as she makes her way through the school grounds.
3.20: It's a proud moment for Patton House, which was Ms Duffy's when she attended Warwick Academy. Cheering students have erupted with excitement for the arrival of the motorcade now.
3.19: Warwick Academy pupils are cheering the former pupil as she covers the final leg towards the school.
Twitter
3.17: The vehicles slow as they reach Darrell's Wharf, where Spirit of Bermuda lets off a cannon to show its recognition to the gold medal winner.
3.15: A confetti cannon is in place near the entrance of Warwick Academy, where Middle Road is now thronged with onlookers – and Bermuda flags – as the final minutes tick down for Ms Duffy's arrival at her former school.
Twitter
3.12: The motorcade is making its way through Paget, trying to make up time in a packed schedule.
3.09: Car horns sound and some motorists get out of their vehicles to cheer on the athletic star, who is waving and calling to supporters on the roadside.
3.07: Ms Duffy is handed a bunch of flowers and is showered with petals as her car turns on to South Road.
3.06: The motorcade is making its way down Tee Street towards South Road, people are calling to Ms Duffy from their car.
3.01: Somersfield Academy pupils are out in force to cheer on the Olympic champion.
Twitter
3.00: Ladies at the Cabinet grounds are ready for Ms Duffy's arrival there. Two were photographed wearing T-shirts that say "Flora Duffy – Bermuda's Own Iron Lady."
2.52: Flatts is busy with plenty of people gathered for the show of celebration.
2.50: Supporters are dancing on the roadside, waving to Ms Duffy as she passes. Car drivers are sounding their horns. Some fans are holding up signs, others are taking photographs and videos.
2.49: Bike riders are joining in and stopping their vehicles at the side of the road to see the motorcade pass.
Twitter
2.44: Air horns are blowing, flags are waving, people are in their yards and on the roadsides – there is no shortage of support for Bermuda's golden girl.
2.40: Ms Duffy is smiling and waving as the sun shines on her along the North Shore near Shelly Bay.
2.37: Pupils at Warwick Academy, Ms Duffy's former school, are excited for her arrival.
Tatiana Sousa, Naina Seth and Amaris Munya are all athletes at the school, aged 12, 13 and 11.
The young triathletes were inspired not only as students but also as young people.
Tatiana said: "I feel like she proved everyone wrong, that a BERMUDIAN could really win.
"Now I feel like if I follow her, I could get somewhere near where she is."
Naina said people undermined women as athletes.
"I feel really impressed that she stayed with Bermuda. She wanted to be true to her country."
Amaris recalled her whole family erupting with joy as they watched Ms Duffy win gold.
"She inspires us," Amaris added.
"Flora showed anything a boy can do, a girl can do – and better."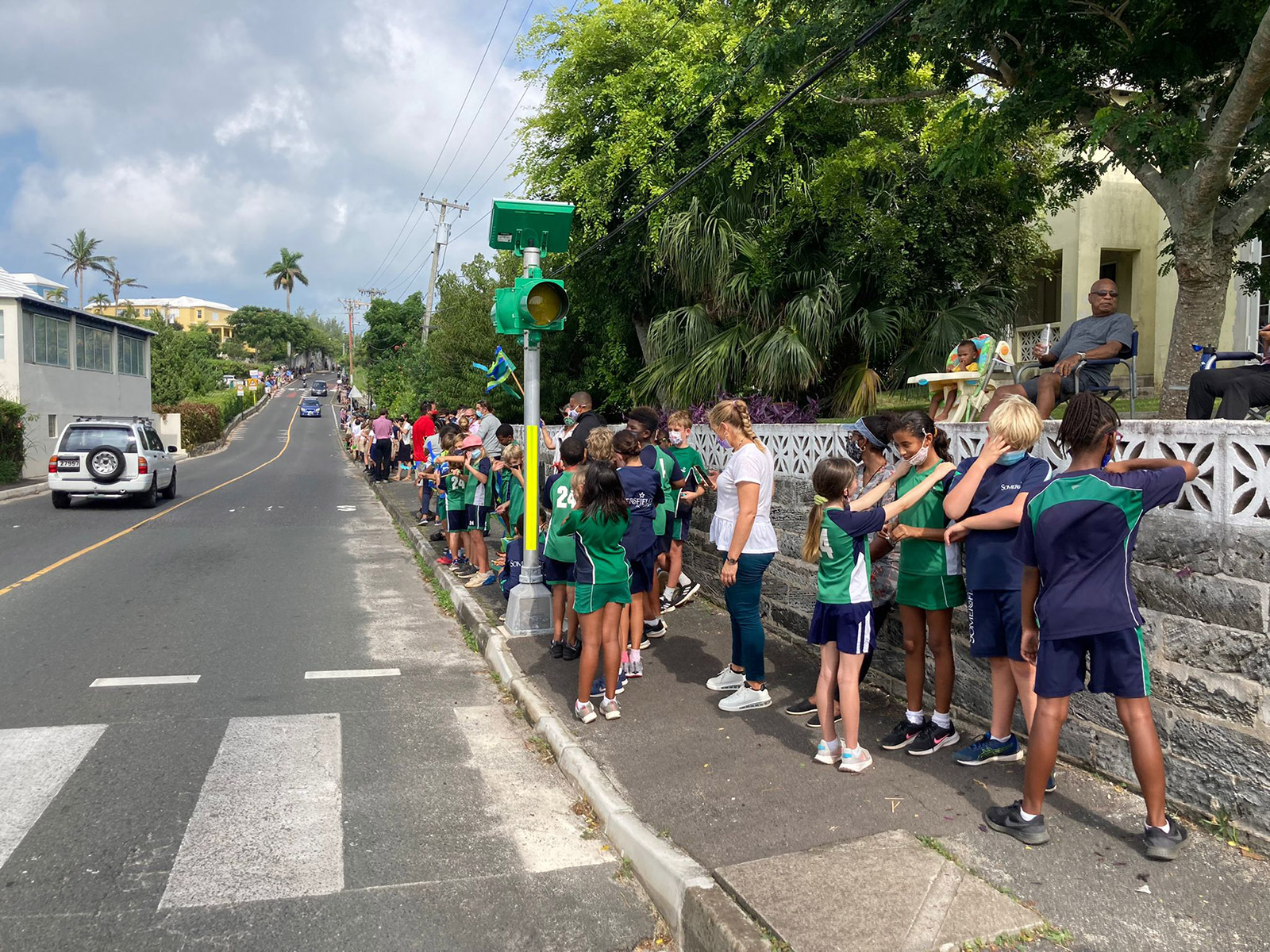 The grounds of Warwick Academy are abuzz with flag-bearing youngsters awaiting the arrival of their star athlete.
Mark Thorne, head of Physical Education, said: "I have to believe she is a hero.
"Bermuda loves her."
Callum MacFarlane, 14, got into triathlon athletics by doing "one of the Iron children triathlons when I was 7 or 8".
He is the proud owner of a Flora Duffy autograph from the champion visiting a training session.
"It was pretty amazing to think Bermuda has an Olympian like that – especially to be the best in the world."
2.35: Trucks and cars stop on the road at Bay View to celebrate Ms Duffy, as people stand on the road and on walls cheering for her. The Bermudian flag is waving behind Ms Duffy as she waves to people out in support.
2.30: Supporters call to Ms Duffy from The Swizzle Inn and Bailey's Bay Ice Cream Parlour.
2.29: Gas station workers come out to wave to and cheer on Ms Duffy as she passes Blue Hole.
2.25: Cars and bikes sound their horns as the motorcade makes its way over the Causeway.
2.20: Flora Duffy takes her place in an open-top car as the motorcade begins. She has a Bermuda flag and a music truck adds to the celebratory atmosphere.
She said that it felt "amazing" to be home. Ms Duffy added she has never before had such a welcome at the airport. "It's overwhelming."
The athlete said that when in Tokyo, she could feel the support of everyone back home in Bermuda, which made her feel very proud.
2.14: Ms Duffy is welcomed by Rena Lalgie, the Governor, and Ernest Peets, the Minister of Youth, Culture and Sport.
2.09: Air horns sounds as the motorcade vehicles – decorated with ribbons – get into place.
1.44: Rena Lalgie, the Governor, arrives at the airport.
1.37: A car with golden balloons that spell out "gold" waits outside the airport.
1.32: Balloons and banners outside the airport are ready for when the gold medal winner exits.
1.20: The Spirit of Bermuda – with flags bearing the Olympic logo – heads to Darrell's Wharf where it will greet the champion.
The athlete, now 34, dominated the race almost immediately after finishing the 40-kilometre cycle within a lead group of four.
Once she was out in front on the run she was in a class of her own and won in 1hr 55 min 36 sec.
Twitter
Twitter
Ms Duffy's triumph was Bermuda's first medal since heavyweight boxer Clarence Hill won bronze at the Montreal Games in 1976.
Supporters are expected to line the roads as Ms Duffy travels in a motorcade from the airport to her former school, Warwick Academy.
She will then head back to town for presentations at the Cabinet Office and City Hall.
Twitter
Twitter
Twitter
* If you would like to share photographs, videos or comments from this afternoon's celebrations, please e-mail them to news@royalgazette.com