The Loyal Gazette honours island's first Olympic medal-winner
Updated: Nov 22, 2021 07:53 AM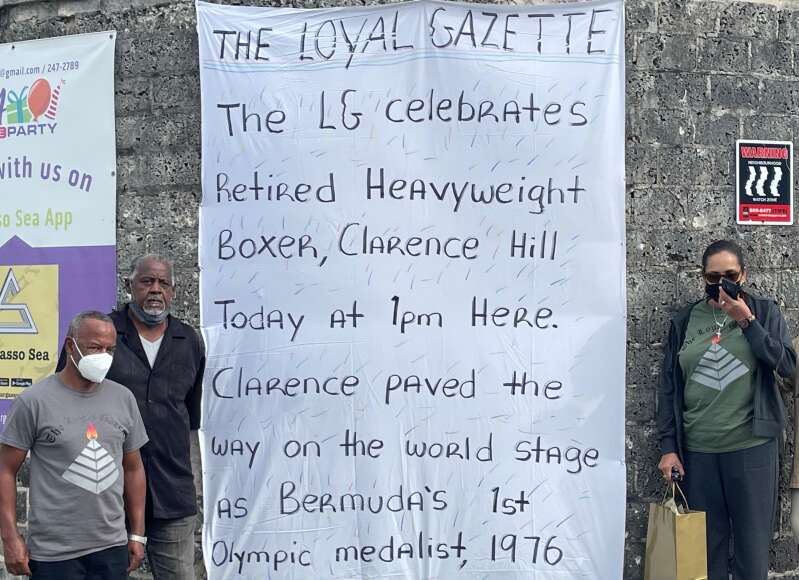 The sporting triumph of boxer Clarence Hill, Bermuda's first Olympic medal-winner, was celebrated yesterday with a home-grown tribute at Loyal Hill in Devonshire.
The Loyal Gazette presented Mr Hill with a miniature replica of his 1976 bronze medal and an LG shirt below the latest banner at the Devonshire neighbourhood's traditional corner by North Shore Road.
Kevin Goater, the LG president, said: "It's long overdue – we want to recognise the champion."
A month after the group saluted gold medal-winner Flora Duffy at the same corner, Mr Goater thanked Mr Hill for putting the island on the world stage.
He said of the banner: "It's a message of hope, inspiration, history, education, knowledge and congratulations."
Mr Hill told The Royal Gazette: "It feels good.
"It's a long time coming. As the first person to win an Olympic medal for your country, you expect your country or government to appreciate you more.
"Then to see neighbourhood people take it on themselves to do something makes me feel great."
Mr Hill formed a bond with Ms Duffy during the national celebration over her historic gold medal win in Tokyo, the island's first.
He said: "She's an athlete like me. Can you imagine what she has gone through to do that?"
A gathering of residents from the Devonshire neighbourhood applauded as Mr Goater said: "We are doing our best to recognise those doing good in the community.
"This man deserves the best."