Government should act on land grab commission findings, say family
Updated: Dec 23, 2021 11:05 AM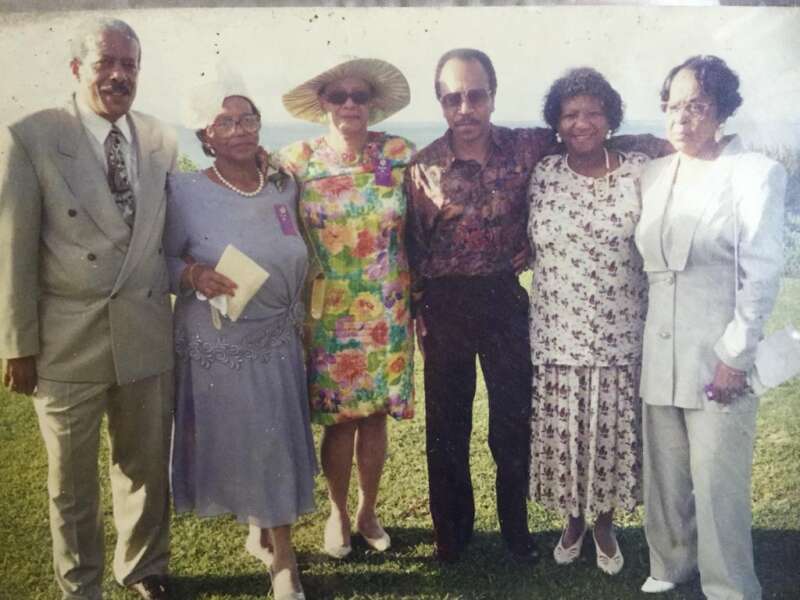 A woman who spearheaded her family's near 50-year battle for justice over a land theft said she that hoped the struggle would be over before she died.
Barbara Brown, 90, the mother of the late MP Walton Brown, who paved the way for a Commission of Inquiry into Historic Land Losses, was speaking after the commission found that "two major transactions" related to land once owned by her uncle, John Augustus Alexander Virgil, were "fraudulent".
Mrs Brown said she hoped that the recommendations in the commission's report would be treated as a matter of urgency.
She added: "I'm almost 100 and I would like to have closure while I'm still on this earth because it's been a long, painful battle."
Mrs Brown said her wish was that "it's settled tomorrow. Compensation — the moment there's compensation we close the door".
She was one of seven beneficiaries — with three still alive — who were the nieces and nephews of Mr Virgil and believed that they would get an equal share of his property at Spring Benny, in Sandys, after he died in 1972.
But Mrs Brown said that when the group went to the bank for the will to be executed, they were told that "there is no land and there's no money for any land".
She added: "We said that's not true because we always knew he had the deeds and he had the land."
The commission's 514-page report dedicated 113 pages to the Virgil case and outlined evidence given by Mrs Brown and her sons Charles and George.
A report was compiled by the Bank of Butterfield, the sole executors of the estate, for the family in 1978.
The CoI report included parts of a letter sent with the bank's findings, which said that "to our knowledge, there was no real estate owned by the late Mr Virgil on his death".
A presentation to the commission listed some of Mrs Brown's memories over the years, including an incident when she was working at the Hog Penny and David Wilkinson, a lawyer involved in the land changing hands, turned up.
She said that he asked questions "he had no right to ask".
Mrs Brown added: "I felt intimidated but not scared."
The commission heard that Sir James Astwood, when he was the Chief Justice, told her "you should put a match to those deeds".
Mrs Brown said last week: "How painful that was."
She added: "He was trying to discredit me for coming, make me look like a simple old woman."
But Mrs Brown insisted that she never wanted to give up.
Her son Walton, who was a Progressive Labour Party MP, tabled a motion to ask the Governor to set up an inquiry into claims of property loss or dispossession and it was approved by Parliament in 2014.
But George Fergusson, the Governor at the time, rejected the request, which sparked a march on Government House.
The controversy led to a change in the law that gave the Premier power to appoint a commission without the Governor's approval.
David Burt, the Premier, told the House of Assembly in 2019 that he planned to set up a commission.
Mrs Brown said it was "painful, painful, painful" that her oldest son, who died aged 59 in 2019, did not live to see the inquiry held.
But she added: "He got the inquiry — beautiful, beautiful news in our ears.
"Now it's sad because he's not here to witness the joy of the commission, but it's all right."
Mrs Brown said: "I'm still going on, because Walton said you never stop and that's what we're doing."
She added: "I do feel good, as far as the commission writing it, that we got to this stage.
"But I do say that we deserve it. It was ours from the beginning."
Mrs Brown thanked her sons for their help.
George said: "We're seeing daylight at the end of the tunnel.
"Justice comes in many ways and one of them is closure for my mother, her brother and sister and cousins — the beneficiaries."
He added: "I don't think this could have happened without me always keeping Walton in the forefront because I really and truly believe he gave us the strength and courage to champion on with this."
George insisted: "We, as a family, don't want any of the lovely people that are living up on Spring Benny right now to feel that we have any type of negative thoughts towards them because it's not their fault.
"They purchased all those houses in good faith and so forth … we have no issues with them."
He added that Marie Spence, Mrs Brown's sister and also a beneficiary, felt that it had been "a long, painful journey and justice needs to be served".
Glen Ming, their brother and another beneficiary, said that after some time he took "a different direction" from the land claim battle to prevent himself from getting too angry.
The family maintained throughout that they were in possession of the original title deeds to the land — documents that dated back to 1885.
They said that Mrs Brown took them with her overseas every time she travelled "out of fear".
Charles said last week: "We had never had the opportunity to have an independent adjudicator listen to our evidence. Our deeds were never presented before a judge.
"We never had the legal opportunity to be heard."
The family added that there was an "opportunity cost" to the dispossession that affected the "generational wealth" that could have been used towards housing and education.
George said that the battle also took a toll on his father, also Walton, who died 21 years ago.
He added that the Government should consider the recommendations and take any required legal steps.
George said: "Bring us home.
"There's no more fight left in us for all this. The report has been done."
A government spokeswoman said last week that the report and its recommendations would be "fully considered".
MPs are expected to debate the report in February.
* To read the section of the report that relates to the estate of John Augustus Alexander Virgil, click on the PDF under "Related Media".