Bermuda's first Vegan Fest attracts big crowd
Updated: Aug 21, 2023 10:33 AM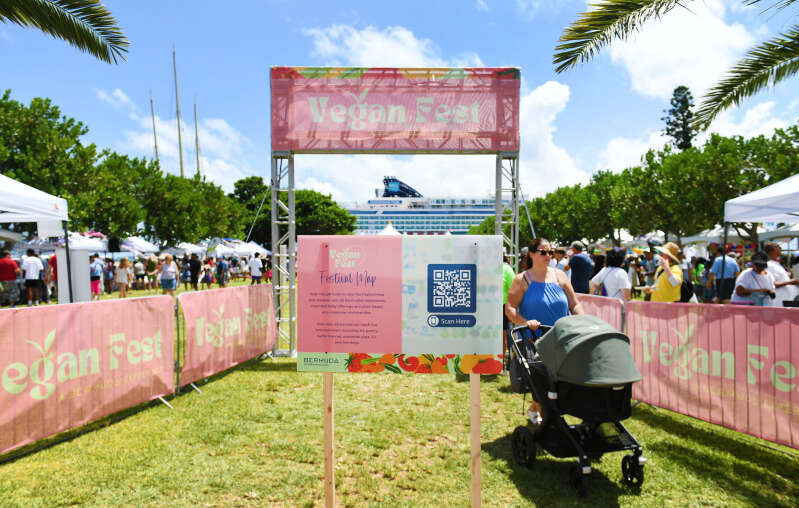 Bermuda's first vegan festival brought the sizzle to Dockyard without the steak yesterday.
The event, organised by the Bermuda Tourism Authority and held on the North Lawn of the Royal Naval Dockyard, attracted thousands to the West End to enjoy the treats offered by more than 20 vendors.
Among the items on offer were pies, soups, desserts and produce, along with a wide variety of juices.
In addition to food and drink, the event featured a range of performances and a free yoga session on the lawn, with a bouncy castle on site to help entertain the younger members of the families attending.
Leigh Albertson was impressed by the turnout and the food that she had been able to sample.
"People tend to see the vegan diet as pretty limiting, so it's nice that people can come out and see what options are actually out there," she said.
"For years it has been hard to get vegan options at all but explicitly vegan restaurants but things are getting better. More places are opening up to that market, which is better for everyone."
Craig Donald, meanwhile, said that the diet meant different things for different people.
"People get into veganism or vegetarianism through a few different venues. For some it's a diet thing or a religion thing, and for others its more about sustainability," he said.
"We all get here in different ways but that doesn't mean we don't have a lot to share and discuss."
Dolores Smith was surprised to see so many people out at a vegan event.
"A lot of people seemed to come through, which was nice," she said. "Hopefully, that means it can be something that we can look forward to coming around again."