'Overwhelmed' Dara Alizadeh happy with 18th-place finish in men's single sculls
Updated: Jul 31, 2021 08:21 AM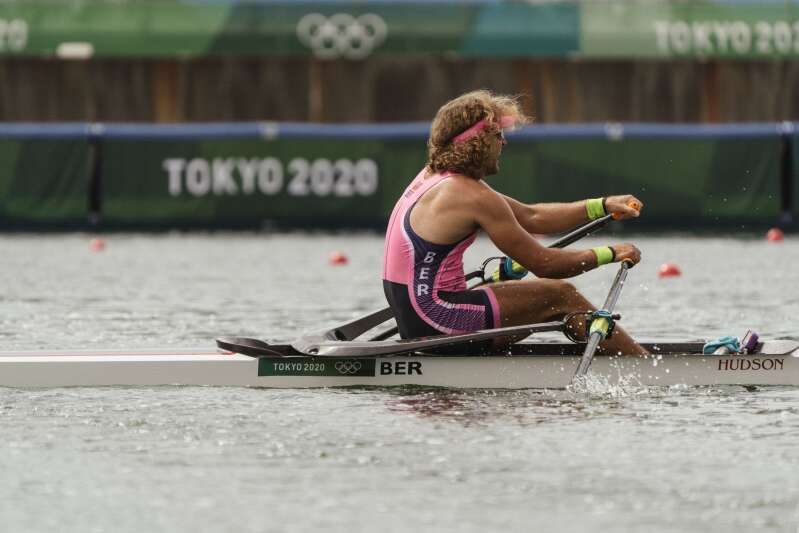 Dara Alizadeh bowed out of the Olympic Games in Tokyo on Thursday night knowing that he had given his all.
The 27-year-old Bermudian may have finished last of six starters in the C final but came away from his first Olympic appearance with the distinction of finishing eighteenth overall in the 31-strong field of the men's single sculls.
"I'm really happy," Alizadeh said minutes after completing the 2,000-metre course on the Sea Forest Waterway in a personal best for the meet of 7min 9.91sec.
"It is pretty overwhelming. I think for this one all I wanted to do was make sure I had nothing left. Just be in the race and do my best to not fall off."
In a race that was tight from start to finish, Alizadeh was never positioned any higher than fifth in the C final but the margins were tight, as only less than five seconds separated the field over the first two 500-metre splits.
Farther up the field, those who paced themselves profited, with New Zealand's Jordan Parry emerging from third place after 500 metres to become the only rower to break seven minutes with his winning time of 6:55.55.
In second was Egyptian Abdelkhalek Elbana in 7:00.72, with Quentin Antognelli, of Monaco, third in 7:01.85, Jan Fleissner, of the Czech Republic, fourth in 7:02.93 and Alvaro Torres Masias, of Peru, fifth in 7:03.69.
"Credit to those guys, they really stepped on it," Alizadeh added. "This is the Olympics, the C final, so it's no joke. I was really happy that at 1,000 in, I was still in it.
"It was the best I had done so far, so I was really happy with that."
The day before, Alizadeh achieved the necessary top-three finish in the C/D semi-final in the wake of a tropical storm that moved through the area.
His fastest race to date was good enough for third in 7:11.14
The top three were unchanged throughout the race, led by Peru's Torres in 7:02.49 and Antognelli, of Monaco, in 7:06.03.
The only mini-contest that resulted in positional changes over the 2,000 metres was between fourth and fifth, where Mohammed Al Khafaji, of Iraq (7:21.52), ultimately overcame Cris Nievarez, of the Philippines (7:26.05) after trailing for the first half of the race.
Cut adrift in sixth from start to finish was Saudi Arabia's Husein Alireza in 7:53.99.
Ominously for the Bermudian, each of the men that qualified from the second semi-final broke the seven-minute barrier — making him a decided underdog going into the C final.
And so it proved.
Next step for Bermuda's newest Olympian? Back to England for the world-famous Henley Regatta from August 11 to 15.
• Additional reporting by Kageaki Smith in Tokyo