Dame Flora Duffy and Jah-Nhai Perinchief win top honours at National Sports Awards
Updated: Mar 20, 2023 09:42 AM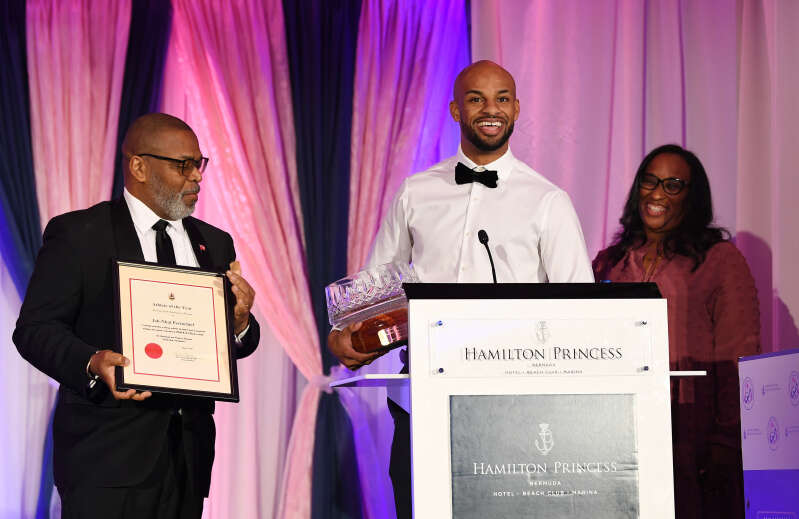 Dame Flora Duffy and Jah-Nhai Perinchief were the two biggest winners at the National Sports Awards on Saturday night.
Hosted by the Department of Youth, Sport and Recreation at the Hamilton Princess Hotel and Beach Club, Duffy won the Female Athlete of the year honour after winning a fourth triathlon world championship and retaining her Commonwealth Games title.
Perinchief became the first Bermudian to win an athletics medal at the Commonwealth Games since 1994 when winning a bronze medal in the triple jump and finished runner-up at the North American, Central American and Caribbean Athletic Association Senior Championships in August.
Click here for more Sports Awards pictures
Sailor Sebastian Kempe picked up the Male Junior Athlete of the Year Award with sprinter Caitlyn Bobb on hand to claim her Female Junior Athlete of the Year Award.
Duffy was also honoured with a Senior Female Achievement Award, alongside fellow triathlete Erica Hawley, as well as high jumper Sakari Famous, wheelchair racer Jessica Lewis and cyclist Caitlin Conyers.
Among the winners in the Senior Male Achievement Awards category were Dage Minors, who not only won the Front Street Mile but also became the first Bermudian to run a mile in less than four minutes this season. Fellow track and field athlete Perinchief was also honoured as were triathlete Tyler Smith and cyclists Kaden Hopkins and Conor White.
Gary LeBlanc, Ian Pilgrim and Ian Truran were recognised with Special Achievement Awards while Back to Basics and the Bermuda Volleyball Association were the winners in the Appreciation Awards category.
Five individuals were named among theSports Citation Awards category including Gary Venning, Ken Thom, Megan Troake, Richard Mallory and Emmerson Carrington, while four teams, the Bermuda Under 17 and Under-20 Girls Relay Team, Men's Davis Cup Team and Women's Field Hockey Team were recognised with Special Recognition Awards.
Owen Darrell, the Minister of Youth, Culture and Sport, who presented the "Minister's Award" for Football and Cricket, to Jahni Simmons and Macquille Walker respectively, heaped praise on all of the recipients for their accomplishments throughout the year.
"We have witnessed some outstanding accomplishments in sports in 2022, so it's important to recognise that achievement at events such as this," he said.
"I wish to congratulate all the award recipients and take this opportunity to thank them for providing us all with some amazing and inspirational sports performances over the past year."