Chinese sensation Bingwen Ma leads way in Butterfield Bermuda Junior Championship
Updated: Jan 16, 2023 10:47 AM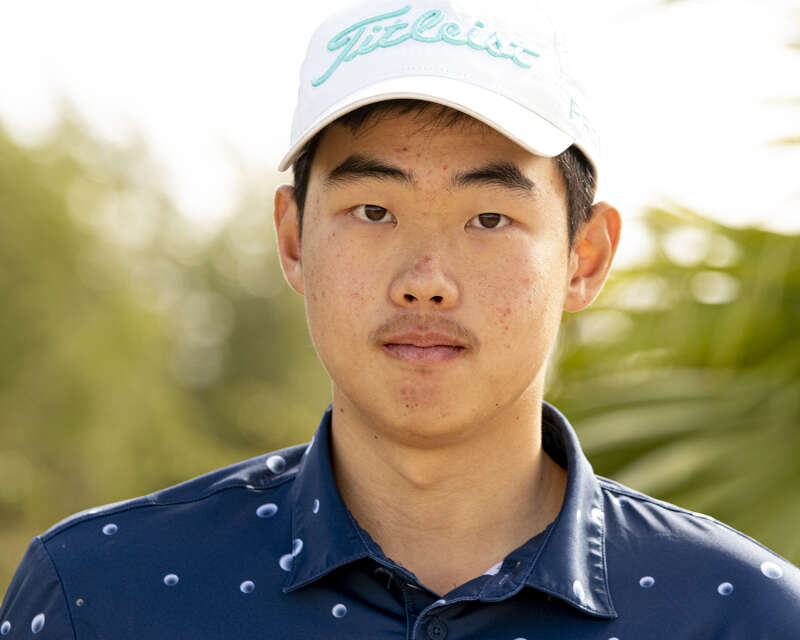 The Butterfield Bermuda Junior Championship finally got under way on Sunday, with China's Dylan Bingwen Ma seizing the early initiative at Port Royal Golf Course and holding a five-stroke lead after two rounds.
It may well be that Ma has already done enough to win the event as Monday's weather forecast of winds increasing to gale force may push beyond the threshold of that which organisers might consider fair play.
Nevertheless, Sunday's first two rounds belonged to Ma, who appeared as if he were isolated in calm as he produced a birdie-filled first round while most players struggled to cope with winds approaching 30 miles per hour .
Most stunning was how the 17-year-old managed five first-round birdies on the exposed back nine, where frequent gusts made it difficult to stand, let alone employ solid technique for accurate golf shots.
Ma strung together birdies at holes 12, 13, 14, 15 and 17, with a bogey at the picturesque 16th the only blemish coming in. These added to earlier front-nine under-par scores at 2 and 5 and a double-bogey at the par-three 8th.
"I've trained in Florida, which is a state that has a lot of wind and varied conditions, so it was easy for me to adapt to all the situations here," said Ma of his opening foray. "I made some really lucky shots, especially in the fairway bunkers, I made some good saves, and my putting was good."
Ma produced a miraculous sand-save at the par-four 12th hole, where he hit his second from the sand into the hole for birdie, which propelled him towards the top of the leaderboard.
"I didn't give myself pressure to score under, but I was satisfied to make pars at every hole and the results were pretty good," said Ma. "I wasn't trying to make birdies, but I was just trying to hit the right shot.
"The one shot I do remember is at the 12th, when I chipped in from the bunker, which gave me confidence in my game. And, after that, there were a lot of birdies."
Asked of his intentions if there is a final round, Ma hoped to be able to produce more of the same in an effort to achieve his first AJGA title.
"I'll just look to keep it up," said Ma. "Keep my mind still, be aggressive and offensive and not let myself be affected by outside issues."
Even though Ma's second round was not as spectacular as the first, with the youngster carding 73 and dropping two strokes, his lead suffered not, as he maintained a five-stroke advantage over Joseph Dolezal of the US, with Eli Walker Campbell and Will Gragware two shots further behind.
Among those pressing Ma early on was Texas native Walker Campbell, who rebounded from a triple-bogey at the 4th, with birdies at 5, 7, 9, 11 and 12, drawing within two shots of the lead with six holes remaining.
However, the big-hitting Texan fell back to even with bogeys at the final two holes. And even as he carded a 74 for his second round, Walker yet remains within a shout of Ma at three-over-par.
"I was hitting my second shots really well," said Walker Campbell in between rounds. "I tripled four, but I came back well from that."
"My putting was great. My first shots were pretty good and with my second shots I was hitting it close and I was able to get it back to even after the front nine.
"I was able to make a couple of birdies to start the back nine. I didn't finish how I wanted to, but it's all good."
Campbell noted a need too perhaps, dial back his tendency to try and overpower the course.
"I'll probably look to play a lot smarter golf and not be as aggressive, " said the 16-year-old, who's older brother Stephen Campbell is a member of the University of Oklahoma men's golf team. "I'll try to work a little bit better on the tee shots to get them in play and work from there."
Top local junior Oliver Betschart stood tied for 23rd at 16 over-par, while Dylan Muso was in a tie for 29th at 19-over
Among the top females was Aphrodite Deng of Canada, who produced a two-over-par first round score of 73, that combined two birdies and four bogeys, which was good enough for a share of second, but she was unable to complete her second round, as wind, rain and fading light forced an early end.
The day featured Deng battling for supremacy against the likes of first-round leader Ein Kim (72) of South Korea and Georgia's (US) Norah Hope Kim (74).
"I did good," said 12-year-old Deng, who lives in New New Jersey but has spent recent time in Florida, honing her game in the much warmer climes of the south. "It was tough out there. With the wind everything was blowing off the greens and you had to make up and downs and settle for par.
"Today my driver was a little off and my hybrids were off as well, so I'm just hoping to play my best and try."
Experiencing her first major international tournament is Bermuda's Sienna Mosquera, who shot a 17-over score of 88 for the first round, leaving her in 19th.
"I was really fun,"said Mosquera. "I'm satisfied with how I played. I've been playing consistently like this, but it's been a lot of fun being out there among the players and I hope they do more tournaments like this because it will allow more girls to play.
"There are not that many girls who get the opportunity to play in tournaments like this.
"I'm okay with my position, because I only just started playing in tournaments, maybe a year ago. This is way different to he local tournaments, the competition is a lot higher standard and I'm hoping to be able to do this again next year."