Gymnasts end their season with a bang
Created: Mar 04, 2015 08:00 AM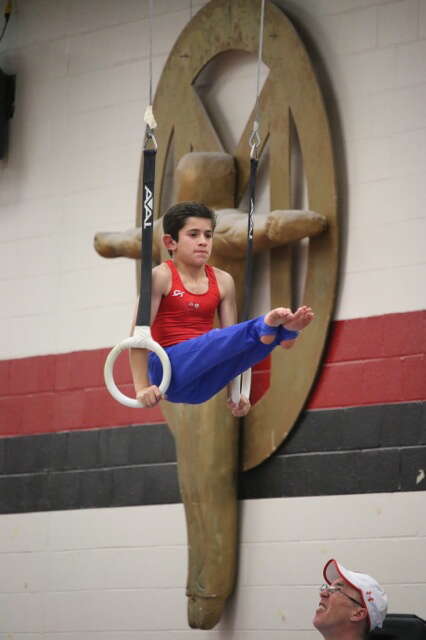 The Bermuda Gymnastics boys squad traveled to College Park, Maryland to compete in the Preston Gymnastics Mid Atlantic Invitational last weekend.
Duke Nelligan, the head coach, accompanied Taj Lowery, Max Blakeney, Thomas Gesick, Jordan Trimarchi and Jacob Madeiros to the event.
Blakeney started the weekend off with a bang, winning Vault in the level 6 division (10.4). He also finished fourth on floor (9.5) and 14 all around (53.1). In the level 7 division, Lowery earned finished 11th all-around (55.0) and sixth on Parallel Bars (9.4).
Madeiros won the second gold medal for Team Bermuda, also on vaulting, in the level 4 division (9.7). This was Madeiros's third top two finish on vaulting this year and he finished 12th overall with a 58.4.
In the final event of the weekend, Gesick and Trimarchi finished 21st (57.0) and 24th (55.3), respectively, in level 5. Gesick earned a seventh place medal on floor with a 10.3, and Trimarchi won 10th place on Rings with a 10.6.
The Competition marks the end of a successful winter season for the boys squad.
Highlights of the season included:
December 2014: Yellow Jackets Holiday Invitational - Boston Mass: Jacob Madeiros and Taj Lowery earn gold medals on vaulting in Level 4 and Level 6, respectively.
January 2015: Max Blakeney earned fourth place on rings, floor and parallel bars at the Abie Grossfeld Invitational
February 2015: Jacob Madeiros won a silver medal and Ben Mello won sixth on vaulting, both in the level 4 division.
The Bermuda squad now turns its attention to this summer's NatWest Island Games. The gymnastics portion will be held in Angelsey from July 23 to 25. It will be the first time Bermuda has sent a boys team to the Games.