Bermuda enjoy second-half goal glut
Created: Nov 07, 2017 08:00 AM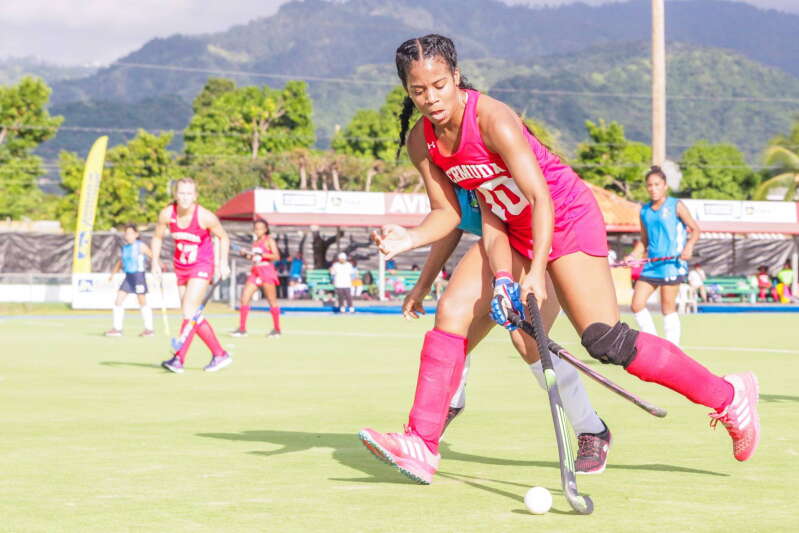 Bermuda 4 Guatemala 0
Three second-half goals gave Bermuda a richly deserved first victory at the Central American and Caribbean Games qualifiers in Kingston, Jamaica yesterday.
Jasmine Patterson, the vice-captain, gave Bermuda a 1-0 half-time lead before Selina Whitter and Keishae Robinson struck from penalty corners, with 16-year-old Chrysda Smith finishing the rout from close range.
Much like their 0-0 draw with Puerto Rico on Sunday, Bermuda dominated possession early on, but played with more physicality, determination and intent against Guatemala.
Azari Thomas and Iman Smith performed with drive and invention in the Bermuda midfield against their overmatched opponents at the Mona Hockey Field.
Patterson gave Bermuda the lead, rasping shot in from just inside the shooting circle. The Bermuda vice-captain earnt a penalty stroke when Norma Quevedo, the Guatemala goalkeeper, obstructed after Patterson got on the end of a long pass from Tavares. However, after a seemingly age-long wait, Quevedo saved Patterson's soft shot with her right foot.
Patterson would respond in perfect fashion, however. She was back in the circle within seconds and made sure Quevedo could get nowhere near her effort to make it 1-0.
Kascia White forced a kick-save from Quevedo late in the opening period after getting on a Renee Greenslade pass into the circle.
LaKae Tavares, the Bermuda defender and captain, created Bermuda's best chance of the second quarter, but Chrysda Smith could not quite get a stick on her smashed pass into the circle.
The floodgates would open in the second half, however, and Maya Palacio fired a warning shot when she hit a post from Iman Smith's pass into the circle and it would not take long before Whitter made it 2-0 from a penalty corner.
It took until the fourth quarter before Guatemala got their first penalty corner, but it came to nothing and Bermuda had another one of their own after the ball hit a foot of Maria Calderon in the circle. Greenslade took it and Robinson swept home for the third goal.
Bermuda made it 4-0 only a minute later when Chrysda Smith poked the ball from close range, leading to an exuberant celebration with Greenslade.
There was still time for one final chance for Bermuda, but Alex Francis sent the ball wide with the last effort of the game.
Chrysda Smith explained her joyous celebration.
"I feel like it's indescribable, because it's my first tour, I'm the youngest person on the team and I scored in the last quarter," she said. "I started to cry immediately because I had no other emotion to express. I'm just so overwhelmed.
"I'm so happy for our team. We've come such a long way. We've trained for a very, very long time, we've finally come to this, we wanted to score goals and we did."
Bermuda are third in the standings at the moment with four points. They trail second-placed Guyana, who drew 0-0 with Puerto Rico yesterday after beating Panama 6-0 the day before, on goal difference. Jamaica top the table, having been the only team to win their first two games; beating Panama 3-0 yesterday and Guatemala 6-0 on Sunday.
The top two teams in the round-robin stage qualfy for the CAC Games in Barranquilla, Colombia, next summer. They also meet in the final on Sunday, which starts at 3.45pm Bermuda time.
Bermuda have a rest day today, before facing Panama tomorrow at 9.30am, Bermuda time, and Chrysda Smith explained the team's plans for their "day off".
"The main thing is rest, rest, rest," she said. "But we're still going to get some exercise in to keep our muscles going and not break any momentum from the last two games, especially this one."
SCORERS
Bermuda
Patterson 12, Whitter 39, Robinson 50, C Smith 51
TEAMS
Bermuda: A Dunstan — M Palacio, S Whitter, T Mullan, M Clarke, T Booth, A Thomas, L Tavares, K Robinson, R Greenslade, C Smith. Substitutes: X Swan (GK), I Smith, K White, J Patterson, A Francis.
Guatemala: N Quevedo — D Bernardo, J Espino, X Flores, V Leiva, L Guzman, N Axpuac, A Lopez, L Matias, H Charuc, S Sis. Substitutes: M Calderon, S Pineda, L Ramirez, C Giron, D Vasquez. Green cards: Leiva, Guzman. Yellow card: Pineda.
Umpires: M Selles (Panama), S Adams (Jamaica).