Let them eat steak
Updated: Dec 17, 2010 06:42 AM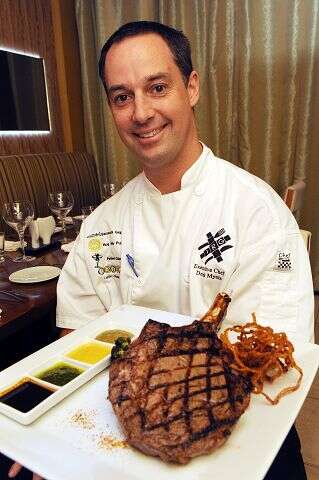 Picture it. You plan a romantic meal for your spouse. You pull the steak out of the fridge, wash it under the tap, salt it and throw it into the frying pan. At the grocery store you picked the steak with no visible fat, because after all, you care about your spouse's health.
Now, picture that your spouse could be in for a rough night, as you have just made some major steak faux pas if an edible, juicy steak was what you were after.
According to the website www.whatscookingamerica.com, not letting your steak reach room temperature before cooking it is one of the most common mistakes amateur chefs make. If you throw the steak into the pan, directly out of the fridge it will contract when it hits the heat and this will cause it to become leathery. Instead, let it sit for a half an hour before cooking.
If you wash or rinse your steak, make sure you pat it dry, otherwise you'll be steaming your steak. It is also important not to use table salt on your steak before cooking it. Table salt just before cooking draws out all the moisture and makes the steak even tougher.
However, the exception is kosher salt. One option is to cover a one-inch thick steak with kosher salt, let it sit for an hour. Then rinse away all the salt from the steak and pat it completely dry.
Although a fat-free steak may sound like a healthy option, it is not necessarily the most tasty option. The experts look for the meat with the most marbling. While it's being cooked the fat will melt, infusing the meat with tenderness.
However, avoid steaks with a half-moon-shaped vein running through them, because again, you'll be in for a lot of chewing. And pay attention to the grade of steak you are buying. The higher the grade of steak such as USDA prime aged beef or choice the better the steak should be, assuming it was cooked properly.
Of course, if your spouse turns pale when you get out the frying pan, the kindest thing you can do may be to go out to dinner. Latin rumbar and churrascaria restaurant on Victoria Street changed their menu to more of a Brazilian steakhouse concept in November.
In addition to their expanded individually plated fine steaks during the week, on Sundays, meat is served rodizio style. Basically, servers come around with large cuts of fire-grilled meat on swords. It is carved from the sword at your table. The Sunday meal at Latin is $35 per person all you can eat and a great option for groups of friends or family.
Latin Restaurant executive chef Derek Myers picked up a few special tips about cooking great steaks after he won a trip to Mexico.
"It was when I first joined Island Restaurant Group," said Mr Myers. "The competition was run by the US Meat Export Federation. I was lucky enough to be invited to the finals held in Mexico City. What I learned was the importance, particularly in Latin cooking, for the meat to speak for itself. An excellent piece of beef doesn't need much when it comes to ingredients, but what it does need is careful and judicious seasoning, and most importantly, expert preparation and grilling."
He said the secret to a good Brazilian steak is chimichurri, a sauce of garlic, parsley, cilantro and vinegar that can easily be made at home.
"It is probably the most used sauce in Argentina," said Mr Myers. "They alter it a bit and add some red chillies or smoke it. It can be used in many different ways."
Different countries in South and Central America all have their own steak traditions. In Argentina, they like to dress their steak with chimichurri, but in Guatemala it is more common to use a roasted tomato sauce called chirmol. In Nicaragua they roll thinly cut meat into a jelly roll, put chimichurri sauce on it and serve it with plantains and rice.
"Latin is a style of cooking that is hugely popular in the United States," said Mr Myers. "I like all Latin food. They all have their differences. There is not one in particular that I like. I could eat the chimichurri skirt steak all the time."
A staple of Latin cuisine is the chili pepper. At Latin they go through about 40 to 50 pounds of chillies a week, special ordering many of them from abroad. They use guajillo, dried chipotle, arbol, and passilla peppers, among others.
The arbol pepper is the spicy one. If you want to cook Latin food at home, but can't find all the special peppers they aren't too hard to grow. In fact, they grow well in warm weather climates like our own.
If you are looking for a healthier option, grilling your steak rather than frying it in oil can be healthier. Although some chefs grumble that if you are looking for something healthy, don't eat steak!
Be aware that many fine restaurants have equipment with a very high heat to cook the steak, something few people have at home. They also often have access to high quality meat, not found in the average grocery store. So don't beat yourself up too much if your steak doesn't come out restaurant quality.