Space, serenity and sea views
Updated: Mar 24, 2015 09:18 AM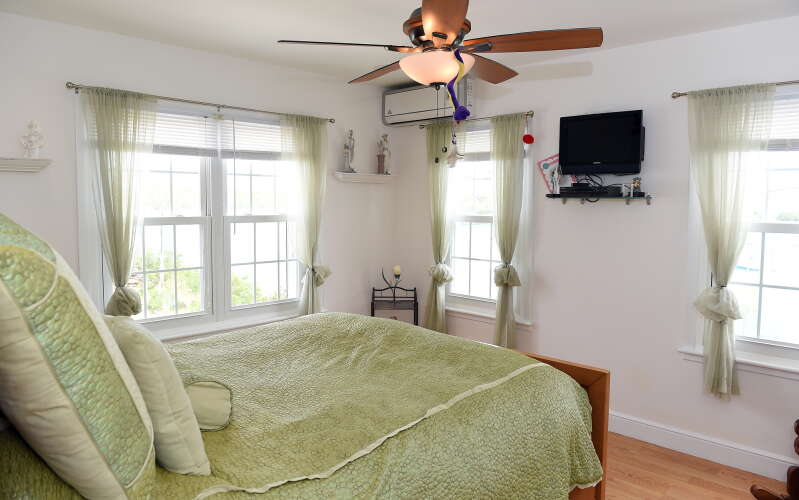 Turtle Watch offers the serenity of St David's and views of delightful Dolly's Bay.
The four-bedroom home is now for sale, courtesy of Coldwell Banker Bermuda Realty.
With it comes deeded waterfront — the owners' boat is moored only a short paddle from the St George's property.
Loquat, weeping mulberry and nectarine trees can be found in the backyard of the main property, along with a vegetable garden.
A two-bedroom apartment attached to the house has its own garden area.
The 57 St David's Road property comes with two water tanks and each holds about 18,500 gallons.
According to Coldwell Banker realtor Karen Brine, the access to Dolly's Bay should be a big draw for boaters — the body of water is protected and vessels moored there can be covered by insurance.
"Are you a boating enthusiast? Well this property has all that you will need plus more," she said.
"This property owns a portion of land giving [its owners] direct access to the waters of Dolly's Bay."
The home was built in 2007. The main building is on two levels, with the community areas all located on the ground floor. French doors open on to a patio that offers views of the nearby bay. "The main house features a split-level accommodation with tiled living room and lots of bright light," Ms Brine said.
"[There's an] open-plan dining and kitchen area [and, off to one side is a] prep kitchen space, offering the chef in the house lots of cabinet and counter space."
The prep kitchen includes a second fridge and oven, and extra pantry space.
"A family room/bedroom is also on this level and a powder room," Ms Brine said.
"As the house is split-level, a wooden staircase takes you to the second floor. On this floor you will find three additional bedrooms, two bathrooms and [an] office/laundry area.
"Most of the bedrooms offer water views of Dolly's Bay. The main house has a nice garden area for entertaining, plus a well groomed garden to relax.
"[There is] a room under the house for the do-it-yourself person or [it can be used as] a dry storage room.
"Additional storage for kayaks is located under the decking."
<p>At a glance</p>
Total square feet:
Main house: 2,100
Apartment: approximately 768
List price: $1.050 million
Lot size (in acres): 0.27
Contact: Karen Brine on 247-1806 or kbrine@brcl.bm. Alternatively, visit bermudarealty.com