Going around Bermuda ... with a paddleboard
Created: Aug 04, 2015 09:00 AM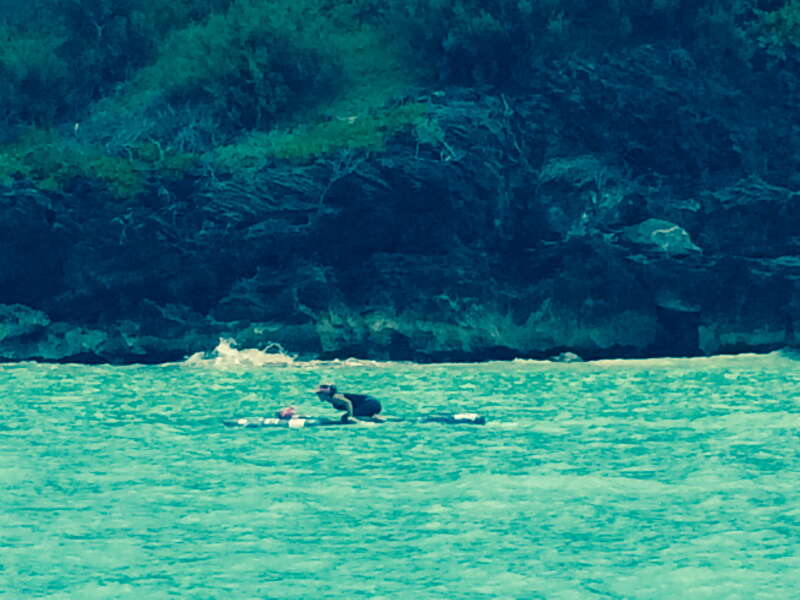 Competitive paddleboarder Joanna Bilancieri didn't expect Bermuda's waters would provide such a challenge.
The 41-year-old from Oahu, Hawaii had faced everything from enormous sharks, to 20ft waves in her paddles at home.
The Bermuda experience, however, threw her for a loop.
She completed the 42-mile paddle using only a board and her arms. It took her eight hours and 50 minutes to finish her journey on July 26.
"My arms were just so tired," she said. "After the bad weather the day before, the water was still quite choppy. There was also a strong current in many places which sometimes caused me to ricochet between rocks. I would be coming down at a pretty good clip then 'boom!'. I would feel like I got hit and I would come to an almost screeching halt, because of the current."
In Hawaii, she's often looked down into the water to see the shadow of a shark passing under board. On her Bermuda journey the most she saw were turtles.
"I was stung by jelly fish a few times," she said. "But that's normal."
The physical therapist has won several paddleboard races across Hawaii's 32-mile Moloka'i Channel, one of the roughest crossings in the world.
The feat here, done facedown on the paddleboard, was her longest paddle yet.
Dr Bilancieri was in Bermuda to bring attention to her campaign against sexism in women's sports, "Bad Ass, Not Bare Ass".
She started it last year because she felt the winner of a paddleboard competition got more than the standard amount of press because of her skimpy clothing.
"Women, particularly in sports like volleyball, swimming and paddleboarding, shouldn't feel pressured to dress a certain way to get attention," she said. "Their athleticism should be the draw."
She is developing a line of sports wear with her slogan, as part of the campaign.
Dr Bilancieri chose Bermuda to circle, after seeing a friend's vacation photos on Facebook.
"I wanted somewhere where I could paddle more than 32 miles in a day," she said. "Bermuda was so beautiful and is also the apex of the Bermuda Triangle. I thought, 'Perfect'."
Getting her board from Hawaii to Bermuda was her first challenge.
She struggled to get concrete information on Bermuda Customs' requirements. Once here, she needed the help of Bermuda Forwarders and the Department of Tourism before Customs would release her paddleboard. She then had to pay a $1,000 tariff.
Once she finally got the board she discovered it had been badly damaged on the flights from Hawaii.
Blue Hole Watersports helped to patch it up with epoxy.
"The board was not as aerodynamic as I would have liked, and we did not have the tools to sand the epoxy properly," she said. "The extra epoxy made the board heavier in the water."
Despite all that, she had a great time in Bermuda.
"I can't wait to come back," she said. "We could start a 'choose your weapon' event here, and people could circumnavigate in whatever vessel they choose."
Dr Bilancieri grew up in Marlborough, Massachusetts, and was always a "water rat".
"I moved to Hawaii so that I could be in the water all year around," she said.
She cross-trains for paddleboarding 20 to 30 hours a week and took on the Moloka'i channel challenge after seeing friends do it on different vessels.
"I got myself a paddleboard and started training. It was so simple and pure."
She'll race in the Hawaii State Stock Class Prone Paddle Board Championships at the end of this month. She's already won it five times.
Look for photos of her Bermuda paddle on Facebook: Bad Ass, Not Bare Ass.