How does my gay marriage impact anyone else's?
Created: Sep 01, 2017 09:00 AM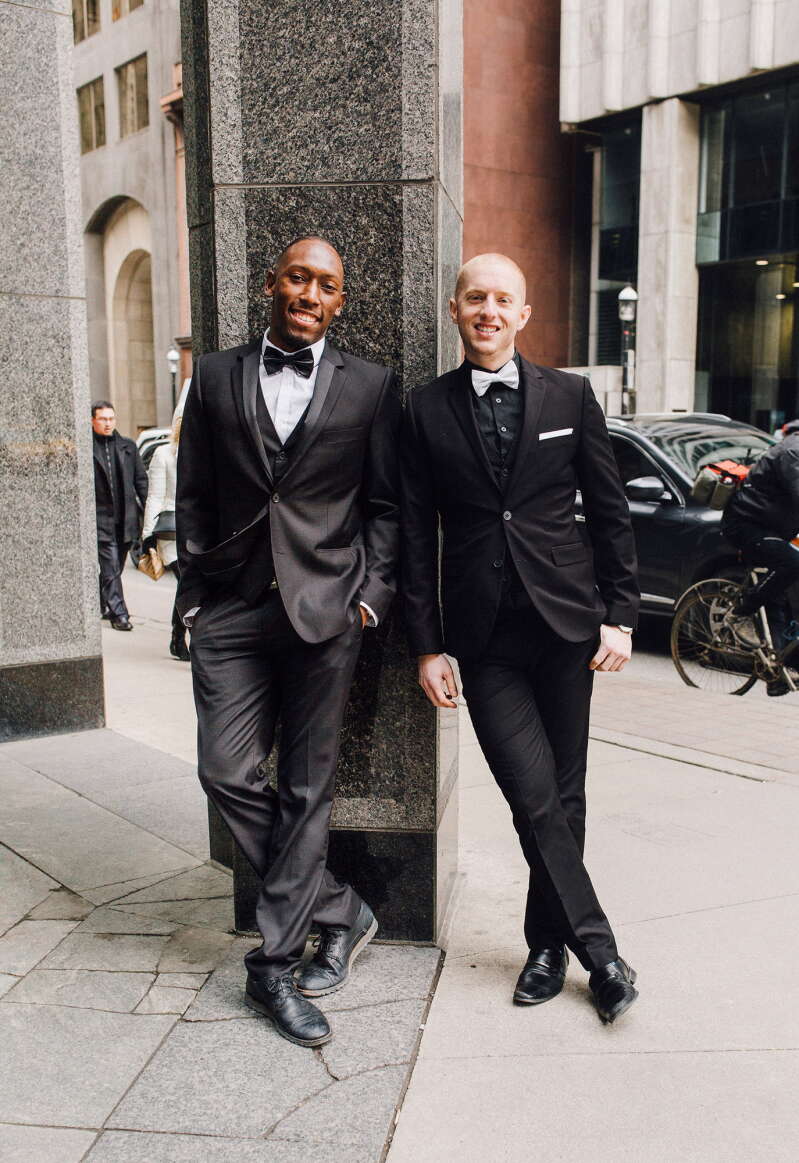 Dear Sir,
The following is an open letter to government backbencher Wayne L. Furbert:
My name is Winston Godwin. My husband's name is Greg DeRoche. We have actually never had the pleasure of meeting. We have crossed paths but have never talked. There are mornings I've contemplated stopping to chat, but I assume, like myself, you are a busy man.
In many ways, I think you and I are very similar people with opposing views on life. Opposing views are OK. In fact, opposing views and debate are healthy and help progression. Our differences are what make this world such a beautiful place. However, the problem arises when our differences are not celebrated but are seen as less than. Problems arise when we are told our differences, the very things that make us who we are, make us second-class citizens. Problems arise when we are told you cannot have the same rights because you are gay.
For a second, I would like you to pause and replace the word "gay" with "black" or, quite frankly, with any race, nationality or "difference" that you are born with and have no control over. Race has always been at the forefront or otherwise here in Bermuda. It was not until we had people strong enough to stand up and challenge this notion of "separate but equal" that we began to see changes. I thank people such as E.F. Gordon and groups like the Bermuda Workers Association for fighting for my rights — our rights. It was not until the 1960s that desegregation expanded to the wider community of Bermuda due to events such as the theatre boycotts, which ended separate-seating policies. This eventually led to hotels and restaurants following suit.
Mr Furbert, the point of that brief history lesson is to remind you that at one time blacks had to also fight for their rights to be heard and recognised. The race issues faced in the 1960s, and earlier, are the gay rights issues we are facing at present. I am certain you as well as the larger Bermudian community are aware of what it has taken for race relations to get to the point of where they are now — including the riots of 1977, which we were so recently reminded of. Experiencing what you have, how can you actively work to deny the LGBT community the same rights you were denied and fought for based on your skin colour in the 1960s?
The decision my husband and I made to fight for same-sex marriage here in Bermuda was not taken lightly. From the beginning, we made it clear it was never about us; it was based on similar principles that you and the black community believed in. We all deserve equal rights and protection under the law, including marriage. Since Puisne Judge Charles-Etta Simmons's landmark ruling on May 5, at least three same-sex couples have married here on the island. In addition, Cunard Cruise Lines will also begin offering same-sex ceremonies on board its Bermudian-registered ships.
It is quoted on the parliamentary website that your motto is: "If he can help someone as he passes along life's journey, then his living would not have been in vain."
I wholeheartedly agree with that statement and I believe they are true words to live by. Mr Furbert, introducing this Private Member's Bill will not only effectively exclude same-sex couples from the right to marriage, which you so enjoy, it will also send a message to the world about what sort of country Bermuda can be. Should this Bill be passed, Bermuda would be the only country to grant same-sex marriage and have it revoked.
Mr Furbert, as you are aware, there is a plethora of other issues plaguing the island at present — education, unemployment, gang violence, road safety etc — all of which I and many others would argue impact Bermuda far more than who anyone "chooses" to love.
In closing, I leave you with this invitation. I invite you to respond to this letter. I invite you to answer the questions and invite you to coffee where we so often see each other. I invite you to answer why does same-sex marriage truly offend you. How does my marriage or any other LGBT marriage impact yours or anyone else's? As I stated, there is far more to be lost than gained with your Private Member's Bill.
Lastly, in reference to your motto, "If he can help someone as he passes along life's journey, then his living would not have been in vain". Do you truly believe this Bill coincides with your motto? Is this Bill something that Bermuda can look back on and benefit from? This Bill would do far more harm than good if passed.
Mr Furbert, you may or may not have noticed, but I consciously chose to leave religion and the Bible out of this letter. If you could please do me the same courtesy because when it comes to human rights, religion has no bearing.
WINSTON and GREG GODWIN-DeROCHE