Remembering an excellent gondolier
Created: Sep 22, 2022 08:00 AM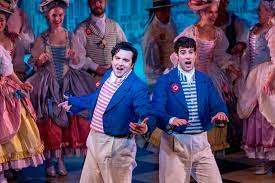 Dear Sir,
I often feel that when one has lived in Bermuda it is like being a member of a kind of club. I know that even though I now live far away, the place and others associated with Bermuda seem part of that.
Of course, it might have helped to have been young when one was there.
So I was saddened to receive news of the death of my friend Ian Suddards this week in England after a long illness.
To those who may have been part of the circle in the Bermuda Musical and Dramatic Society in the early 1970s, Ian was a talented actor of professional training and skill who played in the local productions, as well as directing a fine Hamlet with the late Bermudian resident John Instone in the title role.
He worked as an actor for a while in the Melbourne Theatre company, including in the original stage production of Breaker Morant [with Jason Donovan's father, Terry, in the lead role. [This play was later filmed, directed by the Australian Bruce Beresford, in the 1980s.]
He also performed his own one-man Shakespeare show on the old QE2 between Southampton and New York.
Ian was a fine guitarist, later teaching the instrument part-time at the Sherborne School, in Dorset. He sang with an excellent baritone and I recall fondly his work in the Gilbert and Sullivan's, directed by his mother, Marcia Suddards.
I believe we were a colourful lot in Bermuda's thespian world back then; but, of course, it was many years ago and Bermuda and the world have changed.
However, I am aware that there will still those who may fondly recall Ian's sojourn in Bermuda. It doesn't seem so long ago that I stood in the wings and watched the lovely singing of Ruth Thomas as Tessa in The Gondoliers, in which Ian played a "gay gondoliere" — as he and the tenor gondolier sing in the show.
Ian was one of so many sojourners in Bermuda who have brought their gifts to enrich island life — he also worked for ZBM for a time.
I salute his passing and notify anyone there who knew him.
DAVID MORRIS
Byron Bay, New South Wales
Australia