Three stores open in Washington Mall
Created: Dec 06, 2012 08:00 AM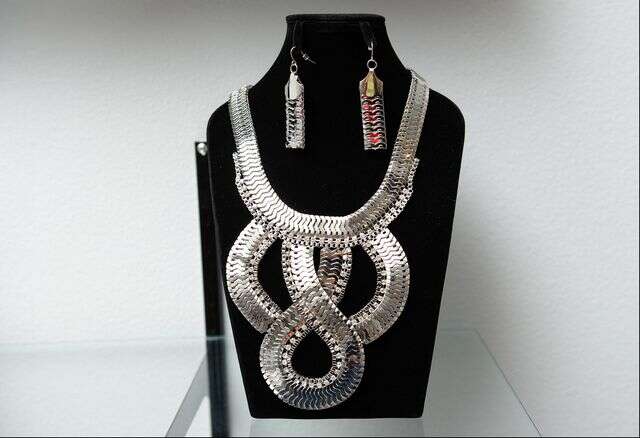 Despite Bermuda's continued struggling economy, three new stores have opened in the Washington Mall.
Atlantic Jewellery, which moved from its previous location in Pembroke and accessories shop Guilty Pleasures have both opened their doors within the last few weeks. For Now by Sail On has taken over the space once occupied by All Wrapped Up and will be opening next week selling "fun, miscellaneous items".
Atlantic Jewellery Studio opened in 2002 but was located tucked away on Euclid Avenue with little foot traffic. Local goldsmith and owner Jacquie Lohan moved to the new Hamilton location, downstairs in the new portion of the Washington Mall two weeks ago.
"My customers always said to me that the jewellery should have more exposure but it was always a question of finance but finally I decided to give it a go," said Ms Lohan, who designs all of her own jewellery.
Ms Lohan always had a steady stream of customers but in recent times many of those that knew about her Pembroke shop had left the Island.
"A lot of my regular customers moved away — my customer contact list dropped by 20 to 25 percent," she said.
That's when she decided that being in the centre of the shopping action might be a good idea.
The new store is chock-a-block full of her hand-designed, handcrafted jewellery — featuring precious to semi-precious metals and a full range of gemstones. The store also offers a new charm line by Lori Bonn, with more than 200 handcrafted charms available.
"I love my new location," said Ms Lohan of her new shop, which is located next to the Beluga Bar and The Booth. "I have fantastic neighbours and am on a corner so we have lots of traffic. My regulars come in to say hi and then we have new people who never knew about us that come in for the first time."
Ms Lohan's functioning workshop is also located on the premises where she creates pieces for purchase in a wide price range — from $30 up to items in the $2,000 range.
"We have unique, trendy jewellery," she said. "So far the feedback has been wonderful."
Guilty Pleasures, owned by sisters Jamela and April Daniels, opened last Friday and is located on the upper walkway of Phase 1 of the Washington Mall, in the spot where A&J Sports Memorabilia was once located.
The store specialises in custom jewellery both handmade and vintage as well as cosmetics, genuine leather handbags and cashmere and pashmina scarves.
Ms Jamela Daniels, who also owns Impact Media, earned her degree in Fashion Merchandising and Communications and decided to take the plunge into retail.
Before returning to the Island ten years ago, she gained experience working at popular stores like Saks Fifth Avenue, Neiman Marcus and Arden B.
"Having worked in so many different facets of the industry, I knew I wanted to be go into fashion but not exactly where in the industry," she said.
When she travels, Ms Daniels loves visiting accessory and jewellery shops like Claire's Boutique in the US.
"That is my guilty pleasure and that's where the name for the shop came from," she said. "I love fashion accessories and Bermuda didn't have a place that was dedicated to that area."
One of the stores staple items is the very popular skin care product line Proactiv, an over-the-counter treatment for mild to moderate acne as well as dark spots and other skin conditions. Celebrities from Lindsay Lohan to Justin Bieber have promoted the line. Ms Daniels had been bringing in Proactiv and personally delivering it to clients since earlier this year but she became overwhelmed with orders so decided to sell it in the store.
"We have the majority of the line in stock, brushes, kits as well as their popular dark spot corrector," she said.
Ms Daniels said in the few short days the store has been open, business has been good with her clientele ranging from teenagers who love the Angry Bird earrings on offer to the older crowd looking for vintage pieces. Jewellery items in her store range from $10 to $40.
"Our vintage collection goes from the 1930s to the 90s, so it is a huge range of time period," she said.
She has also seen many customers coming in for gift certificates to be used for Secret Santa parties.
Guilty Pleasures also sells faux designer duds for pampered pooches. Faux Louis Vuitton coats to Adidog sweatshirts — sizes range from extra small to large. Raincoats, leashes and collars are also on offer as well.
Asked about taking the leap into opening up her own shop during a time when many other shops are closing their doors, Ms Daniels said that it's all about understanding the buyer.
"You have to know your client, you have to provide great customer service and prices that are affordable," she said. "You have to keep up with the times, keep your merchandise fresh and that's why we have new items every week."
"So far it's been pretty steady," she added. "For Christmas parties, ladies can find the perfect piece to go with their dresses."
New store, For Now by Sail On, will open next week selling "fun, whimsical items" from accessories to furniture.
"There will be a nice surprise from everyone," said Roz Lima, general manager for the store. Sail On's main store is also located in the Washington Mall on Reid Street. When the new shop does open, the hours will be Monday-Friday 10am-5pm and Saturday from 9am-5pm.
Guilty Pleasures is open Monday-Friday from 10am-5pm and is open until 9pm on Fridays during the holidays when a DJ will be entertaining customers starting at 6pm, Saturdays from 10am-5pm and Sundays during the season from 1pm-5pm. Call 703-3338 for more information or search Guilty Pleasures Hamilton, Bermuda on Facebook.
Atlantic Jewellery Studio will be open Monday-Thursday, 10am-6pm and until 9pm on Fridays during the season, Saturdays from 10-5pm and 1-5pm on Sundays. Call 542-1554, www.atlanticjewellery.com or on Facebook.