Many Bermuda eateries offer special deals for Restaurant Week
Created: Jan 07, 2013 03:51 PM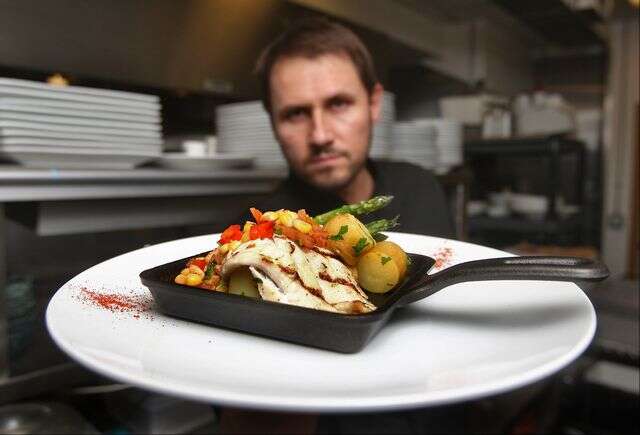 Diners will soon be able to snag some sweet deals or try special menu items at dozens of Island eateries starting next week.
Bermuda's Restaurant Week kicks off on next Wednesday, January 16, and runs through Wednesday, February 6 — giving residents, tourists and foodies 22 days to cash in on specially priced
prix fixe menus at some of the Island's finest restaurants.
More than 30 restaurants around Bermuda are participating this time around with three course dinner menus priced at $29, $39 and $49 per person excluding beverages and gratuity.
Restaurant Week, now in its second year, was designed by the Department of Tourism to showcase Bermuda's food offerings during one of the traditionally slowest times of the year.
Philip Barnett, co-chair of the Bermuda Chamber of Commerce restaurant division, says he hopes the deals and discounts not only bring in some much-needed business to local restaurants, but also show people what Bermuda's chefs have to offer.
"Considering that we're only 65,000 people, which is a small town anywhere else in the world, we have a pretty robust culinary scene here," he said. "We have some really talented and amazing world class chefs here who are truly passionate about what they do and they really do want to be creative and they really do want to be cutting edge and they really do want to be value-oriented and focus on putting really great food on plates.
"From a consumer's point of view, you actually, surprisingly, have a lot of choices in Bermuda, again when you consider that it's only 65,000 people.
"Because we have a very demanding audience now in Bermuda with international businesses being domiciled here, we can't just go through the motions. We have to produce a global standard product in order to ensure that our guests are satisfied.
"They have business dealings they do in our restaurants and they need to know that they're going to have a timely experience, that they're going to have a professional experience, and that they're going to have a good experience that reflects well to perhaps their client or their broker or the underwriter that's visiting or whoever else they're doing business with."
Mr Barnett, who is also president of the Island Restaurant Group, which owns Hog Penny, Barracuda Grill, Victoria Grill, Rumbar and Pickled Onion, says many restaurants will be offering special menus or dishes during restaurant week — allowing their chefs to really shine.
"I just know that my chefs get very excited about it," he said.
"Everybody seems to think that chefs just want to sell the most expensive dish, they actually don't. A chef's challenge is when you use lesser used ingredients that may not be the most expensive item to create a fabulous tasting, rewarding, experiential dish that is memorable. They really are passionate about creating an emotional response in the people that eat their food."
With fewer tourists visiting and more residents trying to cut calories after the holidays, January and February are typically the slowest two months of the year for the Island's restaurants. But restaurateurs hope the Restaurant Week promotions entice people to travel here and eat out to help keep them busy and viable throughout the traditionally cold, wet months.
"The goal of this, because it's being driven by the Department of Tourism, is to attract overseas visitors to actually come down and experience it," Mr Barnett said. "It's really to appeal to people who are looking for a culinary travel experience as well as a general travel experience to come and enjoy what Bermuda has to offer at some pretty amazing prices quite frankly. To be able to have a three-course dinner for $30 in Bermuda at an upscale casual restaurant is a pretty spectacular deal.
"It gives people something to do in a time of the year where the weather may be a little bad and they might not be able to be out and about — encourages them to come in and enjoy a nice dinner somewhere.
"When you travel to wintry cities, you're not outside all the time. Guess where you are most of the time — you're either shopping or in a restaurant having great conversation, interacting with your spouse or whoever it may be and it's just a really good social place to be."
Mr Barnett says loyal locals are keeping restaurants afloat and he hopes they too will take advantage of the deals.
"It's right after Christmas and we're probably all in the same boat, looking at our credit card bills saying, 'Oh no. Why did I spend that much?' So, to be able to have a reasonable dining experience at one of your favourite restaurants with a special menu is, I think, an excellent opportunity."
To see the list of participating restaurants and the deals on offer, go to: http://www.gotobermuda.com/restaurant-week-2013/
To book a table, you can also visit table.bm, which allows users to make reservations to more than 90 of Bermuda's restaurants online.