New boutique caters to baby boomers
Created: Jul 19, 2013 10:53 AM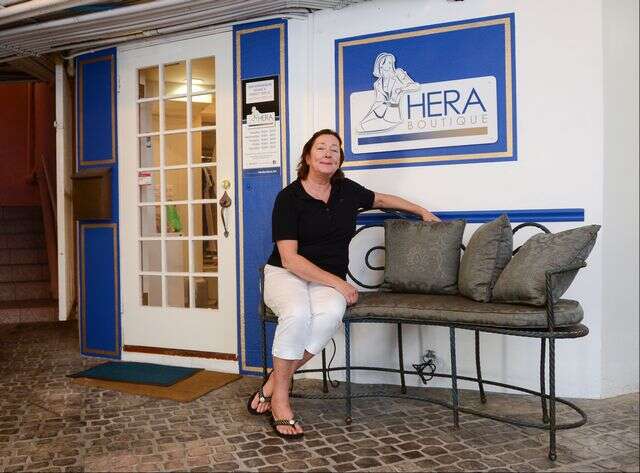 Joan Cabral, who was the ready-to-wear buyer for Trimingham Brothers as well as The Crown Colony Shop now has her own boutique, and it is especially for the baby boomer generation who need classic, stylish and well-made clothes.
Hera Boutique, named for the Greek goddess of marriage, life and love, is filled with clothes designed for work, smart social events or relaxing. These European and American pieces go from the office to dinner, are for casual weekend wear as well as dressed up occasions.
She said: "I've been thinking about opening a shop for a long time. People have been asking me to do it for years — especially after HA & E Smith and Trimingham Brothers closed. This boutique is for those baby boomers and middle-aged women — the clothes are classic with zip — you are not going to look like mutton dressed as lamb."
Speaking directly to her clientele, Ms Cabral said her mannequins are in sizes 12 and 14, the most popular sizes.
Her clothes are also stylish. "Some younger girls have bought things from me — we have lovely floral jeans, in cotton with a bit of stretch. The floral pattern is either on a white or blue background, and can be paired with a patterned tee or polo shirt."
Ms Cabral has a surprisingly large amount of stock in her cosy Old Cellar Walker Arcade shop. She finds it in Europe and in the US. "I have a German line which is very popular. They are related separates — so a pant in tangerine, with a tee in colours that work together so you can mix and match and get several different looks.
"There is something for every style," she said.
"We also do fun little throw-on, easy-care dresses which are sleeveless and can be matched with shrugs." She demonstrated how the pieces can be worn together: a conservative dress in navy stripes with a tangerine shrug and a floral scarf with splashes of tangerine and navy — "and it all goes together!"
Another option is a smart, vibrant tangerine dress is in an elegant summer-weight pointe fabric. "It's in stretch cotton, lined but light, with bow-shaped details reflected in a matching blazer."
"Take off the blazer, add a necklace and pair of pumps and you're ready for a dinner party," said Ms Cabral.
For special occasions and dressed-up evenings, Ms Cabral has stocked beautiful, well structured dresses that are popular with baby boomers. One is ruched in a blue fabric, and lined with Spanx elasticated material designed to make the wearer look at least a size smaller. Another dress, by Diane Freis, is flounced in a jewel-inspired chiffon fabric, with an underskirt that is scattered with sparkling elements.
She said many of the lines she carries sell only to boutiques. There are tailored slacks and beautiful wool cashmere coats from Italy, sportswear from North America and handbags made in Florence. Hera Boutique also carries Geralyn Counsell's wool-felt scarves and jewellery, as well as Gem Designs' jewellery by Cindy.
The prices are frequently the same as the pieces sell for in the country in which they were made. "When someone finds something they love and it makes them happy, it makes me happy to help people," she said.
Are more mature women set in their ways in terms of what they like to wear and pattern styles? "Yes," said the boutique owner. "But lately people have been saying they need to find something different."
And at Hera Boutique, they can.