New cafe The Snug to open next week
Created: May 23, 2014 09:00 AM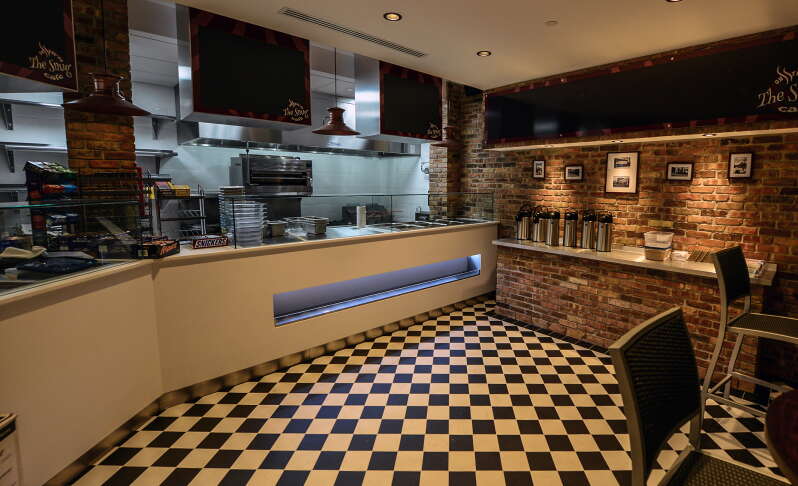 Good food, friendly service and Bermudian staff out front dealing with customers — that is the formula that has enabled the group that owns the Flanagan's restaurant to expand through a lingering recession.
Now Harbourside Holdings Ltd is preparing to open its third eatery in the Emporium Building on Front Street, in the shape of a cafe called The Snug.
Situated on the site of the old Kathy's Cafe, which closed last autumn, the renovated space will open on Wednesday next week to cater primarily to the breakfast and lunch crowd, serving hot and cold food, as well as ice cream and hot drinks.
The cafe's kitchen will also support Harbourside's operations upstairs, Flanagan's and the Outback Sports Bar, where business has been so brisk as to require extra food preparation capacity.
The new business will create five jobs for Bermudians. Chris Garland, one of Harbourside's 11 partners, said the group had achieved strong growth despite the difficult economy.
"When we bought Flanagan's eight years ago, the business employed 16 people — now we employ about 50," Mr Garland said. "We like to employ Bermudians and put them on the front line. You can be successful if you put good people in place."
Of the 50 staff, he said 12 were on work permits — nine chefs and three wait staff. The number of overseas staff working in Bermuda's hospitality industry represented a missed opportunity for Bermudians, Mr Garland said — especially with so many unemployed after a five-year recession.
"We have to get back to the days when people saw the job as a profession," he said. "We have a staff who make a very, very good living out of the service industry. That story is not being told enough."
The Snug, with its brick walls and black-and-white tiled floor, has features reminiscent of each of its partner establishments upstairs.
Mr Garland said Harbourside had bought Kathy's Cafe last October. Not wanting to open the new cafe during the winter, Harbourside waited until mid-February to start refurbishing the site and kitting it out with new equipment.
The group decided to open The Snug, not only to create some extra kitchen capacity inside the Emporium Building to support the other eateries, but also because the partners recognised potential demand for such a cafe.
"The mindset is to keep it simple, so people can get their food quickly and get back to their desks," Mr Garland said.
Target customers will include those who work in the vicinity, such as employees of Butterfield Bank, and those who start work early and want to grab breakfast, such as construction workers.
The Snug will be open from Monday to Saturday, 7am to 4pm. For more information, call 295-8399.