Boatbuilder Fox to showcase skills in race
Created: Aug 07, 2015 08:00 AM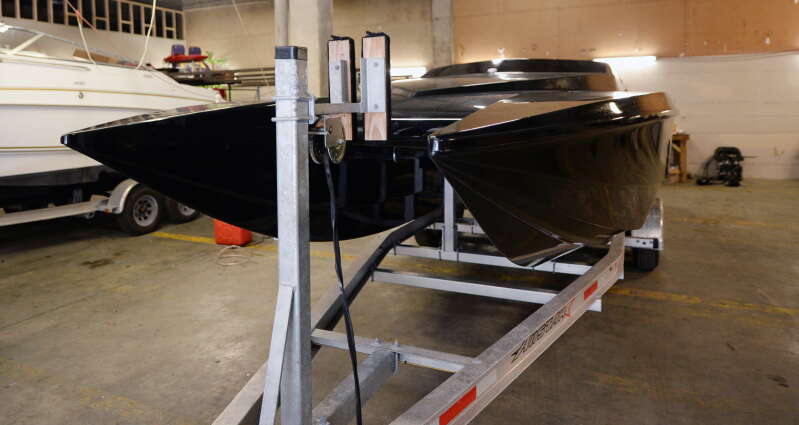 A Bermudian craftsman aims to restart Bermuda's tradition of boat building.
Now Neil Fox — founder of Blackwolff Powerboats in St David's — is to use this weekend's Round-the-Island boat race to showcase his skills with a self-designed racing boat and encourage young people to consider boat building as a career.
Mr Fox's 600-plus horsepower Blackwolff 24SS catamaran, which is capable of more than 100mph, is based on a famous 1980s-era racer, the Douglas Skater 24, modified according to his own design ideas.
The boatbuilder said: "The Douglas Skater was a well-known offshore racer and competition winner — I've remodelled the windshield and put some more design touches to it."
And he added that he was now geared up with the mould for the boat, which can be customised for racing or pleasure use.
Mr Fox, who perfected his trade while working at a boatyard in Miami before setting up his own business in Wharf Street, St David's, said: "I brought the equipment back with me from Miami and I'm trying to plant the same seed in young people as was planted in me."
And he added that he had been in touch with Douglas — who were impressed by what he had done with the original design.
Mr Fox said he planned to sell the Round-the-Island racer once it had competed to help fund his business.
He added: "There is a market for this type of boat anywhere in the world — and Bermuda is surrounded by water, so there's a market here too.
"It's all fibreglass, so it won't rot. These boats will last for years and years."
And he said: "I've had a few people from overseas interested — I've had more than 20 enquiries already.
"Once I get the racer done, I will go to the pleasure version, which can accommodate five people.
"The pleasure options vary — if people want a bench seat, for example, they can have that too. That's the customisation part of the shop.
"We can build it any way people want in any colour."
Mr Fox added: "There is no 2015 boat like this anywhere in the world, although there are still original versions out there.
"That's why this boat coming back out is a great thing and it's keeping boat building alive in this country.
"People can pay double for a boat buying from somewhere else rather than buying a boat from here."
And he said: "I plan to go to another level and build bigger and longer boats and take it from there."