Café creates a happy vibe in heart of town
Created: Aug 24, 2015 09:00 AM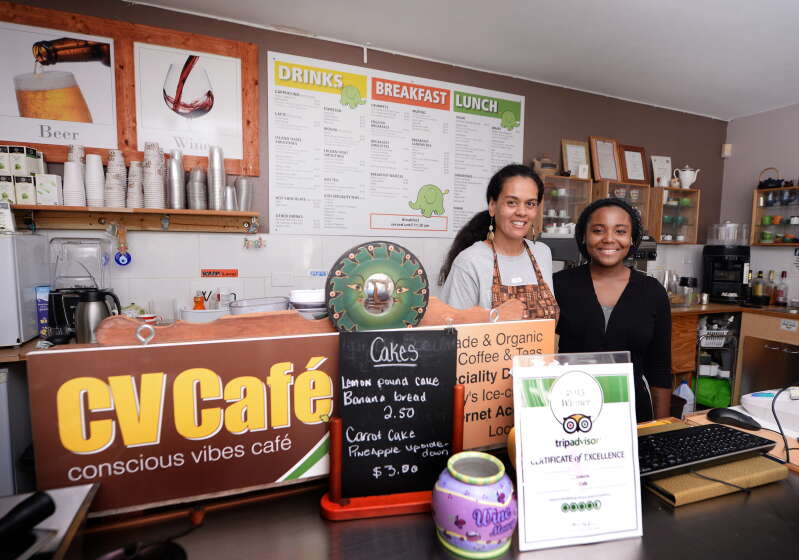 You don't need big bucks or a large loan facility at a bank to build a successful business. If you want the proof look no further than Michelle and George Wales.
The couple own and operate CV Café in St George and have built up a business that has attracted glowing reviews from customers near and far.
The café has a homely feel, with its mishmash of armchairs and sofas dotted around the place. The rustic, comfy feel is partly a fortuitous byproduct of a cautious approach to business expansion adopted by Mrs Wales.
"It's called shopping by eMoo," she said with a laugh, referring to the online classified website.
"I did not want to get anything that I could not afford. I did not want to be lumbered with a loan, so I put things together by spending a few bucks here and there over time and gradually upgrading things."
When The Royal Gazette visited the café, the mixture of furnishings was finding favour with a steady stream of customers who kept the serving staff busy.
"I wanted that friendly and happy vibe, and for everyone to feel comfortable," explained Mrs Wales, who is also a teacher at St George's Preparatory School.
She originally opened the much smaller Conscious Vibes shop in 2009, selling a variety of Fair Trade products, such as sandals, jewellery and hand creams. It was next door to what was then Café Latte, run by former town mayor E. Michael Jones. The economic downturn was just beginning and the town started to suffer as retailer after retailer closed down.
"The economy was going to the dogs. My shop was soon the only one open around here. In this part of the East End there was no economic activity."
Having lived in London, England, for many years, Mrs Wales had seen how devastating an economic slump could be for inner city neighbourhoods. She and her husband were determined to keep the business operating, even though it soon became a rare beacon of light in a town where many business were shuttered or in darkness.
"I was trying to do something for the town. Money was not my motivation," she said.
"Customers kept asking for my Fair Trade coffee. The café next door had been empty for a year and a half and we decided to expand into one half of it and sell coffee and ice cream."
It turned out to be a good move. As trade grew CV Café expanded again to occupy the entire building. It serves breakfasts in the morning and lunches during the day, and it continues to promote Fair Trade products. Homemade cakes are made exclusively for the shop by Karen Ann Woolridge, who is an aunt of Mr Wales.
The café has a certificate of excellence from TripAdvisor, in recognition of four- and five-star ratings it has been given by customers who have praised its friendliness, service and menu items.
"The major thing is that it is relaxed, and everyone says they like the coffee. We serve simple, accessible food and I've had quite a few catering students from the Bermuda College working here, and they've all been good. I would encourage others to give them a chance," said Mrs Wales.
The large lounge room, which was previously the Conscious Vibes shop, allows customers to spread out and relax. It has also been used for special events, including hosting Chewstick, a wedding reception and a book club meeting.
"There's no charge for the room. All we ask is that whoever uses it supports the café," said Mrs Wales.
CV Café occupies a corner location of the lower SE Building to the rear of No 8 York Street. It has an outdoor patio area with steps leading down to Water Street. Outside the café is a replica red phone box containing shelves of used books. Always open, it operates as a free book exchange, where anyone can come and pick a book or two and leave behind any books they have finished with that someone else might like to read.
The café has wi-fi internet service for customers who want to go online as they enjoy a snack, and Mrs Wales is planning to open a teachers' resources retail section.
She is pleased that the town has undergone an economic revival in recent times, with most shop units now occupied. Mrs Wales, who is involved with the St George Olde Town Market enterprise, said there is good camaraderie among the local businesses and a general willingness to help one another out.
While the town is enjoying improved levels of trade in the summer, it can still be a struggle for the café between the end of October and the start of April, according to Mrs Wales.
"There are no big offices here, so even with the locals there isn't the volume of customers."
The café adjusts for the quieter months by tapering its opening hours during the winter.
Mrs Wales said there have been moments in the past when she has wanted to cry and wondered about giving up, but when she sees regulars come in during the barren winter months, giving the café a community centre feel, she knows the business is adding to the quality of life of the local people and to the fabric of town in general.
And she also knows summer will soon return and with it the tourists and crews from visiting yachts who flock to the café to purchase refreshments, sit down and enjoy the relaxing ambience.
CV Café has a website at http://cvcafe.wix.com/cv-cafe-stgeorges and a Facebook page at http://www.facebook.com/CVCafe