Hundreds celebrate Four Star's 25th birthday
Created: Nov 19, 2015 08:00 AM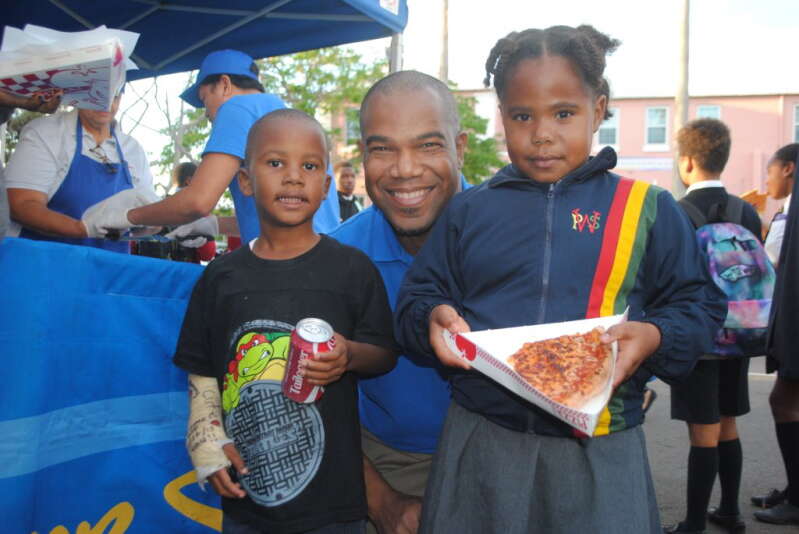 Four Star Pizza yesterday celebrated its 25th anniversary with a party at its original store, free pizza slices and birthday cake.
The Hamilton shop, in Angle Street, gave away free slices of pizza and cake for an hour to around 400 people to mark the occasion.
And all four stores in the chain sold 10-inch cheese pizzas at the 1990 price of $9.
Company president Marico Thomas said: "We are extremely grateful to all our loyal customers for their continuous support.
"It was always my dream for this company to be successful and looking back from where we were to where we are now, I couldn't be more proud."
Mr Thomas, also recently opened the Glaze bakery store in Hamilton's Bermudiana Road and also operates an outside catering firm, paid tribute to staff past and present for the success of the business.
He said: "Personally, as I move around Bermuda, I see our past employees in positions as managers, bankers, accountants, lawyers, policemen, firemen, politicians and business leaders.
"I also see them in other service roles, in all facets of employment across the Island.
"While this does fill me with a sense of pride, it is with even deeper pride and gratitude that like to give recognition to the current team at Four Star."
Mr Thomas, a former police officer, started Four Star to help his late parents Freddy and Clara, both entrepreneurs who were experiencing financial difficulties.
He said: "They owned a video store when CableVision started up, so I thought 'movies on TV' and said we'd better find something else.
"I got this idea — pizza. It was scary. It was a little hole in the wall back of town with an idea people were laughing at. The establishment didn't have any faith in it, necessarily.
"We opened up the doors and life was different. People were massively receptive and it's turned into something which I guess now is iconic for the Island.
"It was a very simple idea and I said I'd do it for three years and we should get three stores open — central, east and west."
But Mr Thomas — whose background was in customer service and problem-solving rather than catering — said that the business blossomed, expanding into areas like catering and a bakery.
He said: "To think we've been able to serve as many people as we have across the Island with the kind of menu we have today — Indian food, Chinese food, sandwiches and spun off with a whole different brand, Glaze bakery — was never a plan, but it evolved to that."
Mr Thomas said: "It was challenging — there were lots of difficulties along the way and a few mistakes."
He added that over the years around 7,000 people have worked for the chain at one time or another.
And Mr Thomas said: "We opened in a recession and we've gone through a couple of recessions, we've survived turnover of staff, numerous bank loans and other things that were financially memorable and we're still here."
He added: "I've been the captain of the ship for a very long time and I consider myself a steward. What's really good is being able to pass that on to someone else."
And he said aspiring businesspeople should "dream but not be dreamers" and carry out their plans in a "disciplined way".
Mr Thomas added: "The point is to persevere, get through. Don't fail — failing is not an option but working harder is.
"I tell people who ask me for advice about starting a business to work the other person under the table."
The Angle Street takeaway opened in 1990 and offered pizzas and sub sandwiches.
Four Star now has four locations across the Island and more than 100 employees.
The Hamilton birthday party took place between 4pm and 5pm and featured Sir John Swan, who was Premier when the first store opened and performed the ribbon-cutting ceremony.
Michael Dunkley, the Premier, and Marc Bean, leader of the Opposition, also attended.