Entrepreneurs recognised at awards event
Created: Nov 28, 2017 01:01 PM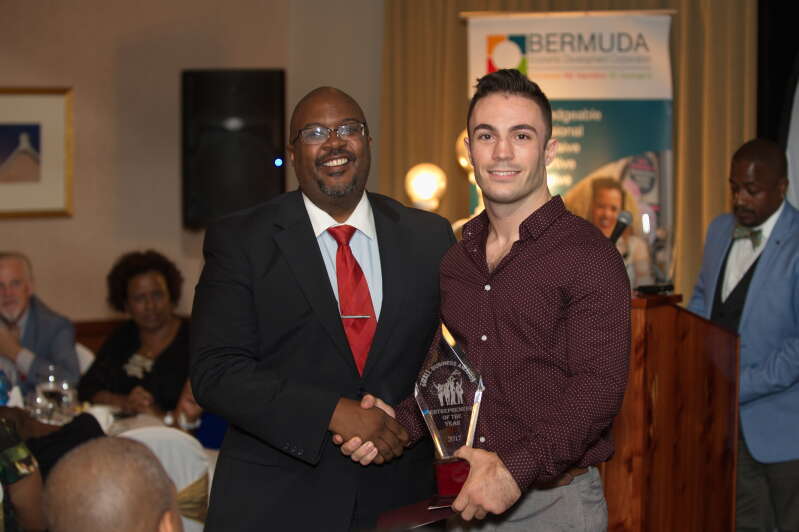 Some of Bermuda's successful entrepreneurs have been celebrated at the Small Business Awards.
Mark Prior, owner of Bermuda Combat Club, was named entrepreneur of the year at the event, which was hosted by the Bermuda Economic Development Corporation in conjunction with Global Entrepreneurship Week.
Accepting the award, Mr Prior said: "I had a lot of ups and downs since coming back to Bermuda, but I was passionate about Brazilian Jiu-Jitsu and mixed martial arts and wanted to share it with everyone that I could so starting Bermuda Combat Club has allowed me to do this.
"From the number of entrepreneurs in the room, it is obvious that Bermuda is bouncing back from hard times."
The business of the year award went to Beach Boys Ltd, operators of Tobacco Bay.
Belcario Thomas, business development officer with Beach Boys Ltd, said: "The BEDC agency has been instrumental in our success providing loan guarantees, micro loans, business courses, and helpful East End Zone support.
"Winning this award is truly a testament to our team-members and industry stakeholders who deserve all the praise for embracing a spirit of collaboration and co-operation, particularly within the St George's community."
Mr Thomas also mentioned that Beach Boys Ltd will be opening a second beach location in the east end of the island, referring to it as a "pop up" experience in partnership with the BEDC.
The most enterprising young entrepreneur award went to Cire Bean of Pay-A-Kid. In this category there were runner-up prizes for Rickai Lightbourne, of Kool Toon Tees, and Ashley Stevens, of Ashley's Lemonade.
Ondreyah Rochester, the BEDC's organiser of the event, said: "All of the finalists are winners and deserving which is why we made the decision to give each of them an award."
The winner of the people's award was Jolessa Holdipp of Klassiq Kidz.
While the BEDC client of the year award went to Alexandra Mosher, Alexandra Mosher Studio Jewellery. Mrs Mosher said: "This award was completely unexpected, and I am thrilled to be accepting it on behalf of our company along with my business partner and husband, Darren Maksymetz.
"The BEDC has been an excellent resource and partner over the years, and has helped me through both educational courses and competitions that they have run. They do incredible things for entrepreneurs and we are grateful to have been selected as the 2017 client of the year."
In addition to the Small Business Awards, Stephanie Lee, founder of Women Who Own and Manage Businesses also announced the winner of the female entrepreneurship award as Chrisanthi Bartley of Scribbles Art Shack.
The awards event was held at Elbow Beach Hotel and was opened by Jamahl Simmons, Minister of Economic Development. During he told the audience: "In this room, there is proof that Bermudians have what it takes to reinvigorate our local economy. I congratulate all those who were nominated. Whether or not you will be accepting an award tonight, you are to be applauded for your outstanding achievements."