Software firm Nova plans for strong growth
Updated: Dec 19, 2018 09:20 AM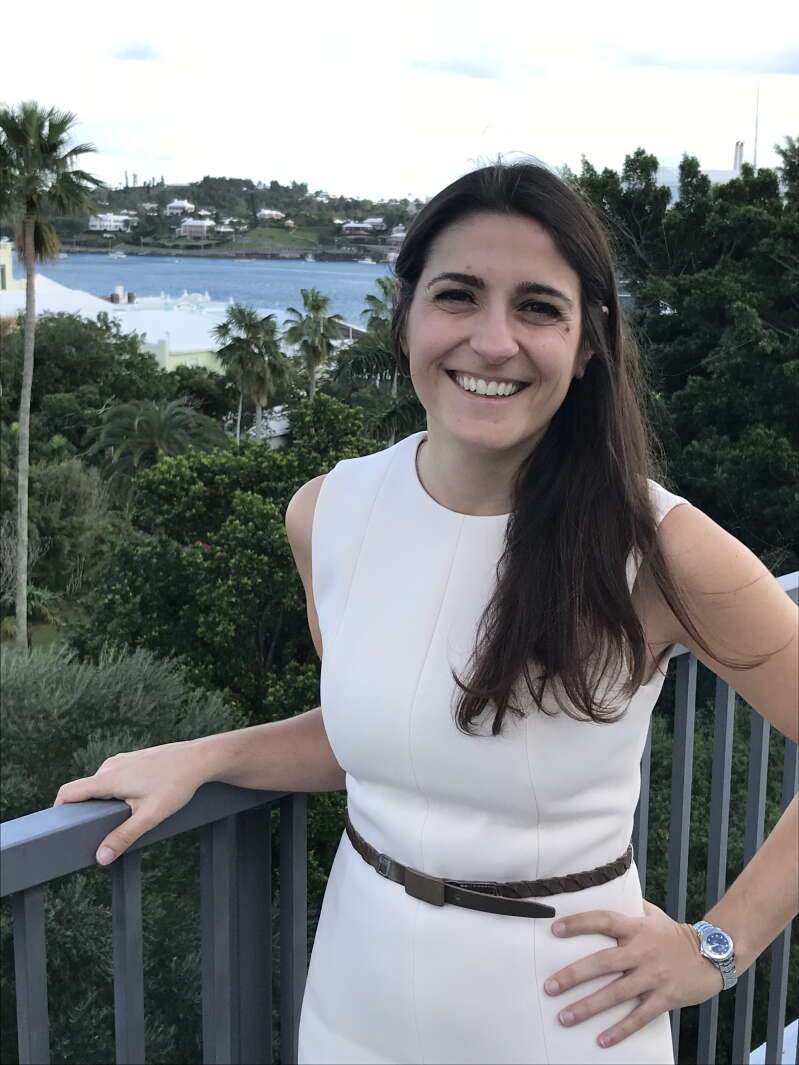 Software engineering and consulting firm Nova is on a growth spurt.
The Bermudian company has doubled its team over the past year or so to 25 employees and Sandra De Silva, the founder and chief executive officer, believes this is only the start.
Nova is gearing up to launch an overseas office and has several new software products in the pipeline as it aims to expand its clientele locally and internationally.
The company, which is based in offices in the Penthouse of the Bermuda Commercial Bank building on Bermudiana Road, is led by an all-Bermudian executive team and principally serves the re/insurance and capital markets sectors.
Ms De Silva, who is Nova's chief software architect as well as the CEO, was an insurtech practitioner years before insurtech became a word.
She launched Nova in 2006, having identified a demand for specialist software services for the re/insurance market. The firm has steadily built up an impressive client base of largely international companies, including well-known names like American International Group, Marsh, Aon Benfield and Arch Capital Group.
Its software engineers have been working hard on a range of new initiatives and the company has beefed up its leadership team as it prepares to roll out new products next year.
One of the newer recruits is Michael Leverock, head of technology ventures, a former civil engineer who went on to co-found CellularOne, where he worked as chief operating officer for 14 years.
Another is Malcolm Furbert, the chief strategy officer, a corporate and regulatory lawyer of 30 years' experience, who was previously general counsel at XL Catlin in Bermuda.
Zelia Amaral, Nova's chief finance officer, has more than 30 years' insurance and accounting experience with Ironshore, the Ace Group and Cooper & Lines.
Andrew Vaucrosson has also joined Nova as chief business development officer. He has more than 30 years' experience in financial services with insurance, banking and investment management firms and is a qualified risk management professional.
In addition, Gerald Simons, the former chief executive officer of insurer Argus Group Holdings has also joined the Nova board of directors this year.
"We've been building on the work that we've done over the last 12 or 13 years and we have strengthened our executive team to take it to the next level," Ms De Silva said in an interview.
"In 2018 we've built up our team as our clients' needs have grown. We have high-calibre engineers who can really execute and our clients know that we will give them scalable solutions that will work well in their businesses.
"This is just the first phase of our growth and we will add to our team in 2019."
A growing realisation in the insurance market of how technology is set to transform the industry, in terms of efficiency, data analysis and distribution, has led to increasing demand for Nova's services.
While Nova has many start-up insurtech competitors out of places like Silicon Valley, a common issue for them is that their knowledge of the nuts and bolts of the insurance industry falls well short of their grasp of technology.
In contrast, Nova, having grown up in the midst of one of the world's greatest re/insurance hubs, prides itself on having a deep understanding of how clients' businesses work and has a track record to prove it — a great differentiator for the firm, Ms De Silva said.
"Not only do we understand the needs of our clients, but we also understand their technology — because we probably built it," Ms De Silva said.
The focal point, she added, was how to deploy technology with a strategic perspective to make the client's business work better and improve return on investment.
The company's focus is shifting from consultancy to innovation. Through future-focused conversations with industry leaders, and paying close attention to market research, Nova builds its knowledge of where the industries it serves are heading. Armed with this information, it builds products designed to address their future needs.
In its pipeline are products for use in the insurance-linked securities sector, healthcare and a cyber-risk model. The firm plans to launch an innovation unit to keep that pipeline flowing.
Looking ahead, Ms De Silva said: "I think one of the differentiators that Nova will bring to the market will be the adoption of AI [artificial intelligence] and data science. We've always been at the forefront of that."
The potential of distributed ledger technology, or blockchain, has been much discussed. Ms De Silva said she regarded it as one of many technological tools with potential to help businesses, but her focus was always on building the most effective solutions for clients.
Ms De Silva started her career in the US, having earned a degree in computer science in DeVry, Arizona. Working for high-tech firms, she helped to build embedded systems and real-time databases used by the likes of Nasa and the Pentagon.
She is passionate about empowering young Bermudians with the education they need to thrive in the modern economy. She has volunteered her time to organisations such as the Technology Leadership Forum, the Bermuda Insurance Institute and the Bermuda Foundation for Insurance Studies.
Her industry has traditionally been male-dominated, something she would like to see change. So what would she say to a young woman with doubts about pursuing a technology career?
"Innovation has no gender, so don't be afraid to step outside your comfort zone," she said.