New electric car dealer aims to create buzz
Updated: Jan 26, 2021 01:01 AM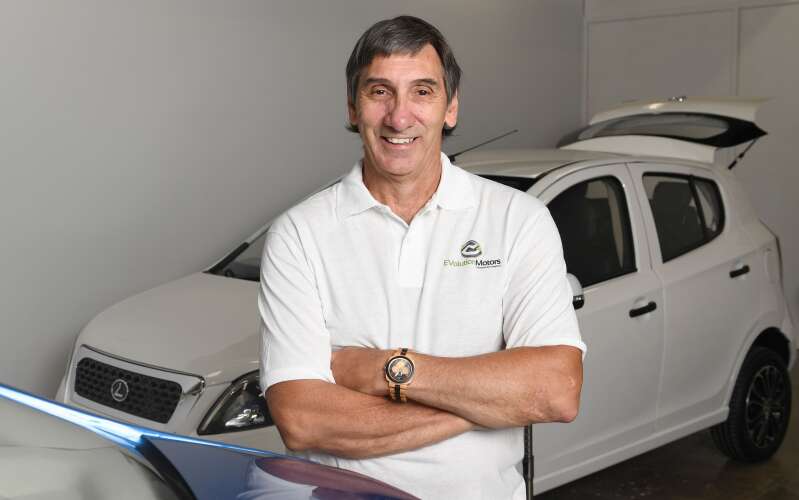 Bermuda is ready for a big move towards electric vehicles, says the co-owner of new distributor who aims to feed that growing demand.
Andre Labonte and his wife Lynn have launched Evolution Motors, sourcing cars from China made by Levdeo, the world's largest electric car maker, and a 2013 start-up called Zuojun.
Evolution has received its first shipment of five cars and is setting up its new showroom on Addendum Lane, Pembroke, with the aim of opening within weeks.
Mr Labonte conceded that only about 2.5 per cent of cars in Bermuda were electric and take-up of the new technology was slow on the island.
Price and range have traditionally been the two main barriers to wider electric vehicle adoption, but Mr Labonte believes Evolution has found solutions to both.
"Part of the problem in Bermuda is that electric cars have started at about $40,000," Mr Labonte said. "We're going to try to break that mould and accelerate the migration to electrics.
"The technology is new to people and we're very used to cars with internal combustion engines, but I believe Bermuda is ready for electric vehicles."
The cost of electric vehicle batteries had come down by about 85 per cent over the past ten years, he said, helping to make the cars more affordable.
Evolution has brought in two models in its first batch, the Zuojun Z60 and the Levdeo i5. The Z60 is a Bermuda B-class hatchback with a battery that gives a range of about 125 miles from a single charge and which will retail at $19,488.
The i5 is an E-class sedan with a range of 159 miles. It retails at $26,988.
"Range has always been an issue with electric cars, but in Bermuda that's not a worry, because we have only 400 miles of roads to drive around on," Mr Labonte said. "Electric vehicles were built for Bermuda."
Asked about the lack of infrastructure across the island for recharging on the road, he said: "We don't need it. The primary recharging site is your home." He added that he and his wife had owned an electric car for nearly two years and they recharged it every seven to ten days.
The batteries are designed to be good for about 2,000 charge cycles, he said, which, at one charge per week, would equate to about 38½ years of life.
Mr Labonte estimated that the added cost on a monthly electricity bill from charging an electric car would be about $45 to $60. He added: "The maintenance on these is limited, because there are few moving parts. You don't have an engine to worry about, there are no oil changes, no spark plugs, no timing belt, no muffler, no radiator. None of the things that cost money down the road that we typically worry about."
The decision to go with the Chinese manufacturers came after Mr Labonte's visit to the Shanghai International New Energy Vehicle Show last September, accompanied by Michael Butler, a friend and the former general manager of Bermuda Motors. They were impressed by what they saw.
Mr Labonte said: "Most people don't know that China is at the forefront of electric car technology now. This is where BMW, Mercedes-Benz, Audi, Volkswagen, all the big players, are going to get their battery packs from. China is pushing this technology. Even Tesla have opened up a plant there, so we had to go to the source."
They had a chance to test-drive the cars and asked Zuojun to install the largest battery it could source into the Bermuda-bound Z60s to maximise their range.
Mr Labonte, a Canadian national, said he and his Bermudian wife were "not typical entrepreneurs". It was their passion over concerns about what global warming is doing to the planet that drove them to act and plough their savings into the new company.
Mr Labonte worked as a technologist and then a trainer for Xerox Canada for 22 years before coming to Bermuda to work for office supplies firm AF Smith and later in sales for Tops.
He acknowledged that the effects of the pandemic had created a less-than-ideal start-up environment. "We're a little worried about the economy right now, but the wheels were in place and so we decided to push ahead," he said.
The high level of interest in electric cars from people who had heard of his plans and Bermuda's stated aim to move towards cleaner forms of energy convinced him that demand in the coming years would be strong.
• Evolution Motors has a website at https://evolutionmotors.bm