New store for shopping with added soul and charm
Created: Nov 13, 2020 08:00 AM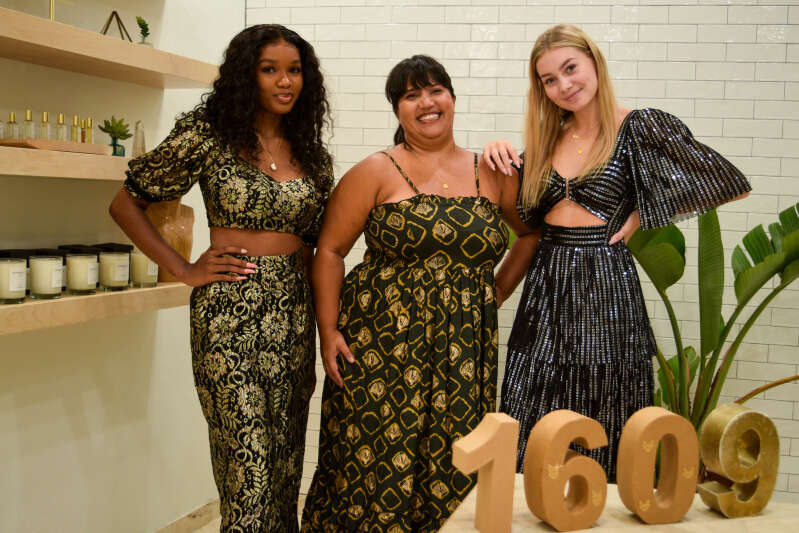 The economy is uncertain, but Hamilton entrepreneur Joanna Stapff is determined to expand anyway.
She opens a second 1609 Design store at 12 Reid Street in Hamilton tomorrow, not far from her shop at 47 Front Street on Old Cellar Lane.
"This expansion has been five years in the making," she said. "I am taking my brave entrepreneurial spirit and taking the leap into the unknown and the unnerving state of our economy."
She is known for bespoke jewellery, cards and self care items. The added floor space on Reid Street allows her to expand her clothing offerings to include pieces by Indian designer Nupur Goenka and Israeli designer Sabina Musáyev.
"Sabina Musáyev makes really elegant and glamorous dresses and unique pieces," she said. "Nupur Goenka's Aish line is bold, colourful and Indian."
She also offers clothing from several other designers.
"We have beautiful dresses for special occasions and eco-sustainable swimwear to show a little skin," Ms Stapff said. "We also want to tap into the growing CBD market and bring skincare, hot chocolate and coffee with this beneficial ingredient."
She will retain her location in Old Cellar Lane for her more bespoke jewellery.
"At the Reid Street location I will keep fine jewellery and my Bermuda collection," she said. "There will be more clothing up here. I am bringing in some more brands. And there will be skin care and food products such as CBD coffee and chocolate."
Ms Stapff has also upgraded on a technical level. Her website now accepts global orders, and ships to the United States and the United Kingdom.
She had to create the website to stay afloat in March, when Bermuda started social distancing due to Covid-19.
"I had been thinking about doing it," she said. "With the pandemic I really had to pivot. I had to create a website on the fly."
When the island began to open again she started making deliveries for the first time.
"I was taking orders door-to-door," she said.
At that time her bespoke jewellery and self-care items, such as bubble bath, made popular birthday gifts for people stuck at home.
She wants her new space to be a home for the arts. She will create art installations in her new shop windows, and host musical performances.
"We have already lined up this season to have sip n' shop evenings with local artists like Purple Ferdinand and Da'Khari Love, singing Christmas melodies," she said.
Ms Stapff said 1609 Design was known for its innovative events such as fashion shows at Huckleberry and The Loren.
"We are hoping to have another fashion show in the near future as a way to introduce the new location," she said.
Ms Stapff wants to recreate the atmosphere of the old Trimingham Bros department store that was located nearby on Reid Street.
"That is what I am trying to do with the space," she said. "We want to carry that legacy of shopping with added soul plus charm in an intimate space.
"Our mission is to bring exceptional customer service with ease and a comforting smile. Despite online shopping skyrocketing, we believe Bermudians are still in need of a physical space to escape and allow their senses to be uplifted and enthralled. Touch the fabrics and smell the candles … online shopping cannot deliver this experience."
Ms Stapff said a lot of people were suffering from "serious rock fever".
"I hope 12 Reid Street makes you feel like you did take that trip without the uncomfortable seating," she said. "Instead you rock up Reid Street and we welcome you with open arms, hypothetically speaking, 6ft apart and wearing a mask, of course."
Ms Stapff said she had some challenging times during the pandemic, but was grateful for the support she received from her landlord, community and customers during a bleak 2020.
For more information see www.1609design.com or see them on Facebook and Instagram @1609designbermuda.