Shop entices with vintage treasures and the unusual
Created: Dec 17, 2020 08:00 AM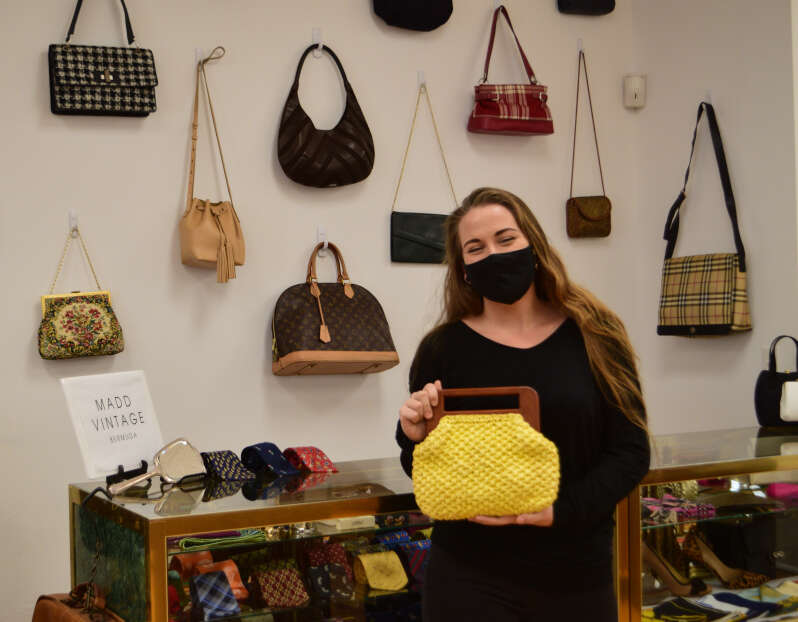 Antiques dealer Stephen Lusher embodies the old saying 'one man's trash is another man's treasure'.
His store Designer & Vintage Market at 3 Queen Street, Hamilton is full of offloaded treasures.
Once, someone brought in an entire collection of ivory, gold-plated tooth pick holders.
"Their great aunt collected them and they inherited them and didn't want them," Mr Lusher said. "When you open them up they have little mirrors."
There are also Inuit carved figurines and Japanese netsuke, Pokemon cards, silverware, art made by Boer prisoners of war in Bermuda, jewellery and old comic books, among other things.
One of the items taking centre stage is a silver-plated brass artillery shell. On the front it says: "G E Charters MDCM, Capt RAMC, OC 48 MAC, France, 1918.1919". On the bottom is the date 1917.
According to Mr Lusher, G E Charters was a Canadian medical doctor who went over to England during the First World War to help in the medical corps.
"Charters hooked up with a Scottish regiment," Mr Lusher said. "He was their doctor and was wounded. The artillery shell was presented to him later in thanks. Someone really spent some time on this shell. They must have really liked this doctor."
Mr Lusher said the shell is an example of trench art.
"We have had a lot of trench art, but never had a piece that was silver plated," he said.
Mr Lusher bought the piece several weeks ago from a British collector who previously lived in Bermuda.
"That's the fun part about our job; people come to Bermuda from all over the world and their history comes with them," Mr Lusher's daughter Maddi Lusher said. "It's our job to hunt it down and make it available for you guys."
Mr Lusher said Bermudians are collectors.
"I think that is human nature," Mr Lusher said.
Ms Lusher says she caught the antiques bug from her father. She helps him with the store and has her own line Madd Vntg. She started out selling cedar-handled purses once sold by Trimingham's and H A E Smith's department stores.
"I had come across two or three," she said.
When the purses sold quickly she started searching harder for more. Then she expanded to selling vintage Louis Vuitton and Burberry accessories.
"We find my stuff all on island," she said. "Since we have a physical location people bring stuff in all the time. That makes it easier on us."
Mr Lusher's passion for antiques started when he was a teenager.
"My mother took me to an auction when I was 18," he said. "I used to go with her all the time. You see things you want to buy but you can't buy them because they are in good shape and expensive."
He learnt to look for pieces of furniture that were slightly damaged.
"Those pieces went cheap," he said. "I bought some books and learnt how to fix them. Then I sold something and thought oh, that works."
He was an antiques dealer for 35 years, operating out of a warehouse. When the antique furniture market slowed down in Bermuda, he started selling other items such as jewellery.
He first opened a store on Reid Street in Hamilton during Christmas 2015.
"We were just going to be there for six weeks as a popup," Mr Lusher said. "It did pretty well and we thought we will ask the landlord if we can stay. We ended up being there for two years."
They moved to their current upstairs location on Queen Street three years ago, looking to downsize.
The "new" location has less square footage, but is brighter and airier than their last address.
The downside is that they are often overlooked by foot traffic.
They represent three other vendors including Anthony Pettit who sells maps and Bermuda ephemera, Michael Hooper who sells model boats and Robin Marirea."
"Robin does some funky stuff," Mr Lusher said. "He is for ever coming up with new things. Right now we have some of the megalodon teeth that he makes.
"They look real. He makes them from a mould."
The business has been hit hard by the Covid-19 pandemic since they depend heavily on tourism for customers. Ms Lusher said there is no lack of interest in their products from the community, but a lot of people are not spending like they used to, or have different priorities for their money.
But the shop is always looking for new merchandise.
"We are in the process of expanding our consignment capabilities," Ms Lusher said. "As well as paying cash for gold and silver jewellery and coins."
For more information see them on Facebook and Instagram @designervintage.bda or call 799-2275.