Today People's Pharmacy, tomorrow Target
Updated: May 12, 2023 07:41 AM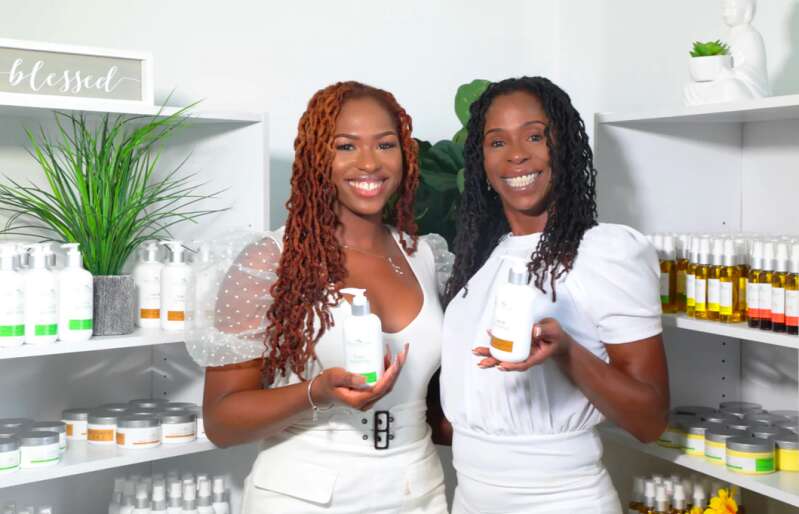 Bermudian entrepreneurs Gina Spence and daughter, Isis Benjamin, need $450,000 to scale up their Florida-based business House of Isis.
And they think people back at home in Bermuda can help them do that.
"For the first time some of our best selling vegan beauty care products will be on sale at People's Pharmacy starting Friday," Ms Spence said. "Just in time for mother's day."
House of Isis products such as Scalp Mist, Loc'd Care Kit and Shea Shampoo, will all include GS1 bar codes which will allow them to collect valuable data to strengthen their product pitches to venture capitalists. They need the money to buy manufacturing equipment.
Their dream is to sell to major American retailer Target.
At the moment, they make everything themselves out of their garage in West Palm Beach, and sell mostly online.
"Being at People's will show what House of Isis is capable of doing on the shelves of a major player and an international player," Ms Benjamin said.
Ms Spence, a retired hairdresser, said the space on People's Pharmacy shelves was a real opportunity.
"Things are coming full circle," she told The Royal Gazette.
She started making vegan hair products years ago in Bermuda out of worry over the health implications of chemicals in mainstream beauty products.
She sold her first product, a hair and skin spray called Fire Oil, at Harbour Nights in Hamilton.
She and her daughter moved to Florida in 2006, after she married an American. In Florida she ran a hair salon called Healing House of Isis, but closed it last year to focus more on the beauty product side of things.
At first, Ms Benjamin was not particularly interested in her mother's business. She studied political science at Spelman College in Atlanta, Georgia.
"I've always been surrounded by entrepreneurship but never did I consider becoming an entrepreneur myself," she said.
This changed when she was laid off from her job right after graduation during the pandemic. She vowed to never again work for anyone, but herself.
She started helping her mother to rebrand House of Isis, and is now chief executive officer of the company.
Last September, the mother-daughter duo were accepted into the two-year Target Forward Founders programme, a business accelerator for minorities and people of colour with start-ups.
Based on her experience in the programme, Ms Benjamin now thinks it will take two to three years for them to scale-up enough to sell to Target.
In the meantime, Ms Spence and Ms Benjamin, have become mentors for the latest cohort in the business accelerator.
Ms Benjamin thought their story was inspiring to smaller businesses that were looking to scale up, because they have insisted on doing everything in-house, rather than getting a third party to manufacture their products.
Ms Spence hopes that by selling their products in Bermuda they will not only help themselves, but also the island.
"Some people move away and never look back," Ms Spence said. "But we have kept a clear bridge open. I am the daughter of an entrepreneur. My father taught us to make jobs not just for ourselves, but also for others."