Storming Frank keeps his cool
Created: Jun 02, 2014 09:00 AM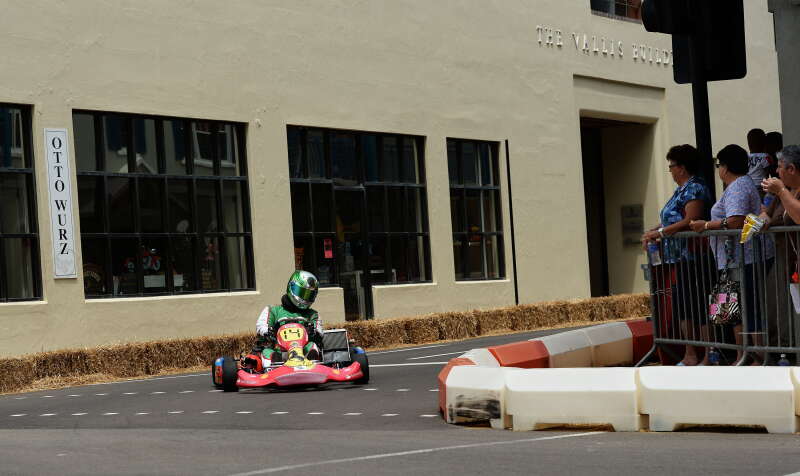 A blistering drive from Brandon Frank in the 125cc Shifter class final helped ensure that the Keen Hamilton Grand Prix made a triumphant return after a 12-year hiatus yesterday.
Frank displayed patience, maturity and unmatched speed as he doggedly chipped away at Shannon Caisey's early lead, overtaking his rival with about three laps to go to claim the chequered flag on Front Street.
The 27-year-old's patience was mirrored by the thousands of spectators whose spirits refused to be dampened by the showers that delayed the racing for more than an hour, with the Corporation of Hamilton granting the Bermuda Karting Club a 7pm extension in which to complete the two-day event.
But with 13 of the BKC's fastest hurtling through Hamilton, bumper-to-bumper, at speeds of up to 72 miles per hour in the Shifter karts — the quickest of the classes — it is hard to imagine anyone arguing that the action was not well worth the wait.
Based on the combined points of the previous day's three heats, the starting grid had Caisey in pole with Scott Barnes, the BKC president and red-hot favourite having earlier cruised to a comfortable win in the Tag Senior class, in second.
It was Frank, however, who overcame a slow start to secure the bragging rights in the weekend's prestige race, crossing the finish line in a time of 8min 9.016sec, with Caisey having to settle for second in 8:10.523 and Rian Lindo rounding out the top three.
Frank, who came second behind Barnes in this season's Shifters Championship, admitted that a cool head was required amid the chaos surrounding him with five of the starters dropping out with either mechanical issues or as a result of errors.
"I loved that win as it wasn't an easy race and I had to push hard from the start," Frank said.
"I had a little hiccup in the first few laps and I had to get into the race by using my head. I saw that Shannon had a good lead but I just kept pushing harder with every lap until I had him."
Frank, who raced in the previous Grand Prix in 2002 as a 15-year-old, only recently returned to competing after a four-year break but insisted that he always felt confident of victory.
"This is the biggest race of the season and [the team] have been doing well down at Southside, pulling off a second [in the Shifters], so I came to Front Street saying 'I've got to win this.'
"The fans helped hype me up and that's what gets me in the racing mode. It's just an amazing feeling to have pulled off the victory."
Barnes refused to be downbeat despite finishing a disappointing eighth and insisted that he was more than happy that the race had produced sufficient thrills and spills to entertain the crowd.
"That's what happens when you have five fast drivers all up front and tell them to go at it for the win," Barnes said.
"It was anyone's race and it was a great battle — I'm sure it was fun to watch. There was a lot of hard racing with a lot of bumping and that's what this sport is all about."
Although Barnes, who intends to take a back seat in 2015 to concentrate on running the club and racing in the United States, was unable to defend the Shifter class title he won at the 2002 Grand Prix, he did claim honours in the Tag Senior final, finishing in 8:44.391, more than seven seconds ahead of teenager Stephen Corrado.
"It was just a matter of the kart holding together and me hitting my points and not making any stupid mistakes," Barnes said of his win.
Zavier Smith won the "most chaotic race of his life" in the Junior Clone class final, with the 12-year-old having to stage an inspired comeback after spinning out on the first corner.
"I had to work my way through the field and it was pretty difficult trying to get through the other crashes that were taking place," said Smith, who finished ahead of Blake Horseman in second and third place Lucas Bridges.
"It was the most chaotic race of my whole life and it feels awesome to have won."
In the Junior Cadet and the Junior Tag finals, which shared the track at the same time, D'Nico Durrant and Owen DeCosta both reigned supreme.
Barnes said that he was hopeful the Grand Prix would return next year and thanked the spectators, sponsors and Corporation of Hamilton for ensuring that the event's long-awaited return was a memorable one.
"It was great to see Front Street four deep all the way down, especially after more than an hour of rain." Barnes said.
"That's what it's all about, putting on a show for Bermuda and keeping everyone safe.
"The ambulance didn't have to move all weekend which is the most important thing, and hopefully we will be back next year."