Dethroned Around the Island champions narrowly avoid disaster
Updated: Aug 16, 2023 08:07 AM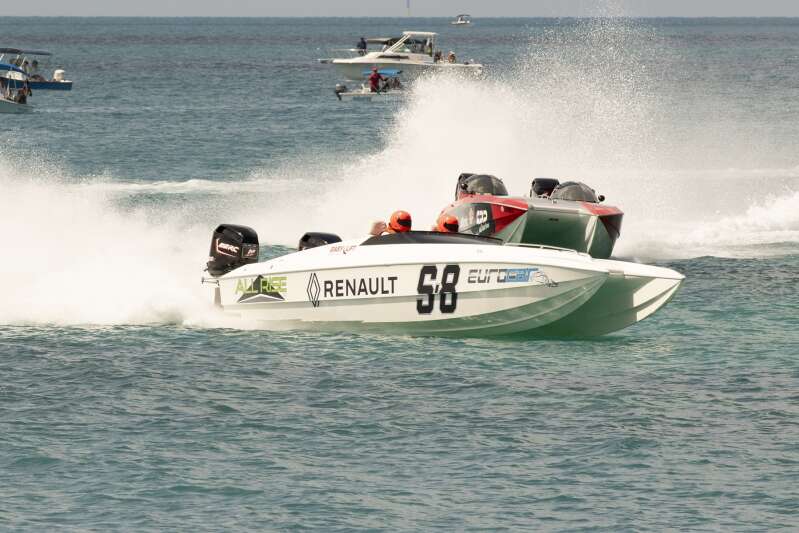 Henry Talbot and Andrew Cottingham were left to rue what might have been after being forced into evasive action to avoid colliding with a pleasure boat during the Rubis Around the Island Powerboat Race on Sunday.
The defending champions were leading the S class and overall fleet coming down the home stretch but lost momentum after swerving to avoid a pleasure boat that ventured onto the racecourse to all but end their title hopes.
"It's the same thing every year, not enough volunteers to keep the course clear, and even then people are ignorant and feel they know best," co-pilot Cottingham told The Royal Gazette. "In the incident, it could have been a tourist as it was a 13-foot Boston Whaler. Just past the Oil Docks they sped up into our course and we had to take a quick sharp turn to avoid them.
"When we did that it caused one engine to lose water pressure, and the safety feature of the engine kicked in and limits the power down to less than half.
"As a result we had to limp in the last half-mile of the course, which resulted in getting passed by S8 [David Selley and Steven Bridges] coming into the pylons.
"I'm not one to take away from anyone's shine from a win, but if that pleasure boat had not come across us we would have won the race and broken the record [33min 35sec].
"It's unfortunate, but there were a handful of incidents throughout the course that could have ended in injury or loss of life."
In light of the incident, Bermuda Power Boat Association commodore Janae Nesbitt has confirmed the matter is now being investigated.
The latest near miss comes in the wake of two other incidents this season which saw the safety of competitors put at risk after pleasure crafts strayed on to the racecourse.
Competitors were forced to to avoid colliding into a craft that ventured on to the racecourse during the BPBA's season opener at Ferry Reach in May.
Just a month later, heavy marine traffic on the racecourse posed a major threat to racers during the opening event of the Wedco National Championships in Dockyard.
This year's Rubis Around the Island Powerboat Race featured 17 boats, of which ten managed to go the distance.
Craig Nesbitt Jr and Sr (D class), Brandon DeSilva and Blake Burgess (BV class), Shane Madeiros and Josh Holder (A class), Chad Sutherland and Lee Wilson (C class) and Rickai and Ricky Raynor (B class) were the remaining class winners.