History made as new Governor is sworn in at closed event
Updated: Dec 15, 2020 08:33 PM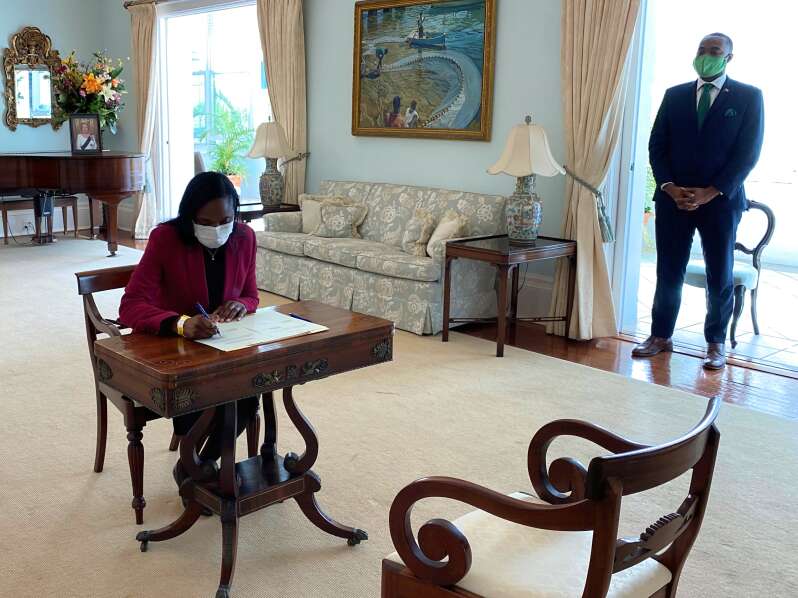 The island's new Governor was sworn in yesterday at a closed event at Government House.
Rena Lalgie said: "It is a privilege to have begun my service as Governor of Bermuda.
"My family and I look forward to settling into Bermudian life."
Ms Lalgie, the first black person and the first woman to hold the post, arrived on the island on Sunday.
David Burt, the Premier, Chief Justice Narinder Hargun, and Major Marc Telemaque, the Secretary to the Cabinet, attended the swearing-in.
A government spokeswoman said that "all necessary health guidelines and precautions were observed" at the event.
She added that a public ceremony to mark the arrival of the new Governor will be held next year "when conditions become safe to do so".
A lighting problem at LF Wade International Airport caused a delay to the landing of Ms Lalgie's flight.
A Skyport spokeswoman confirmed there was a problem with the runway lights on Sunday, but the fault was soon fixed.
She said: "At approximately 5.30pm, the on-duty air traffic control officer attempted to turn on the airfield lights via the panel in the air traffic control tower.
"The panel was initially unresponsive and, after several attempts, the officer was able to reset the system.
"At 6.01pm, the airfield lights were turned on to facilitate the arrival of British Airways flight BA2233."
The spokeswoman added that BA2233 landed safely at 6.13pm - 23 minutes after the expected arrival time of 5.50pm.
She said: "Though this was a highly uncommon occurrence, and the redundancy measures taken proved successful, Skyport and the Bermuda Airport Authority have added further corrective measures to mitigate a future reoccurrence.