Baroness Sharples, widow of assassinated Governor, dies at 99
Updated: May 26, 2022 09:20 AM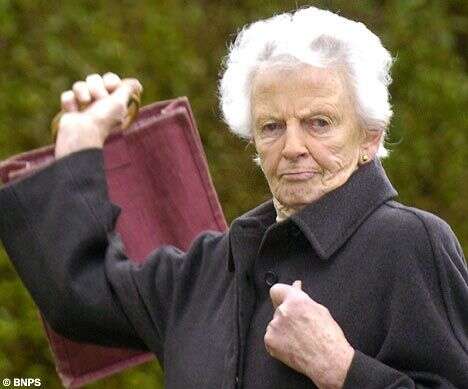 Baroness Sharples, the widow of assassinated Bermuda Governor Sir Richard Sharples who sat in the House of Lords for the Conservative party, has died at 99.
A lengthy tribute in The Telegraph told of a colonial governor's life shattered on the night of March 10, 1973 when her first husband, Governor Sir Richard Sharples was murdered with his Aide-de-Camp Captain Hugh Sayers, while strolling in the grounds of Government House. The Governor's dog, Horsa, was also killed in the attack.
The murders, during a string of killings and gun crime in Bermuda, put the island's racial and social strife under the microscope of the world's press – and ended with the last executions under British rule anywhere in the world.
Two men were hanged in 1977, sparking the island's worst social unrest in recent history.
Erskine Durrant "Buck" Burrows confessed to the shootings, and was also convicted of murdering Police Commissioner George Duckett.
Larry Tacklyn, his co-accused, was acquitted of the Government House murders, but convicted of the 1973 Shopping Centre supermarket murders.
Lady Sharples responded in characteristic style.
"Richard was doing such a good job, and so was Hugh," she said. "He was a very nice young man. And Horsa was a lovely dog. Our four children adored him."
Instead of reaction with anger, she reflected on "what a terrible waste of lives it was".
The Telegraph paid tribute to her "energetic contribution to the House of Lords" for 44 years after the murder.
She only retired from the Upper House of the UK Parliament in 2017.
The newspaper also noted her feisty swipe with her handbag at an errant cyclist in 2009 who nearly struck her after running a red light – and her fondness for playing golf and a nightly glass of pink champagne well into her 90s.
A three-time widow, Lady Sharples caught more attention with a 2011 remark during a debate on why the wives of peers' received a title while husbands of peeresses did not.
She was made a life peer in 1973.
Memorably declaring that she had "killed off three husbands", Lady Sharples suggested there were more important topics for the Government to debate.
After Sir Richard, she was married to Group Captain Patrick de Laszlo and then Douglas Swan, who also predeceased her.
Born Pamela Newall, she grew up in Hampshire and met Major Richard Sharples of the Welsh Guards after end of the Second World War. The couple married in 1946.
Her husband was elected Conservative Member of Parliament for Sutton and Cheam in a 1954 by-election.
Following a General Election in 1970, he served as Minister of State at the Home Office, before resigning his seat in 1972 to take up the vacant post of Governor of Bermuda.
The assassins, militant anti-colonial extremists, struck just after the end of a small informal dinner party at Government House.
Both men were interred six days later in the graveyard of St Peter's Church in St George's.
Lady Sharples wore white in the aftermath of the killings, which she referred to as "temporary insanity".
On the day she returned to England at age 50, she made a point of saying goodbye to the fishermen she had customarily bought from.
British tax authorities refused to accept that Sir Richard had been killed in the line of duty.
Lady Sharples was forced to to sell the family home at Chawton, Hampshire to pay death duties.
A life peer from July 1973, she took increasing interest in politics.
Her second husband, Patrick de Laszlo, succumbed to cancer within a few years of their marriage, but she married Mr Swan in 1983 and ran a pub at Horsington, Somerset with him.
She was widowed a third time when Mr Swan died in 1995.
She was named in 2016 in the leak of confidential bank documents dubbed the "Panama Papers" that showed her as the sole owner of an offshore investment company in the Bahamas – from which she received no income.
Lady Sharples was also a member of the review body on Armed Forces pay in 1979-81, a director of TVS television between 1981 and 1993, and a trustee of the Wessex Medical Trust.
· Baroness Sharples, a Conservative Party politician and widow of former Bermuda Governor Sir Richard Sharples, was born on February 11, 1923. She died on May 19, 2022, aged 99.