Saving for a rainy day
Updated: Sep 09, 2011 09:06 AM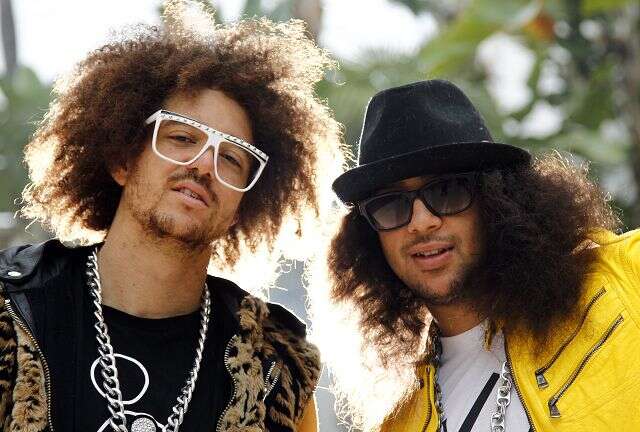 Did anyone hear that massive sigh of relief earlier this week? It came from parents who thanked God that school started again having spent a long, hot summer with their kids. Things just seem to run a bit smoother in households when school is in. Good for the parents, good for the kids and good for Bermuda. What's not so good for Bermuda is the way many persons are responding to the economic downturn. Basically, many Bermudians have been living way above their means for years and those persons, many of whom are having a tough time with this new phenomenon, are being forced back to a more modest and reasonable way of life. Economists would say that market forces are correcting the situation. More on this after the Top 20.
Soaring to #1 is the hottest anthem on the planet
Party Rock Anthem by LMFAO featuring Lauren Bennett & GoonRock. Way up to #2 is
Last Friday (TGIF) by Katy Perry. For some reason Katy Perry seems to have a magic touch, in that every song she releases does well. Improving to #3 is
Rolling in the Deep, by Adele. Check out the dance mix.
Falling to #4 is
Give Me Everything by Pitbull, Neo, AfroJack & Nayer, still a DJLT fave. Falling to #5 is Enrique Iglesias' current hit
Tonight (I'm Loving You).
Motivation, by Kelly Rowland featuring L'il Wayne, falls to #6.
Up to #7 is
I'm Into You by Jennifer Lopez featuring L'il Wayne. Slipping to #8 is
Run the World (Girls) by Beyonce. I can't believe that Beyonce is 30 already; but then again, we have been watching her for some ten-plus years. Improving to #9 is the Latin/soca anthem
Danza Kuduro, by Don Omar, the Cuban-American star Pit Bull, Lucenzo, DJ Laz and Qwote. Be careful, you must get the correct remix. You must have the version featuring Pit Bull.
Tumbling to #10 is
Just Can't Get Enough by the Black Eyed Peas. At #11 is
Beautiful People by Chris Brown featuring Benny Benassi. I have to give Chris Brown his props, since the Rihanna incident he has pretty much been a good little boy no harm, no foul, no fuss, no bother. This is a banging dance tune that flew under the radar of those not really into the nightclub or dance music scene. Tumbling to #12 is
6 Foot 7 Foot by L'il Wayne featuring Cory Gunz.
Up to #13 is the new one from Chris Brown, entitled
She Ain't You.
Walking by Mary Mary falls to #14. Falling to #15 is
Born This Way by Lady Gaga.
Up to #16 is a former essential new tune,
I Wanna Go, from Britney Spears. Improving to # 17 is
Put Your Hands Up (If You…) by Kylie Minogue, last week's essential new tune. Up at #18 is
Best Thing I Never Had by Beyonce.
Now the new track that is this week's essential new tune. One of the hottest soca tracks for the summer, in at #19, is
Wotless by Kes The Band. New at # 20 is
Bend Over by Machel Montano.
Other hits that get honourable mention but for which there is no space this week are the two reggae anthems by Mavado,
Fly Away and
Pepper.
Now back to this week's topic a reality check for residents. Many people still don't seem to realise that it is not business as usual. Rents are dropping; prices for other goods and services are dropping; salaries are going to be next. Some people are accepting that they must take a job that pays less than what they made before. Others who are holding out will be unemployed for quite some time to come.
But some people will not accept this reality. Landlords are now faced with a tenant market, and tenants are loving it. After years of arrogance by many landlords this is a welcome change in that tenants now have more choice. Landlords who will not lower their rents are having their properties vacant, in some cases, for several months. A word to the wise is that half a loaf of bread is better than no bread at all.
But some people refuse to accept that things have changed. My advice to you, my fellow Bermudians, is that we all need to start saving for the rainy days that are in our immediate- and possibly long-term future.
Sir John Swan recently opined that Bermudians are now having a reduced standard of living forced upon us. This is true and it is beginning to look like the real estate market crash that happened in the US two years ago is beginning to happen here.
I've spoken to several people who have either renegotiated their rent down with their existing landlord or moved out and taken a better place at the same, or lower rent than they were previously paying! This tells me that times have changed. This has serious implications for many homeowners who took heavy mortgages and planned to finance them with high rents. Now we know why smart banks only historically take 50 percent of estimated rental income in calculating how much a person can afford to repay as a monthly mortgage commitment. But this is just the beginning. I'm no actuary so I ask others for such answers. A well-placed source who looks at such data advised me that having run some numbers through formulas and algorithms, this current economic downturn will hit Bermuda for some five to ten years! This is scary and means that the current troubles will not change anytime soon.
Local residents need to start being more frugal. For instance, people should start bringing their lunch to work. I polled a few friends and determined that you could easily spend $20 per day on lunch in Bermuda, which is $100 per week, which is $5,200 in a year! Don't get me wrong, I love to eat, love our restaurants and I strongly believe in buying Bermuda but I have at least 500 other things that I can do with $5,000! The point is that you're buying groceries anyway so you're buying Bermuda! You don't have to buy twice by patronising the grocery store at a tune of some $200 to $250 per week for a family of four, and then go out and buy lunch every day.
Now here's the interesting piece. I used to find that some persons who were more senior in some organisations would bring their lunch but the administrative staff and others at more entry-level positions would buy lunch every day, spending the aforementioned $100 per week on lunch. And these persons would find that they were broke at the end of a month or have nothing to show or no idea what they spent their money on during that period. The people making more money were spending less! Isn't that interesting? This is just a tip on how you can save $5,000 in a year!
That was one example of how we waste money. Another is women needing to have their hair and/or nails done every week and guys getting a haircut every week. I don't know what it costs to get nails done but if it's $150 per month that's a lot of money you could be saving by just painting your nails yourself in a simple but tasteful colour that's suitable for the workplace assuming that people actually want to work in these times. Dudes can learn to cut their own hair.
In any event, I hope the point has been made. We need to stop spending money on nonessential items and save for the rainy days. None of us knows for sure that we will definitely have our current job in one to three months.
My heart goes out to anyone who has lost their job as a result of the downturn. Hang in there, keep praying and hopefully things will improve. But please be willing to take any job so that there is some money coming in, even if it is not as much as you were making before. It is much easier to find a job if you have a job than it is if you are unemployed.
Those of us who are blessed to still be working must be more disciplined and save, stash as much cash as possible so that we have some money set aside if we lose our job.
Lastly, we must help each other. When you know someone who has lost their job or is having a rough time try to encourage and support them through this difficult time. Times like these are when you learn who your true friends are for they will be there to support you, help you and pull you through the depression, uncertainty, fear and worry that can be associated with job loss, layoff, unemployment for extended periods of time, losing a home, reduction in standard of living, etc. We can all get through this together if we are smart and we look out for one another. But there will definitely be some lessons learned. Hopefully our Government leaders and captains of industry also learn some lessons about why we cannot afford to waste money or overspend during the good times but should save for a rainy day! Peace ... DJLT!