Building walls is not the way forward
Created: Aug 29, 2015 09:00 AM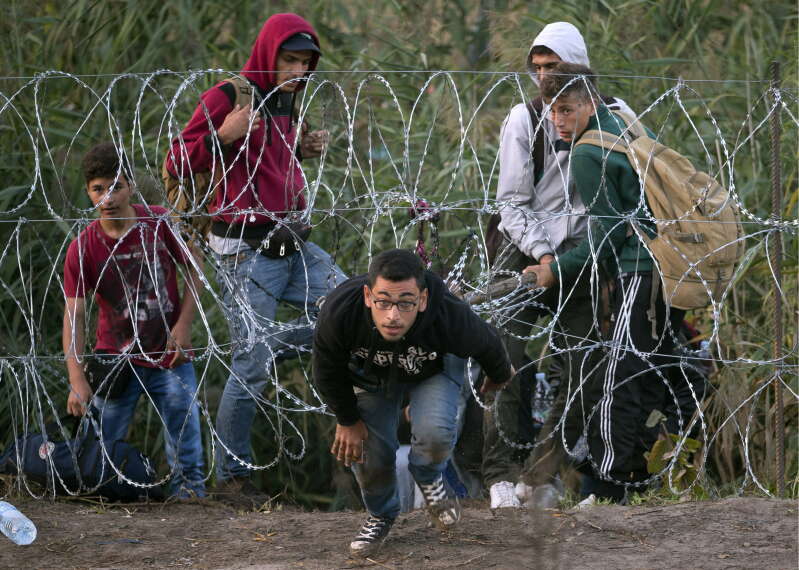 Donald Trump, the United States presidential candidate who has raised more than a few eyebrows in his stormy campaign to reach the White House, has spoken of building a wall to halt the flow of illegal immigrants, mainly from Mexico, who try daily to elude border patrols in an effort to enter America to seek a better life.
While most Americans seem to agree that more should be done to protect borders, there is strong disagreement as to how to achieve such an objective without tarnishing the very meaning of the Statue of Liberty, which has long been a symbol of freedom and opportunity.
Throughout history, there have been so many walls erected to keep people apart based on racial, ethical or religious differences that wall building should be frowned upon in an age where the world has become smaller while populations have expanded. It has led to a crisis, as people caught up in vicious military conflicts, especially in the Middle East, risk their lives daily to reach another part of the planet in search of a civilised life for their families.
Even though thousands perish each year on the high seas trying to escape never-ending suffering in war-torn areas, a powerful urge to find a better life has not deterred thousands more from risking their lives by way of this endeavour.
People who manage to reach another shore, after horrendous experiences crammed in boats with people dying along the way, should never have to face a wall with the words "you are not welcome here".
It is a logistic nightmare for some countries that are already overcrowded, as they try to accommodate men, women and children in desperate need.
There was a report of one young man who pushed and carried his grandmother out of Afghanistan, and said he was prepared to travel hundreds of miles by foot to reach safety. He was aware that there could be a wall at the end of his journey, but that he would continue as long as he had the strength.
Here in Bermuda, institutional walls were removed decades ago, but unfortunately they were replaced by emotional walls, which are not as easy to remove, even with great strides in building a more diverse and unified island community.
Our political leaders need to be more conscious of that invisible wall of divisiveness that features so heavily in just about every significant issue. We need a willingness to reach a common understanding to avoid weekly clashes between opposing groups that have a tendency to keep those walls in place.
Worldwide, unions and governments wrestle with differences over how and what should be done to balance demands and reason in trying to work out objectives for both sides.
Before lines are drawn for some type of high-noon showdown, the negotiating table should be the place to seek a better grasp on any issue of the day.
The Bermuda Government and unions need each other during this crucial period of trying to rebuild our troubled economy. Any moves that tend to build further walls should be discouraged. Unions must show muscle at times to make a point, but no opportunity to improve better relationships with the Government or the business sector should be missed.
Emotions usually run quite deep at times on both sides, and when this happens it is far more difficult to arrive at sound solutions that benefit both sides.
The recent crisis in Korea when the North and South were almost at the brink of having history repeat itself — over an incident near the border — was defused only through talk at the negotiating table. Of course, the potential still exists for the unthinkable, but both sides knew that should that happen, there would be no winners. The negotiating table should never be replaced by any type of wall that serves only to promote divisiveness. Our leaders should always keep that in mind as the Island struggles to move forward.