Crossing the line to make a fatuous point
Created: Jan 06, 2017 08:00 AM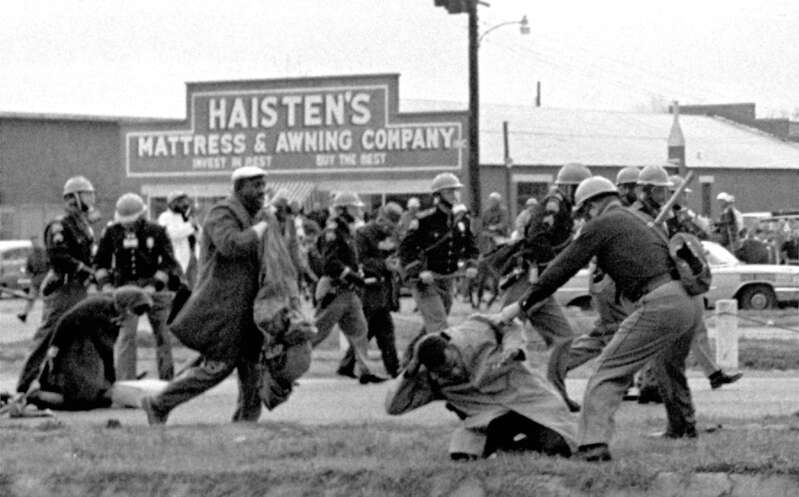 "For many, this was no different than the events that happened on Bloody Sunday on March 7, 1965 on the Edmund Pettus Bridge near Selma, Alabama.
For many, this was no different than the events of March 21, 1960 in Sharpeville, South Africa.
Indeed, it was a return to the worst of times."
— Christopher Famous
Throughout last month, the Progressive Labour Party answered several of Bermuda's burning pre-election questions. Just how far will it go to regain power? What is it willing to say to drive voters to the polls? How low would it be willing to sink to convince the public that the One Bermuda Alliance must be driven out of power?
Let's put Famous's comments into perspective for a moment. Per The New York Times about the 1965 march in Selma:
"On March 7, 1965, state troopers and a sheriff's posse in Selma, Alabama, attacked 525 civil rights demonstrators taking part in a march between Selma and Montgomery, the state capital. The march was organised to promote black voter registration and to protest the killing of a young black man, Jimmie Lee Jackson, by a state trooper during a February 18 voter registration march in a nearby city.
"The first 10 or 20 Negroes were swept to the ground screaming, arms and legs flying, and packs and bags went skittering across the grassy divider strip and on to the pavement on both sides.
"The police also fired teargas at the crowd and charged on horseback. More than 50 demonstrators were injured.
"From the hospital came a report that the victims had suffered fractures of ribs, heads, arms and legs, in addition to cuts and bruises".
And what about Famous's comments about the Sharpeville Massacre in South Africa in 1960? BBC News had the following to report:
"More than 50 black people were killed when police opened fire on a 'peaceful' protest in the South African township of Sharpeville.
"Eyewitnesses said men, women and children fled 'like rabbits' as up to 300 officers began randomly shooting into a 5,000-strong crowd outside the municipal offices in Sharpeville.
"Between 5,000 and 7,000 people had gathered at Sharpeville police station to protest against the pass laws, which they claim are designed by an apartheid government to seriously restrict their movement in white areas.
"The laws, which require all black men and women to carry reference books containing their personal details, including name, tax code and employer details, have this year been extended to all black women as well as men.
"The law states that anyone found in a public place without their book will be arrested and detained for up to 30 days."
Maybe it's just me, but what happened in Selma and Sharpeville does not even remotely appear to fit Christopher Famous's description of what happened in Bermuda during the airport protest on December 2. I would even say that his description of events is not supported by the hours of video and photographic evidence we have of the protest. Nor is his description of events supported by the lack of reported hospital injuries.
When exactly did, "heavily armed police, in full body armour, attempt to barrel their way through persons"? When did "agents of the state" intent upon crushing a gathering try to stop the protest? I saw footage of police officers asking protesters for access to the House of Assembly grounds. I then saw footage of police officers trying to get through a blockade. There is a point where some political columnists stray away from the facts. Far too often they drive full speed ahead into the land of fiction and propaganda.
There is a point where such language becomes very dangerous. While we await the report on police conduct, and especially given what we can see with our own eyes, the Bermuda Police should never have been likened to Alabama State Troopers or the South African Police.
There is a point where absurd claims made about what is happening to Bermudians today is an offence to the brutal reality of what happened to African-Americans in 1965 and to South Africans in 1960.
There is also a point where the rewriting and fictionalising of events in Bermuda is nothing more than an attempt to anger and to manipulate voters for political gain.
We are at those points now. No matter how much the PLP wants to regain power, no matter how badly it needs Bermudians to remain angry, and no matter how desperate it is to get Bermudians to protest over every issue it can, there is still such a thing as going too far.
• To reach out to Bryant Trew, e-mail bryanttrew@mac.com