The world ponders this new US administration
Created: Feb 08, 2017 08:00 AM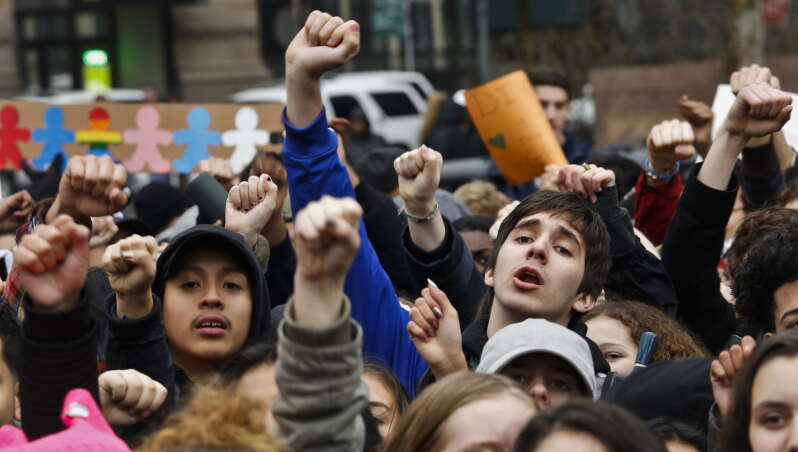 No political expertise is required to be deeply concerned about the new American administration under Donald Trump, who continues to baffle experts as to what pattern is forming. It has resulted in the word "dictatorial" cropping up when it comes to basic human rights in a number of policies the new president claims are designed to protect and keep Americans safe from terrorists.
In the rush to implement a policy blocking people from entering the United States from seven countries regarded as being a potential threat, the new administration imposed a ban that sent shock waves throughout America and around the world. Millions took to the streets to protest what they felt was a deviation from the values America was founded on.
America paid a bitter price when they killed each other by the thousands in a civil war over the same values that constitute basic human rights for all, regardless of race, religion or ethnic origin. The country is still recovering from that chapter in its history.
The painful struggle over many decades, with many losing their lives in the quest for true justice for all, eventually led to the nation electing a black president in Barack Obama. That seemed to herald a new dawn trying to erase the stain of social injustice that the post-slavery era produced. Of course, as in any democracy, not everyone welcomed the new dawn, and that included a number of Republicans who openly withheld support in an effort to prevent Obama from being successful. That was no surprise to observers in America and abroad, who knew the nation's dark history on issues of race.
Fast-forward to eight years after Obama's election and the picture changes dramatically when a highly successful businessman powers his way into the presidency despite a trail of comments and insulting remarks that appeal to a segment of the American society that feel he can change how Washington works. What they did not expect was Trump stunning the world with a travel ban, aimed mainly at Muslims, and also how he would so quickly follow through on his campaign threat to build a wall to stop Mexicans from illegally entering the US.
Trump won the election, but failed to win the people. Millions of Americans, along with concerned groups around the world, launched protests against policies that they feel threaten international human rights.
It took a bold federal judge in dealing with legal applications to block Trump's travel ban, which sliced into thousands of families, leaving them stranded. He ruled that Trump's executive order was unconstitutional and declared that no one is above the law, including the President. His dramatic ruling cut through red tape that prevented many with legal visas from boarding flights to America. After the ruling, airlines were instructed by the State Department to accept those with valid travel documents to board flights to the US.
Obviously, the President was livid at the judge's decision, calling it ridiculous, and he vowed to have it quashed.
The situation raises many questions about the spirit of the new administration, which in a couple of weeks has caused deep resentment, evidenced by massive demonstrations that show little sign of abating. Debates are raging over what should, or should not, be done to stop the political bleeding that has much of the country on edge.
It must be pointed out that Trump has loyal supporters who believe every move he has made is in keeping with campaign promises, and some have expressed bewilderment over how so many people could be against his policies. That truly is democracy at work. Throughout history there have been leaders who were practically worshipped by followers who felt they could do no wrong. History also has shown that blindly following any leader could result in painful consequences — and there is plenty of evidence to prove that.
Even if the decision to block a presidential executive order is upheld or overturned by the Supreme Court, there will remain grave concerns about the tone of the new administration, and whether it is moving in the right direction to build a better relationship with all Americans, with a more positive tone in handling highly sensitive international diplomacy.
Much of the world is watching and pondering whether the new administration will be willing to move in that direction.
The people seem committed in demanding nothing short of human rights for all good citizens of the world, irrespective of race, religion or ethnicity. That is the victory most people are looking for.