Bravery in the face of adversity
Updated: Mar 13, 2023 02:20 PM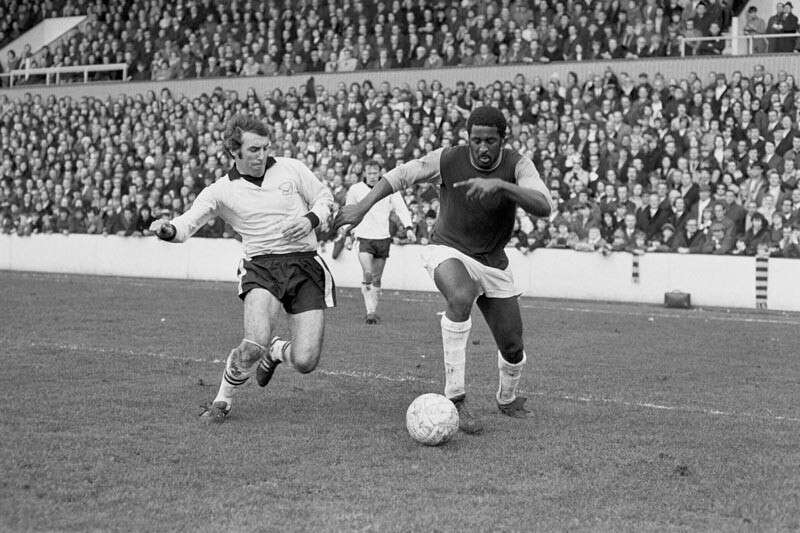 Clyde Best was born in 1951 and grew up during the renaissance of the 1950s and 1960s.
Segregation was crumbling globally during that period, owing to movements such as the Theatre Boycott. The cultural shift included the spread of football, the "beautiful game".
"Ball" was Clyde's early passion, but who knew that a bie from "up de country" would pioneer the transformation of England's professional football landscape, demonstrating agency in facing challenges with a sense of independence?
Clyde played on the West End team that won the Primary Schools Football Cup. At Prospect Secondary School for Boys, or Churchill, his team remained unbeaten.
A move to Dockyard, saw Clyde join Ireland Rangers; a 12-year-old playing with teenagers. His size and skill led coach Edward "Ice Water" Smith to pick him, notably in friendlies against British sailors who were twice Best's age.
Clyde and his best friend sang Christmas carols to neighbours, successfully funding the team's jerseys.
Somerset Trojans coach Conrad Symonds invited Best into the senior squad at age 15. As the strike partner of Randy Horton, that squad's success earned Somerset the label "Silver City".
Clyde's performances led the Bermuda coach, Graham Adams, an Englishman, to include him in the senior squad for the 1967 Pan Am Games. Soon a regular, Best helped Bermuda to defeat Trinidad & Tobago to reach the final. The team held the renowned Mexicans to a goalless draw up to the final minutes of regulation, when the 16-year-old Best's header came back off the crossbar. Losing in extra time, Bermuda secured the silver medal — a watershed moment in our sporting journey.
Adams secured trials for Best at West Ham United in England. They had a squad that included three regulars from the team that won the World Cup a year earlier. That offer began a unique journey for the 17-year-old.
A delayed telegram led to serendipity when Clyde ended up, bags in hand, at the home of a mother of two other West Ham apprentices. Best miraculously connected with Jessie Charles, a small White lady from East London, who, on her doorstep hearing his story, generously offered shelter to the towering Black teen that evening — beginning a lifelong relationship.
Having overcome the odds, Clyde had remembered his mother's mantra: "treat people like you want to be treated". With that spirit and some assistance, he navigated the challenging circumstances at the iconic London club.
This mentorship included his manager, Ron Greenwood, who exemplified openness. Best was also guided by some senior players, including former England captain Bobby Moore. Of course, our Clyde had to be open to guidance.
These relationships proved critical, since movements fostering democracy and inclusion did receive pushback. The National Front, a far Right political organisation, was notoriously active across Britain, sowing discord against Blacks and foreigners.
Monkey chants coming from some of the crowds in the terraces alerted Best to avoid distractions. For instance, in 1970, when an Everton defender grabbed his shirt on the halfway line, Best carried on with the ball upfield, literally dragging his opponent along the way. At the penalty box, Clyde was able fake out the goalkeeper before flicking the ball over his head and into the goal.
It was one of many example of following his father's advice in the face of adversity: "Let the ball do the talking."
In an off-the-field circumstance, Clyde, Mrs Charles and her two sons were walking through some spectators after a training session and a man made some racist remarks. Mrs Charles went over and set the offender straight.
Since Best was one of a very few Black footballers in the top leagues, he continually faced similarly significant challenges. He never received direct racist abuse from an opponent on the field, but there was one episode that deeply disturbed him.
During the 1970 season, Clyde experienced something that made his "blood run cold". A letter written anonymously, but well-presented, warned him that when he emerged from the players' tunnel for the next game, he would have acid thrown in his face. Best shared the letter with his manager, but otherwise kept the matter to himself. This, even though he couldn't just shrug it off, as he did with the taunts from some spectators.
Special measures were employed that day, below the radar of even his team-mates. Best never shared this story until decades later. His exemplary character led to an optimum response, since bullies are empowered by drama. Clyde kept it away from his family, saving them from needless worry.
It was this character demonstrated by the 19-year-old that guided him through a tumultuous period in the 1970s. He went on to play for West Ham for seven seasons, not only contributing 47 goals but importantly playing a key role in establishing a foundation for non-White footballers for the generations that followed.
As a mature player up until retirement as a player, he subsequently joined fellow veterans in helping to establish football in North America. His legacy as a pioneer for inclusion in the big leagues lives on.
• Glenn Fubler represents Imagine Bermuda. He is writing here as part of a series on Young Exemplars in Agency