Visiting professor collects specimens
Updated: Apr 04, 2013 10:59 AM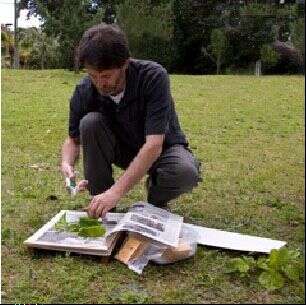 David Wingate is carrying out a study to determine which mulberry species grow in Bermuda and if the red mulberry is native to Bermuda. His thoughts on this were outlined in two recent issues of the Green Pages.***
Last weekend steps were taken to answer the question of whether red mulberry is native to Bermuda (in which case it was probably carried here as seeds by bird), if we even have (or had) red mulberry in Bermuda, and what species of mulberry all of those trees in gardens throughout Bermuda actually are. One would think this would be a simple task, but it is not. Not only are mulberries highly variable in their physical characteristics but they also hybridise readily, further blurring any physical distinctions.
On a recent visit to the Island, Dr Kevin Burgess, Associate Professor at the Dept. of Biology, Columbus State University, Georgia, travelled with David Wingate from one end of the Island to the other, collecting specimens from mulberry trees. In Bermuda, he is hoping to tease out the answer to Dr Wingate's mulberry questions using genetic DNA barcoding. A genetic barcode can be thought of much like the barcode you see on items in a store. They are unique and distinguish one item (or plant species) from another on a genetic level. This is very helpful particularly with a challenging plant like mulberry.
In order to do this, he collected small branches bearing leaves, flowers and fruit. They were pressed and dried as herbarium specimens. One specimen of each tree sampled will be kept in the herbarium at the Natural History Museum at the Aquarium, and one will go to the herbarium at Columbus State University. Also collected from each tree were small pieces of young leaves. These were placed into silica gel which dries them quickly and helps to preserve their DNA. Each tree is also photographed.
Back in the lab, Dr Burgess will look at each tree's DNA for clues to its lineage. Dr Burgess says, "There is a lot you can tell from the DNA. Every plant species on the planet has a unique genetic identifier embedded in chloroplasts."
He is using that genetic identifier, or barcode, to document biodiversity in a variety of habitats, focusing on local floras in Georgia and Ontario, Canada. In the case of the mulberry trees here in Bermuda, he will use their DNA barcodes, to determine if they are red, white or black mulberry, all of which have black to red fruits. If our trees turn out to be hybrids, additional molecular techniques that look at the DNA of the nucleus, as opposed to that of the chloroplasts, will have to be used to tease additional parentage information from the plants' cells.
So far, based on looking at the trees' physical characteristics, Dr Burgess has only identified white and black mulberry and there is no evidence that red mulberry is currently in Bermuda. We will have to wait for the results from the genetic testing to get a better understanding of the story of mulberry in Bermuda.
Lisa Greene is the author of Bermuda's Flora, Vol. 1 & 2.