Netscape founder's $100m superyacht in St George's
Created: Apr 11, 2012 09:46 AM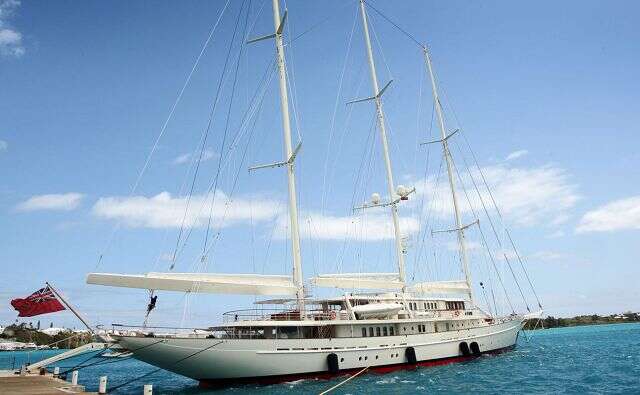 Netscape founder Jim Clark's $100 million superyacht Athena has been turning heads in St George's.
The gleaming three-masted schooner is moored off Ordnance Island, arriving over the Easter holiday. She's on her way to the US East.
At over 295 feet, Athena was the largest privately owned sailboat in the world until media mogul Barry Diller's Bermuda-rigged schooner Eos knocked it off the number-one spot in 2006.
Athena has three soaring 200-foot tall masts, said to compare with the height of a 20-storey high-rise. In fact, she's equipped with a small elevator to take guests to the mast top to enjoy the view.
According to reports, Clark, 68, celebrated his 2009 marriage to Australian model Kristy Hinze on the Athena in Virgin Gorda in the Caribbean.
Clark made it back onto the Forbes Billionaires List this year after being wiped off in the 2008 financial crash.
His fortune has grown to an estimated $1 billion thanks to bets on Apple and the most established social media companies.
Forbes reported last month that Clark "voraciously" began buying into Apple in February 2009, when shares cost just under $100, they are now trading at over $600.
The luxurious Athena is reported in yachting media to be a technological wonder.
She's said to have one of the best media lounges on the high seas, with thousands of DVDs in its film library and a 60-inch plasma screen, plus a system that monitors and provide up to 2,600 alarms for all the yacht's technical features.
She has her own divers' decompression chamber on board; a galley decked out like a restaurant kitchen, a king-size sunbathing bed on the main deck, library, marble master bath and whirlpool tub. Toys on board include zodiacs, wakeboards, kitesurfing and scuba gear.
She can luxuriously accommodate up to ten guests in her master cabin; three queen suites; and twin cabin.
The master cabin is furthest aft on the superyacht and sits adjacent to the owner's study.
According to Forbes, Clark is now "spending his time on his yacht, Athena, writing code and programming all things Apple".
"After realising, beginning in 2009, that no company could compete with Apple's jack-of-all-phones, Clark went on an Apple share-buying bonanza," Forbes reported. "He also began shorting the stock of traditional handset manufacturers — among them Palm, whose operating system he calls 'a relative toy'."
He shorted Blackberry, Nokia, Erisson and Motorola as well.
Forbes said Clark expects Apple to hit a market capitalisation of $1 trillion within the next three years, citing the large population of the world that Apple is just starting to sell to, including China.
And, "He's invested $40 million in Facebook and $30 million in Twitter, though he calls the latter a much riskier bet because it hasn't found a way to monetise their operations."
When Clark is not at her helm, Athena is a top charter yacht, cruising the Caribbean, South Pacific, New Zealand and Australia in the summer and winter seasons.
But that'll cost you around $300,000 a week!
Athena was built in 2004 by Dutch shipyard Royal Huisman. With Alustar hull and superstructure, her naval architects are Pieter Beeldsnijder and Dykstra & Partners, while she features exterior design by Pieter Beeldsnijder, and the interior work of Rebecca Bradley.
She flies the Cayman Islands flag.