Seal of approval: Gosling's tops 100,000 cases in US
Created: May 02, 2013 09:27 AM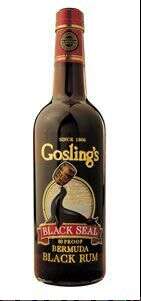 Gosling's Black Seal has become a very hot rum in the US.
Its American marketing partner Castle Brands says the once Bermuda-only brand surpassed the 100,000 case level in 2012.
"It was a combination of events that helped push us over," said John Glover, COO of Castle Brands.
Added president Malcolm Gosling, "We call it the perfect storm. And, happily, it shows no sign of letting up!"
Mr Gosling has been spearheading a major American expansion of the brand.
"The growth of the dark rum category helped, but so too did the growing appreciation of Gosling's Black Seal Rum. Its distinctive taste is unlike any spirit because Black Seal includes products of both pot stills (used in distilling spirits) as used to make fine Cognacs and continuous stills as used for making grappa.
"One imparts flavour, the other yields a subtle elegance. Together they work wonders. And win medals. In fact, the Beverage Testing Institute awarded Black Seal its highest honour, the Platinum Medal."
Castle added that the Dark 'n Stormy cocktail has continued "to win over rum lovers by droves".
"The cocktail's burgeoning popularity in the US even prompted Gosling's to launch a sleek, 8.4 oz.-can version.
In addition, Castle noted Gosling's Family Reserve Old Rum was judged best in the world by the Caribbean Rum Journal.