Showroom 'icing on cake' for Auto Solutions team
Created: Oct 18, 2013 09:00 AM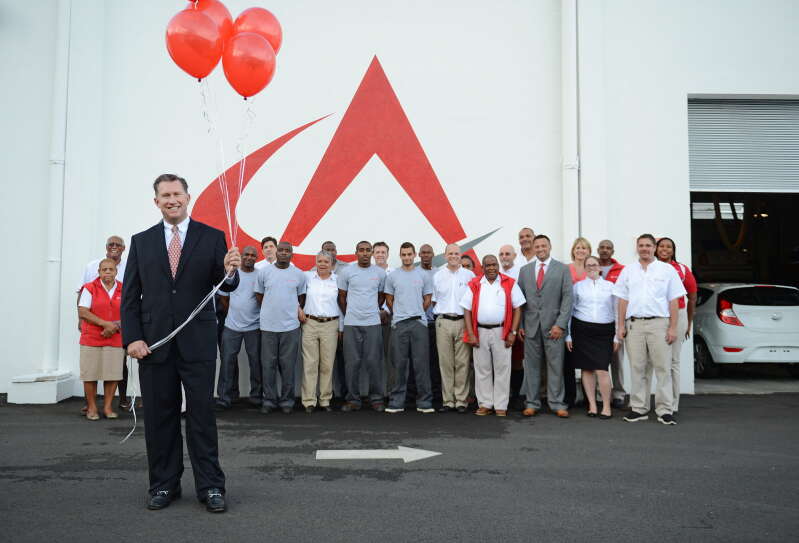 With a new management and sales team in place, Auto Solutions yesterday celebrated the opening of its revamped showroom.
Renovations have been ongoing at the St John's Road premises since Auto Solutions started operations in May.
"Sales have been very promising. Month on month we are increasing in the number of vehicles sold with September 2013 having been our best month and October 2013 superseding all our expectations already — only half way through the month," managing director Glen Smith said.
"Similarly our Service Department and Parts Department have grown month on month and we are pleased to report that we have employed more Bermudians since first opening our doors in May of this year."
The renovations included upgrading the service garage facility, a new parts department, repaving the parking and traffic areas, a new staff lunchroom/lounge, new bathroom facilities, new office space and a brand-new car showroom.
The revamped car showroom is complete with a lounge, children's play area, coffee bar, and free wifi and TV screens for entertaining customers.
Auto Solutions earlier this year acquired the assets of HWP's Automotive Division.
"We are happy to have completed the car showroom which was the final phase of our renovations," Mr Smith said.
"The new facility is just how we intended and imagined it to be.
"It is open, spacious and inviting for our customers. Auto Solutions is the type of place where the staff like to come to work.
"Improving our facilities was not only to benefit business in general, but to also benefit our employees and of course to make the customer experience more enjoyable."
Operations manager, Harry Andrews commented: "Since the transition from the HWP Group to Auto Solutions Limited, we have seen nothing but constant change over here on St John's Road. Without a doubt it has been change for the better. Glen has proven to be a great leader and inspiration for all of our staff.
"He made a commitment to improve upon the workplace conditions and he delivered.
"The new car showroom is icing on the cake for our Auto Solutions team. From here is only onward and upward for Auto Solutions, its team and our customers."