Businesses urged to reap AC benefits
Created: Feb 03, 2017 08:00 AM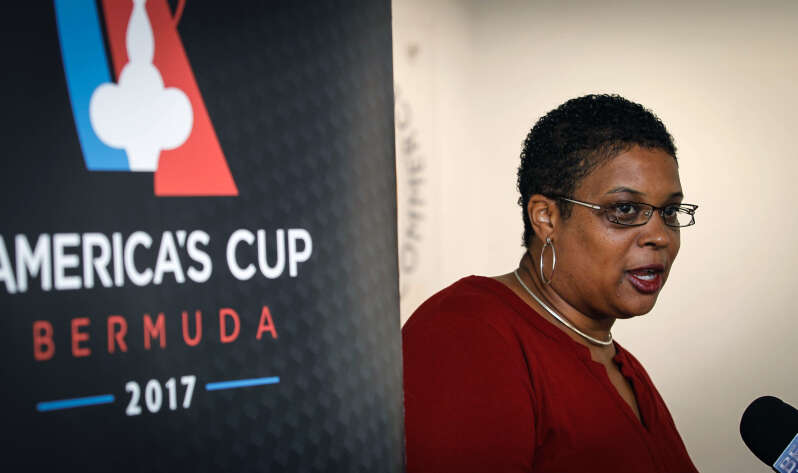 A new committee will be "a cheerleader" for island businesses looking to ride the America's Cup wave.
Now America's Cup Bermuda team is to launch a series of information sessions designed to maximise opportunities for local businesses.
Denise Riviere, chairman of the America's Cup Bermuda local business connect group, made up of representatives of several organisations, said: "This cross-agency approach we're taking is meant to ensure all sectors of the community are represented."
And she added the aim was to ensure "local businesspeople have access to opportunities which come about from the America's Cup being in Bermuda".
Ms Riviere, of ACBDA, said: "Business will benefit from putting the work into it. The success of the event is going to depend very heavily on what we put into it."
She added that at least 300 boats would visit the island for the event.
Ms Riviere said: "That's probably something Bermuda hasn't experienced before and this is an opportunity for our growing marine industry. This will obviously create demand for a lot of services, water and land."
And she added the whole island had to ensure "these needs are first identified and then creatively met".
Ms Riviere was speaking at the launch of the new committee at the Bermuda Chamber of Commerce headquarters in Hamilton.
She said: "Bermuda hosting the 35th America's Cup is really an investment. Everyone hears this number, we spent so much money. It's not spending money, it's investing money.
"The country has put an investment in something and we have to make sure that the return on that investment is as large as it can be."
She added that some had said the sailing event would last only five or six weeks and that there was little in it for the island.
But Ms Riviere said that it was up to the entire community to ensure the legacy of the competition lasted far longer.
She added: "It will help us develop our existing businesses and, in some cases, create new business. We, as a collective community, we have to decide how the America's Cup will benefit us in June and beyond June — that will be up to us."
And she said: "The biggest mistake we could make is not to show up and show out in June.
"If the community decides they're not going engage and there's nothing in it for them and step back ... people are not going to enjoy themselves and that's the worst thing we can do."
Mike Winfield, ACBDA chief executive officer, said: "What we are challenged to provide is probably the most complicated and sophisticated set of deliverables this small community has been asked in its history.
"We are challenged to deliver with a degree of excellence so that Bermuda maintains and enhances its reputation around the world.
"We simply cannot do it necessarily the way we have always done it. We have to rise to the challenge."
Mr Winfield said: "The opportunity of a spotlight is always a double-edged sword. The spotlight is on Bermuda. It this is successful, we will have created a rebrand and image no amount of advertising could pay for."
The eight-menber group includes, Erica Smith of the BEDC, Kendaree Burgess of the Bermuda Chamber of Commerce, Pat Phillip-Fairn of the BTA, the City of Hamilton's Danilee Trott, Courtney Trott from the Corporation of St George's, Kristin White of Hub 1 Cultural Tourism and Joanna Cranfield from Wedco.
The special information sessions will cover specific areas of business, ranging from marine services, land and water transportation, vendor opportunities and also sessions targeting the west and east ends of Bermuda.
The sessions are:
• Marine services, Thursday, February 23.
• Island-wide vending, Tuesday, February 28.
• Land and water transportation, Wednesday, March 1.
• Entertainment, Thursday, March 2.
All sessions will be held at St Paul AME Church hall and running between 6pm and 9pm for the marine services meeting and vending sessions and 6pm to 8.30pm for the others.
The west focus for business opportunities will be held at Willowbank Hotel on Monday, March 6 and the one for the east on Tuesday, March 7. Both meetings will run between 6pm and 8.30pm.
Grant Gibbons, Minister for Economic Development, said: "These sessions will provide a good chance to maximise opportunities for local business.
"I would encourage small businesses to reach out to the ACBDA to find out how they can become involved in the 35th America's Cup and contribute towards the economic activity."
For more information, contact Ms Riviere at localbizopps@acbda.bm.