Pace of tech change concerns insurance CEOs
Updated: Mar 26, 2018 12:29 PM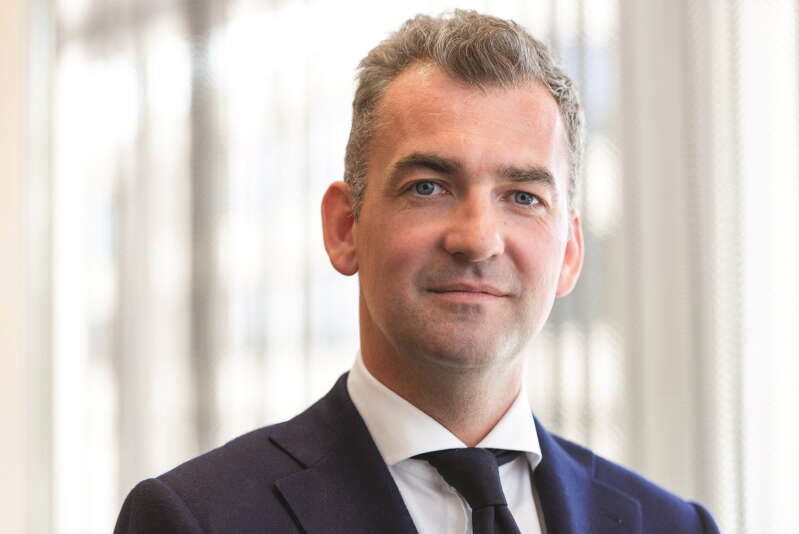 More than 90 per cent of insurance CEOs are confident about their companies' revenue growth prospects over the next three years, according to global survey.
Professional services firm PwC gauged the views of 100 insurance leaders as part of its global CEO survey and also found that they were more concerned about the pace of technological change than leaders in any other industry.
Arthur Wightman, PwC Bermuda territory leader and insurance leader, said the island's insurance market had a bright future, because of the depth of its talent pool and the capacity to innovate.
Among the key findings were that nearly half of insurance CEOs are planning a new strategic alliance or joint venture to drive profitability and growth over the next 12 months.
Half of insurance CEOs believe that global economic growth will improve over the next 12 months, up from only 19 per cent in 2017.
The biggest concerns of insurance leaders are overregulation (95 per cent), cyberthreats (93 per cent) and speed of technological change (85 per cent).
More than 80 per cent of insurance CEOs are concerned about shortages of digital skills within the industry and within their workforce, which is the highest percentage of any industry.
"Prospects for the Bermuda market remain good in spite of consolidation," Mr Wightman said. "Bermuda has a sustainable future based on the concentration of talent and its ability to find innovative insurance solutions, such as closing the global protection gap."
Mr Wightman added: "Among the many reasons for the high confidence of CEOs in the insurance industry is that the anticipated disruption from incoming competitors, like insurtech and digital platform players, hasn't materialised like the industry initially feared. Partnership, not rivalry, with new entrants is the order of the day.
"Substantial opportunities are on the horizon as a new generation of predictive analytics and artificial intelligence transforms insurers' ability to detect, anticipate and avert risk."
Notable possibilities include regtech, which can not only strip out costs in labour-intensive areas such as "know your customer" requirements, but also strengthen risk management and improve the reliability of compliance.
Matthew Britten, PwC Bermuda Insurance partner, said: "The grounds for optimism among insurers include the increasing digitisation of the global economy and resulting shift in customer preferences. This opens up a range of new opportunities to both dramatically modernise processes to enhance customer interactions while reducing costs, and to meet the accelerating need to provide innovative insurance coverage against the nature of the intangible risks that are emerging as a result, such as we have already been seeing with cyber insurance."
He noted that 40 per cent of CEOs from across all industries are now extremely concerned about cyberthreats, compared to 24 per cent in 2017.
"So it is probably not surprising that we are seeing more re/insurance carriers offering stand-alone cyber insurance protection, and also a broadening of coverage, providing both first-party and third-party liability protection and coupling this with loss mitigation and incident response services."
Successful insurers take both their technological capabilities and their readiness to innovate into the mainstream of their business.
"The successful re/insurers are going to be those that are prepared to capitalise on these new opportunities, while those weighed down by legacy and other long-term issues are going to be challenged," he said.
PwC suggests that insurance companies can best get up to speed with technological change by developing a clear strategy and road map for decommissioning legacy systems, accelerating automation, and laying the platform for the next wave of transformation.
Almost four out of five insurance CEOs saw changes in consumer behaviour as a threat to growth.
Focus is required on longer-term transformational change into digitally-enabled, customer-focused organisations with flexible business and operating models, PwC said.
"Driving innovation requires a dialogue between human and machines in a 'bionic' organisation," PwC added in its commentary. "This isn't about one dictating terms to the other, but humans communicating with AI and robotics to mutually improve outputs."
Key to this transformation will be the success to attract digital talent, but at this point only 19 per cent of insurance CEOs say it is easy to do so.
More than 80 per cent are concerned about shortages of digital skills within the industry and within their workforce.
The creativity and emotional intelligence needed to innovate and reconnect with customers is also a concern, with 86 per cent of insurance CEOs believing they need to strengthen soft skills in their organisation alongside digital skills.
• For more information, see www.pwc.com/ceosurvey