Arbitrade $15bn gold 'title' claim
Updated: Nov 06, 2018 07:00 AM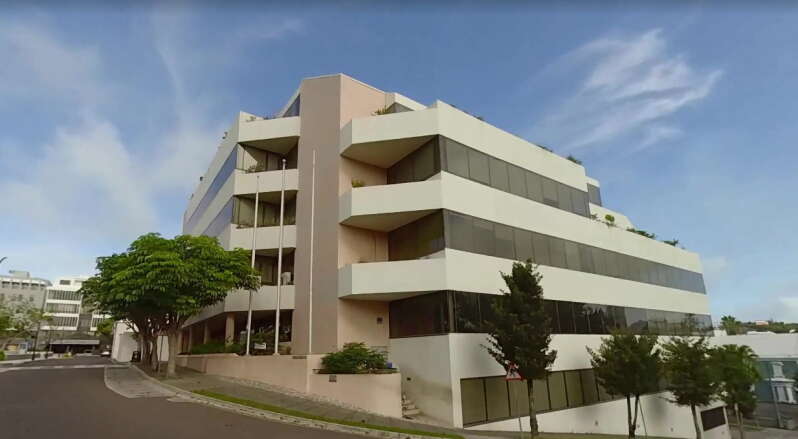 Arbitrade Ltd has stated it has "title" to 395,000 kilograms of gold bullion, a total that would be worth $15.6 billion.
However, the company's short statement does not mention who has given it title to the gold and under what conditions, nor where the gold is, or the name of the "independent public accounting firm" that it says has verified the account.
The cryptocurrency exchange and coin company last week announced it had bought the seven-storey Victoria Hall office building in Hamilton as its global headquarters.
Attempts by The Royal Gazette to gain further information directly from Arbitrade and its US-based media partner, both last week and yesterday, have so far been met with silence.
In its statement, Arbitrade said that Len Schutzman, its chairman, had announced the company has "received title of gold bullion stored at independent security facilities in the amount of 395,000 kgs with a current market value in excess of $10 billion" and as such "has completed the required regulatory gold vaulting verification compliance".
The statement continued: "As mandated, an independent public accounting firm has verified the account in good standing, confirmed Safe Keeping Receipt 'SKR' totaling 395,000 kgs of gold, by direct confirmation from the independent secure vaulting company".
Mr Schutzman is quoted as saying: "Since most cryptocurrencies are not backed by gold, this feature should make purchase of Arbitrade's coins and tokens more attractive to the blockchain community."
Explaining how the gold bullion transactions will work, Arbitrade stated in July: "As Arbitrade pays off the gold bullion debt, the gold can be traded for the appropriate metals backing each token before being shipped to the vault in Bermuda, where it will be audited once a year as the reserves build up."
In an earlier explanation of its gold acquisition process, Arbitrade said it was similar to a house purchase and a mortgage. It stated: "In a nutshell, the entities that are selling us the bullion are giving us title upon closing, meaning we own it like a person would if they purchased a house. Then they place a debt against bullion under a structured financing over a certain period of time, which would be similar to a mortgage. Fifty per cent of the daily mined proceeds is applied to that debt.
"The only difference between a house mortgage and the Arbitrade bullion acquisition is that every day a certain amount of the bullion becomes wholly owned by the tokens each of the four bullion represents." [Arbitrade previously spoke of utilising gold, silver, platinum and palladium bullion].
Arbitrade has stated its intention to pay for the bullion through cryptocurrency mining operations, and in May said it was lining up "the largest deal ever placed for mining rigs in the history of the industry".
Mining rigs are computer units that are used most commonly to validate and process cryptocurrency transactions by solving complex mathematical equations. Digital tokens of the currency that has been validated are used as payment for the service.
The profitability of cryptocurrency mining has been brought into question this year after the fall in value of the likes of bitcoin, which is now valued at less than $7,000, compared with its peak of around $19,000 in December.
Yesterday's gold bullion statement was released through a press release distribution service and was initially posted and shared by individuals on Twitter many hours before appearing on the official Arbitrade Exchange account on Twitter.
An attempt to contact Arbitrade's US-based media partner, Creative Management Partners, which has offices listed in New York and Beverly Hills, ended up at an anonymous automated voicemail service, apparently in Massachusetts, while an e-mail bounced back undelivered. The same lack of response was encountered last week following Arbitrade's announcement that it had acquired Victoria Hall.
Similarly, there was no response to an e-mail sent to Stephen Braverman, Arbitrade's chief operating officer.
In June, during a conference call where no questions were allowed, Arbitrade said it intended to back five crypto tokens with $10 billion of gold and precious metal bullion. At the time it claimed it was in partnership with Sion Trading FZE of Dubai — which he described as "the only licensed gold trader on the Dubai Gold Exchange" — would be granted $10 billion worth of physical gold to be used to back its tokens.
However, enquiries by The Royal Gazette subsequently revealed that Sion Trading was not a member of the Dubai Gold & Commodities Exchange and had no affiliation or relationship with it.
A company called Sion Trading FZE does hold a commercial licence in the Ras Al Khaimah economic zone, United Arab Emirates. There is no gold exchange in Ras Al Khaimah. Sion's activity is listed as trading non-manufactured precious metals, while its address is a "flexi desk" at the Rakez Business Zone.
When Arbitrade last week announced it had acquired Victoria Hall — a vacant property that had been on the market for $6.5 million — Mr Schutzman said: "Once its subsidiary, Arbitrade Exchange (Bermuda) Ltd is licensed under the Digital Asset Business Act 2018, it intends to commence its hiring process, which will create numerous training and employment opportunities for Bermudians."
David Burt, the Premier, said: "We thank Arbitrade for this tangible sign of commitment to Bermuda and look forward to further announcements as the island continues to set the pace for the world in fintech."
Arbitrade's "dignity" crypto token rose more than 40 per cent in value yesterday in the wake of the gold bullion statement.