Population concern as retail sales dip again
Updated: Dec 18, 2018 08:36 AM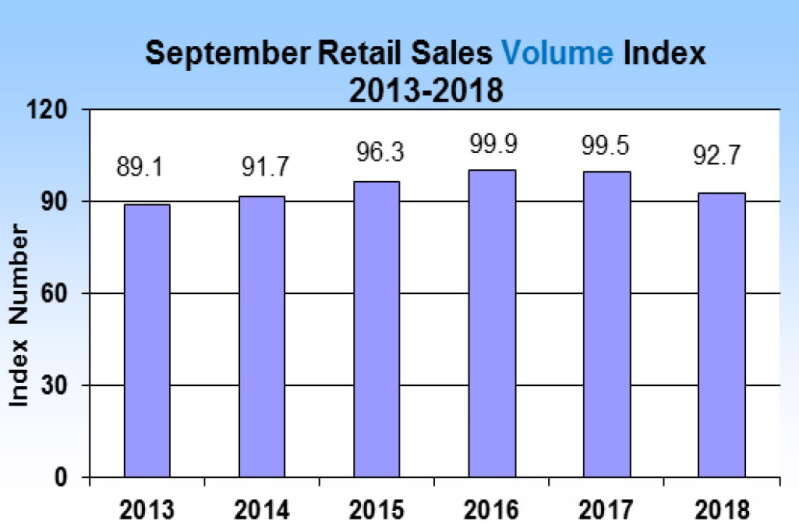 For the first time in 5½ years, retail sales have fallen for more than six consecutive months.
In September, the volume of sales dropped 6.8 per cent when adjusted for the rate of inflation, which was measured at 2.2 per cent that month.
In dollar value terms, the $92.2 million of retail sales was a 4.7 per cent drop. All seven sectors declined in value and volume year-on-year.
During the darkest days of the recession, Bermuda's retail sales volume fell for almost four years between May 2008 until February 2012. There was a further nine months of consecutive declines from August 2012 to April 2013.
Commenting on the September data, which was released yesterday, Paula Clarke, head of the retail division of the Chamber of Commerce, said: "As the volume of sales is down across all sectors, there is obviously a concern about the population.
"These numbers do indicate that there has been some shrink in the population. Businesses are concerned and worried and would like to see the population increased."
Walton Brown, Minister for the Cabinet Office, in a statement accompanying the release of the Retail Sales Index bulletin, said "non-commercial imports by households, excluding overseas declarations by returning residents" was $800,000, and that this reflected an ongoing change in the way residents buy products. That figure has not been separated out from the retail sales data before, and so can not be contextualised as increasing or decreasing.
Ms Clarke said: "Although shopping habits have changed worldwide, retail sales are still 90 per cent brick-and-mortar stores. Online shopping worldwide is increasing, but it is only 10 per cent of total retail sales."
She hopes Mr Brown will share the information about those sales with retailers.
Ms Clarke said: "If minister Brown has any data, the retail sector would love for him to share that data. We have been asking for that data for many years.
"It would be very useful for retailers to see what is being brought in, to ensure that we are bringing in the appropriate goods for our customers. Retailers would be very happy to have that information shared as they have been asking for that information for over 12 years."
She also encouraged residents to shop locally to support the economy and the Bermudian workforce.
"Bermuda retailers work very hard to keep our customers shopping in Bermuda. Apart from the fact that we do offer great value for money and bring a huge variety of goods in, it is also keeping the Bermuda-earned dollars circulating in Bermuda," she said.
Ms Clarke said the Bermudians make up the majority of the workforce connected with the retail sector on the island, and the benefits spread to other Bermudians.
"We also, on an ongoing basis, use the services of Bermudian tradespeople — electricians, carpenters, banks, lawyers. So it is in Bermuda's interests to keep money flowing in Bermuda and not having it spent overseas.
"The majority of employees in retail are Bermudian because it is a closed category. The Government is encouraging the employment of Bermudians, and should any business — large or small — fail, that will have an immediate effect on Bermudian jobs."
The Retail Sales Index bulletin was released by the Bermuda Government's Department of Statistics, and it showed that overseas purchases declared by returning residents totalled $4.7 million in September, which was down 2.1 per cent compared with the same month in 2017.
In percentage terms, motor vehicle sales had the heftiest decline, dropping 31.3 per cent. September was the third consecutive month where the year-on-year decline was greater than 20 per cent.
Apparel stores have reported year-on-year declines in the volume of sales since March, and the sector was down 17.6 per cent in September. This was attributed to the absence of demand for America's Cup merchandise. The America's Cup was held in Bermuda in May and June 2017.
Elsewhere, building material stores' sales volume contracted 5.2 per cent, while the volume of sales for liquor stores was down 4.4 per cent, for food stores the decline was 1.3 per cent, and for service stations was down 1.2 per cent. The "all other store types" sector was down 17.6 per cent.